Reviews: Bayou Magic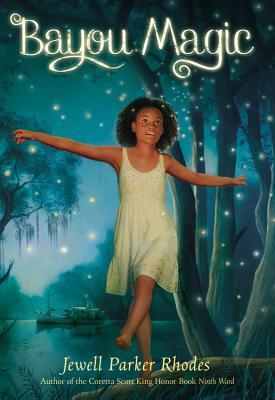 Bayou Magic by Jewell Parker Rhodes (Little Brown Books for Young Readers, Expected Publication May 2015)
Ten-year-old Maddy knows how to make a good jambalaya.  She knows how to cook with her heart, adding just the right amount of spices, rice, meat and vegetables. Like Maddy,  I suspect Jewell Parker Rhodes has been "cooking" with her heart in creating this story of family, magic and the world of the bayou.
Maddy is the youngest of four sisters and this summer it is her turn to go and spend time with Grandmere in the bayou.  She's nervous about going, but excited too.   But she's her Grandmere's child, and magic runs in Maddy's veins that connects her to the bayou.  It's a wondrous time, full of discovery, friendships, good food and stories, but there's trouble coming.  Grandmere knows it, and Maddy can sense it–and she'll have to be strong to help save the bayou from what's to come.
Jewell Parker Rhodes has written a richly evocative middle grade fantasy adventure.  With Maddy, readers will recognize a strong young heroine who is just beginning to step into her power while  getting to know her Grandmere.  She's still a child, and her apprehension of the future is very real, but so is her passion and empathy for others.  Maddy isn't merely learning to take the path her grandmere has taken, but to forge her own way, with her own set of abilities.  And sometimes what she chooses to do goes against the conventional wisdom of the adults around her.  Maddy has her own gifts and strengths, and, in the end, they'll have to be enough.
The author brings the flavors, sights and scents of the bayou into the reader's imagination, making it not so much an exotic land of gators and witchcraft as a green and growing land of rich diversity.  Environmental themes fall naturally into play with older myths of water spirits and mermaids.  I was delighted with the fact that the author has given the mermaid legend new life here in the bayou,as an African water spirit that traveled with the slave ships to this new land.   Mermaids are not usually a favorite myth of mine, but Jewell Parker Rhodes has convinced me that maybe I simply haven't been reading the right kind of mermaid stories.
This is a story, not so much of small magics, but of regional ones–less concerned with the workings of good and evil and more invested in the land and the people that inhabit it.  There's a fierce love here, and a wonderful sense of family and familial roots.  What child hasn't sought to find who they take after in the family?  Where they belong?  Young readers just beginning to get into richer fare are the perfect audience for this contemporary fantasy.  Maddy is a younger heroine that they'll quickly identify with and root for.  I've already passed this onto a few of my young  and hungry readers who devoured it–and loved every minute!
Maddy's amazing summer is full of joy and sadness, but it is so rich and lovely that when she leaves, I can't help but hope for a story of her next summer visit.
Note: An advanced reader copy was provided by the publisher.
Publisher: Little Brown Books for Young Readers
Publication Date: Expected Publication May 2015
ISBN13:    9780316224840
Recommended for grades 3 and up.
About Stephanie Whelan
I'm a children's librarian with a life-long love of all things science fiction and fantasy.
Posted on March 29, 2015, in General Posts, Reviews and tagged Authors, Books, Children's Literature, fantasy, kidlit, literature, MG Books, Middle-Grade Fiction, Multicultural, Reading, reviews. Bookmark the permalink. 2 Comments.