A Tuesday Ten: Here Be Giants!
For this week's ten I decided on a subject that pops up often in traditional fantasy: giants!  I think giants and children's fiction work incredibly well together in part because children are naturally part of a "giant" world.  I've tried to stay away from the traditional folklore in this list, though I know there are plenty of giants there and likewise I've kept to at least sort of human giants for the most part (one particular exception).  So here's my ten!
1.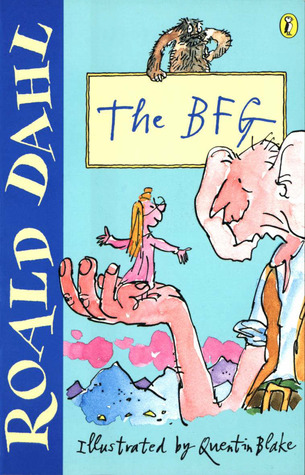 The BFG by Roald Dahl (Puffin, c1982)
Who can conjure up the subject of giants and not think of Dahl's delightful creation.  This Big Friendly Giant befriends young Sophia, and the two of them decide they must put a stop to the more malicious giants who are off threatening children.  A particularly fearless protagonist (in glasses no less!) and a kindly giant–it  makes for a great story and high entertainment for readers.
2.
Inside my Feet: the Story of a Giant by Richard Kennedy, illustrated by Ronald Himler (HarperCollins, 1979)
I just crafted my flashback Friday post on this one.  Our giant here is a creepy, human-eating sort who also is incredibly sad and confused.  He constantly asks his victims one particular question, that if they can answer, he'll spare them.  Kennedy creates a sort of ambivalent creature that is as much artistic soul and open-wound emotion as he is cold-hearted killer.  In the end, however, this giant will have a rather grim fate.
3.
Hewitt Anderson's Great Big Life by Jerdine Nolen, illustrated by Kadir Nelson (Simon & Schuster, c1998)
A rather different take, when our main character is the only small person in a family of giants.  Hewitt proves that even being as small as he is, he can be just as "big" in importance as any of his giant family.
4.
 Giants Beware! illustrated by Rafael Rosado and written by Jorge Aguirre (First Second, 2012)
Well okay, the main character in this is a wannabe giant-slayer of sorts.  Young Claudette is determined to become a hero in her own right and finally decides to set forth from her village to defeat the legendary baby-foot-eating giant.  But monsters are not always what they seem in this hilarious graphic novel adventure!
5.
Odd and the Frost Giants by Neil Gaiman (HarperCollins, c2006)
If you're familiar with Norse mythology, you'll know that there are a fair number of giants featured in the lore.  Here Neil Gaiman gives us his own twist on Norse legends when a young boy runs away from home.  Odd may just be the one boy who can end winter by defeating the fiercest frost giant of them all . . .
6.
The Giant and the Spring by Kuang-Ts'Ai Hao, illustrated by Eva Wang (Pan-Asian Publications, c1994)
I love this obscure picture book with it's lovely art.  A kind and wise giant encounters the tiny form of Spring caught on a branch outside his window.  He takes the boy in and revives him.  But having Spring in his home soon has Uncle Giant unwilling to let Spring leave.  It's only when he realizes his own selfishness is hurting all he loves that he finally can release Spring and gain a permanent friendship.
7.
The Iron Giant by Ted Hughs, illustrated by Laura Carlin (Knopf  Books for Young Readers, c1968)
Okay, the Iron Giant isn't human, but it's considered a humanoid shaped giant of metal.  When this giant arrives on Earth he starts eating all sorts of metal items.  The giant causes some concern and havoc with his antics, but in the end, he's Earth's best defense when another creature arrives that could devour all life on Earth.
8.
Dona Flor by Pat Mora, illustrated by Raul Colon (Knopf Books for Young Readers, 2005)
Dona Flor is one of the rare giantesses from fiction.  She's also a rare Latin Amercian protagonist to boot.  This giantess lives in the Puebla with a lot of families, where her giant nature proves entertaining and useful to the community.   When a huge puma threatens the village, it is Dona Flor who goes to deal with the beast.
9.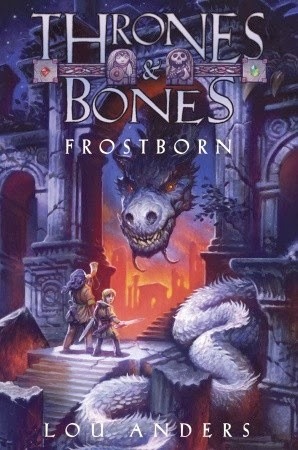 Thrones and Bones: Frostborn by Lou Anders (Crown Books for Young Readers, 2014)
Lou Anders book is about as close to Dungeons and Dragons style fantasy fiction as I've found in MG books.  Thianna is one of the two main characters of the novel and she is half human and half frost giant.  This makes her too tall to hide among regular humans but far too small among her own kind.  Thianna desperately wants to be taken seriously by her kin.
10.
The Rise and Fall of Mount Majestic by Jennifer Trafton, illustrated by Brett Helquist (Dial, 2010)
And finally in this book we have a giant who is actually part and parcel of the setting. Persimmony Smudge has discovered that the great mountain at the center of the island, Mount Majestic, is actually the chest of a sleeping giant.  Now she must convince the rest of the island residents that a giant is sleeping in their midst and must not be woken!
So there's my ten!  Comments welcome!
Posted on April 1, 2015, in General Posts, Lists and tagged Books, Children's Books, Children's Literature, fantasy, kidlit, literature, MG Books, Middle-Grade Fiction, Picture Books, Reading, Science Fiction. Bookmark the permalink. 3 Comments.