A Tuesday Ten: Unorthodox Princesses
Been under the weather all week and not really up to screen viewing, so I'm a little late and  I picked an easy topic for this week–princesses who go against the grain are actually quite numerous in middle grade fiction. It's a favorite of mine, perhaps because I tend to reject the typical princess cliches of a beautiful girl who wears fancy clothes and tends to be a damsel in distress for a hero to come rescue.
1.
The Red Wolf by Margaret Shannon (HMH Books, c2002)
The odd picture book has grown on me over the years.  I love that the story is about knitting, but the main story arc is that of a young princess yearning for her own agency and freedom.  The king is a terribly egocentric man whose idea of caring for her daughter is to lock her in a high tower away from the world.  When she receives a mysterious box of yarn she knits herself a red wolf costume and transforms into a wonderfully wild and joyous red wolf who breaks down the tower and goes gallivanting around the countryside.  It's a favorite in our household.
2.
Princess Juniper of the Hourglass by Ammi-Joan Paquette (Philomel Books, 2015)
Out this year, this book with it's deceptively traditional fantasy cover fooled me.  Princess Juniper is not your typical princess, and hates all the formalities and barriers her position makes for her life.  So she decides for her thirteenth birthday present to ask her father to give her a country  of her own to rule over with some of the young people from court.  She quickly discovers just how challenging it can be to rule, and how quickly power can slip out of your hands if you're not careful . . .
3.
The Ordinary Princess by M. M. Kaye (Doubleday and Company, c1980)
This is a favorite I've mentioned many times, but while many books have unorthodox princesses based on their interests, actions or personalities, less take time to consider an unorthodox appearance.  Princess Amy has been granted the fairy godmother blessing of being "ordinary".  This means she's got freckles and mousy brown hair and looks fairly unremarkable.  But Amy's lively personality and refusal to go along with her parent's plans to marry her off sight unseen leads to a fairy tale all her own!
4.

Castle in the Air by Diana Wynne Jones (Greenwillow Books, c1990)
I had to add in this second book in Diana Wynne Jones' Howl's Moving Castle series.  Part of the premise in this story is a djinn who steals princesses for his brother.  Only . . . the results of this princess stealing are rather mixed.  He's got older princesses, and toddler princesses, he's got practical, roll-up-your sleeves princesses and tiny, dwarf-like princesses.  All of them together make quite a force to be reckoned with and it's truly delightful to watch them cow the djinn and his evil brother.
5.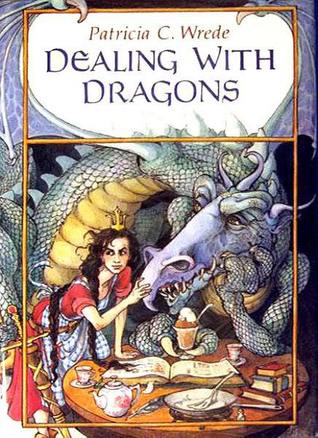 Dealing with Dragons by Patricia C. Wrede (HMH, c1980)
Cimorene is no kind of proper princess.  She wants to learn all kinds of skills, and gets annoyed when her parents keep forbidding her learning things.  But when they want to marry a prince who is as dull as wallpaper, she finally has had enough.  She goes off and strikes up a deal with a dragon, becoming the dragon's princess, cataloging the Kazul's treasure, learning magic and all the other things she's ever wanted.  Now if she could only keep those pesky princes from trying to "save" her.  I love the Trina Schart Hyman illustrations of Cimorene, she just looks like a person I'd love to get to know and go on adventures with!
6.
The Princess who Saved Herself by Greg Pak, illustrated by Takeshi Miyazawa, inspired by the song by Jonathan Coulton,  Jessica Kohlinne (colorist) and Simon Bowland (lettering).  (Pak Man Productions, 2015)
My husband got this book for my daughter–and I can't help but add it to the list after her instant love for the story! "Once upon a time there was a princess named Gloria Cheng Epstein Takahara de la Garza Champion . . ."  And Glory likes to play the guitar.  But the nearby queen can't stand the sound and tries to stop her.  Great pictures combined with rhyming text that tell the story of a most unorthodox princess . . .  Sadly, this is my only protagonist princess who is a title character that has a (very) multicultural background!
7.
The Princess Knight by Cornelia Funke (Chicken House, c2001)
Princess Violetta's mother dies when she is born and the king decides to raise his daughter as he has his sons, teaching her to joust and fight.  But little Violetta isn't as strong or big as her brothers, and she must find her own ways to train.  This determined princess succeeds . . . but when the king decides he will marry her to the knight that wins his tournament, Violetta takes matters into her own hands.
8.
The Marvelous Land of Oz by L. Frank Baum (HarperTrophy, c1904)
There's a bit of a spoiler here, so if you'd rather not know, skip the next description!  Young Tip goes on a quest with some of the other familiar characters from the first famous book.  But Tip the boy is in for a bit of surprise when he finds out near the end of his journey that he did not start life as a boy.  He was transformed into a boy by an evil witch.  In reality, he is Princess Ozma of Oz.  Ozma shows up in many of the stories after this one, and she is singular in that she is the ruler of Oz, not a princess to be romanced or rescued, but a beloved and charismatic ruler who has real power.  Written over a hundred years ago, these books still impress readers with the amount of agency given to the female protagonists.
9.
The Wide-Awake Princess by E. D. Baker (Bloomsbury, c2010)
Princess Annie is significant in that she is impervious to magic.  And in a fractured fairy-tale kingdom this is significant!  A dark curse of magic has put the entire castle to sleep–except for Annie!  Now she's got to find her sister's true love to kiss her awake and fix the whole family!  Light and humorous with plenty of familiar fairy-tale characters, Annie's "talent" is delightfully different in the face of it all.
10.
The Paper Bag Princess by Robert Munsch (Annick Press, c1980)
Elizabeth is a princess with the typical princess things and a typical princess life, until a dragon takes it all away.  Her clothes and castle are burned up, her prince is captured and she's left with only a paper bag to wear. Another princess might sit down and have a good cry. Not Elizabeth.  She puts on her paper bag, tracks the dragon down and cleverly frees her prince.  Only to realize in the end, she doesn't need him.  There are few enough princesses in stories that end up with a happily ever after on their own terms without a prince or romance.  But this lovely tale gives us just such a princess.
So here's my very late list of princesses! Add to the fun! who are your favorite unorthodox princesses?
About Stephanie Whelan
I'm a children's librarian with a life-long love of all things science fiction and fantasy.
Posted on July 11, 2015, in General Posts, Lists and tagged Authors, Books, Children's Literature, Fairy Tales, fantasy, Historical Fantasy, kidlit, Lists, literature, MG Books, Middle-Grade Fiction, Picture Books, Reading, reviews, series. Bookmark the permalink. 5 Comments.