A Tuesday Ten: The Red Planet
Okay folks! A new Tuesday Ten!  Today we're looking at children's lit  that takes place on the Red Planet.  Mars is an incredibly popular subject matter for adult Science Fiction authors (just go check over at Goodreads if you don't believe me!) but it doesn't have quite the same popularity in middle grade and younger fiction.  That said, I still found ten books to share.  Some old, some new, some definitely bizarre!  But they all have scenes set on Mars!
1.
Mars Evacuees by Sophia McDougall (HarperCollins, 2015)
One of my favorite books from last year!  Alice Dare and whole group of Earth kids are shipped off to a the new colony that's being created on Mars.  But once they arrive things aren't quite as safe or as simple as anyone thought! Fun, funny and action-packed SF that's meant to be enjoyed!
2.
A Wizard of Mars by Diane Duane (Harcourt, c2010)
One of my actual SF/fantasy mixes for the list.  This is Diane Duane's 9th book in the Young Wizard series.  This time our protagonists travel to Mars to investigate and ancient civilization . . . but what they find may wind up setting events in motion that will put Mars and Earth on a collision course . . .
3.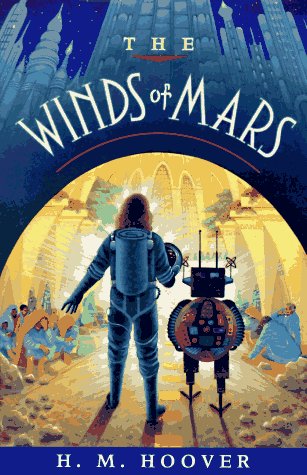 The Winds of Mars by H. M. Hoover (Dutton Juvenile, c1995)
Rebel forces strike at the all powerful Mars president, sending his daughter fleeing from enemies.  But what young Annalyn discovers soon has her questioning everything she's been taught.  Are the rebels truly wrong?  What secrets has her father hid from her?  Science fiction with a social issue core and some dark discoveries in store for our main protagonist.
4.
The Ship that Sailed to Mars by William Timlin (Dover Publications, c1923)
From there we jump back to 1923, when William Timlin decided to create a bedtime story for his children, complete with gorgeous illustrations.  In this fantastical story, a man builds a ship to sail across space to Mars.  So happy to see this one back in print so that everyone can experience it!  Worth a look if you can find it.
5.
Mars Needs Moms! by Berkely Breathed (Philomel, c2007)
I've a few picture books on this list and Berkely Breathed's is one.  The book went on to inspire a movie years later, but the original story tells of aliens who abduct a boy's mom to bring her to Mars.  The boy stows away in the ship, suddenly realizing that the mom he'd grumbled about and gotten angry at isn't worth losing to aliens.
6.
Secrets of the Dragon-Tomb by Patrick Samphire (Henry Holt and Co. Expected Publication January 2016)
Martian Regency space opera.  Not the sort of thing you see very often in middle-grade fiction.  I'll be looking forward to reading this one as soon as I can snare it!
7.
There's Nothing to Do on Mars by Chris Gall (Little Brown  Books for Young Readers, c2008)
Davey and his parents move to Mars, far away from all the familiar things Davey is used to.  But with a little creativity and effort, Davey begins to find that Mars may hold just as many interesting things for him to explore and do as his old world.
8.
Miss Pickerell Goes to Mars by Ellen MacGregor (Mcgraw-Hill, c1951)
Yes folks, there is a middle-grade series out there that has a protagonist who is both a curmudgeon and a spinster. Miss Pickerell comes home from vacation to find a very strange ship on her property–and she's not having it!  When things go awry, Miss Pickerell ends up on board for the adventure of a lifetime!  Of course this is only the first of this character's adventures . . .
9.
Space Cat Meets Mars by Ruthven Todd, illustrated by Paul Galdone (Scribner, 1952)
The 1950s also introduced readers to Space Cat, a clever cat who goes on all sorts of outer space adventures.  In this third book, Space Cat finally goes to Mars and discovers there are cats on the red planet!  Veteran children's book readers will probably recognize the illustrator attached to these books!
10.
The Brave Little Toaster Goes to Mars by Thomas M. Disch (Doubleday Books, c1988)
Many of you probably didn't know this was a books series.  I'm guessing most of you didn't know there was a sequel in any case.  Yup our favorite appliance is back again, and this time the Toaster is off to Mars to stop the Martian appliances from declaring war on Earth–can one toaster achieve peace between worlds?
So there's my ten!  Any others you can think of? I'm always interested!  Add them in the comments below!
About Stephanie Whelan
I'm a children's librarian with a life-long love of all things science fiction and fantasy.
Posted on February 2, 2016, in General Posts, Lists and tagged Aliens, Authors, Books, Children's Books, Children's Literature, fantasy, kidlit, Lists, literature, MG Books, Middle-Grade Fiction, Picture Books, Reading, reviews, Science Fiction, series, SF, Space Adventure. Bookmark the permalink. 5 Comments.