A Tuesday Ten: Off-world Adventure!
I've done a bunch of fantasy lists lately. Thought it was time to do one more devoted to science fiction.  These are all stories that take place with characters off in space or other planets.  They may start on Earth or return to Earth, but the adventures take place elsewhere!
1.
Mars Evacuees by Sophia McDougall (Puffin, February 2015)
Off to Mars! Likely one of my favorite SF books for this year–this futuristic story takes us to a world where aliens have invaded earth and the human-alien war has been going on for some time.   The war is not going particularly well for the humans, and Alice Dare is one of a select group of children being evacuated to Mars where terraforming is only beginning to make Mars habitable.  But things on Mars aren't all that rosy and when the instructors go missing, leaving only the robots in charge, things quickly go from bad to worse.  This is exciting adventure, humor and great alien-human science fiction.
2.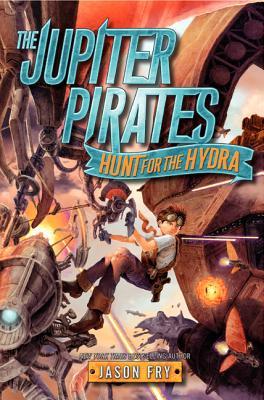 Jupiter Pirates: Hunt for the Hydra by Jason Fry (HarperCollins, 2013)
 Beyond Mars! The first book in the author's Jupiter Pirates series,  this story takes us out into colonies withing out own solar system.  Our family of privateers lives and works in the Jovian system, taking advantage of the hostilities between Earth and the Jovians to make a good living capturing unauthorized Earth vessels for ransom.  Lots of great piratical adventure and outer space fun to be had in these books.
3.
Alien Secrets by Annette Curtis Klause (Laurel Leaf Library, c1993)
Off to the planet Shoon!  Puck is on her way to stay with her parents on the Planet Shoon aboard a transport ship.  But mysteries and secrets abound aboard ship–stolen alien treasures, ghostly encounters and dangerous enemies all serve to make this a fine intergalactic adventure!
4.

Space Case by Stuart Gibbs (Simon & Schuster, 2014)
Off to the Moon!  Our closest celestial body is the one we might develop colonies on first.  This near future story imagines just such a possibility.  Dashiell Gibson is one of the very first kids ever to live on the moon in their very first colony!  But living on the moon isn't all it's cracked up to be–the food isn't great, quarters can get claustrophobic, and the social life is small.  But when one of the colonists is murdered, Dash is the only one who may be able to figure out the culprit!
5.
The Planet Thieves by Dan Krokos (Starscape, 2013)
Mason Stark is a cadet whose just supposed to be logging hours aboard the spaceship SS Egypt on a routine trip through space.  Now he's neck deep in trouble!  The Tremist aliens have invaded and taken over the ship, killing or imprisoning all the adult crew.  Only Mason and a handful of cadets have managed to avoid being captured, and now they must find a way to stop the Tremist before they get ahold of the weapon aboard the SS Egypt that could change the war forever!  Military science fiction for the middle-grade set.
6.
High Wizardry by Diane Duane (HMH Books for Young Readers, c1990)
Across the universe! The third book in the Young Wizards series takes the focus off Nita and Kit and tells the story of Nita's younger sister, 10-year-old Dairine.  Like her big sister, Dairine's destined to be a wizard–but her wizard Ordeal is going to be quite a doozy!  Transported off to a far away planet, Dairine's about to witness a new form of life being created–but when the Lone Power shows up, will Dairine and her allies be able to defeat it?  I think it fair to include the occasional space traveling wizard in the mix here.  Diane Duane's series is one I enjoy because it manages to meld fantasy and science fictional tropes comfortably together.
7.
A Wrinkle in Time by Madeleine L'Engle (Farrar, Straus & Giroux, 1962)
Travel by Tesseract!  Like the previous title, this one is a blend of the fantastic with the science fictional.  This classic award winning book sends three children hurtling through the stars to a distant planet in order to find and free their father.  But to do so, they will have to battle the darkness and evil of IT and find a way to break free.  Wild space adventure via the abilities of three mysterious beings: Mrs. Who, Mrs. Which and Mrs. Whatsit.
8.
Journey to Terezor by Frank Asch (Random House, c1989)
Beamed up by aliens!  Sometimes I have to throw in the sillier stuff.  Matt and his family are kidnapped by aliens and brought to another planet where life isn't exactly bad, but they are still prisoners.  When Matt decides to break out and find out the truth behind their capture, he goes on an adventure and through a transformation he never imagined!
9.
My Trip to Alpha I by Alfred Slote (HarperCollins, c1978)
Travel by code!  Jack is visiting his aunt on the distant planet, Alpha I, helping her prepare to move back to Earth, but something doesn't seem right with his aunt, or with things that are going on around Alpha I.  Slote had the interesting idea of people traveling electronically  to robotic bodies that they would inhabit at far distances.  It's an interesting enough concept that I wanted to include it here on this list!
10.
The Wonderful Flight to the Mushroom Planet by Eleanor Cameron (Little, Brown Books, c1953)
Off to the Mushroom Planet.  This lovely little classic has two boys: Chuck and David, who make their own spacecraft in order to travel to the planet Basidium  and save that world!  This is the first book in a six-book series, but I'm not sure you'll find anything beside the first book in print!
So there's my ten!  What are some of your own favorites?
Posted on February 26, 2015, in General Posts, Lists and tagged Aliens, Books, Children's Books, Children's Literature, fantasy, kidlit, Lists, literature, MG Books, Middle-Grade Fiction, Reading, Science Fiction, series, SF, Space Adventure. Bookmark the permalink. 2 Comments.