A Tuesday Ten: Squirrel Fantastic
Squirrels.  No I'm not the biggest fan of furry fantasy, but I can be persuaded.  One thing that struck me is that squirrels have popped up in fantasy titles enough that I noticed.   These shadow-tail tree climbers of the woodland seem to attract the storyteller in some authors, and I've got ten below to share!
1.

Nuts to You by Lynne Rae Perkins (Greenwillow Books, 2014)
This Cybils finalist takes readers into the lives of different colonies of squirrels.  When one squirrel gets dropped by a hawk far from his home, two of his friends go looking for them.  But what they find on their journey soon has them hurrying to warn all the squirrels of an impending disaster!  A cute story for the younger middle grade reader.
2.
Flora and Ulysses: The Illuminated Adventures by Kate DiCamillo, illustrated by K. G. Campbell (Candlewick, 2013)
Last year's Newbery winner was all about a girl and her best friend, a squirrel named Ulysses who gained superpowers after a tragic accident with a vacuum.  This hilarious and heartwarming duo is sure to win your heart!
3.
Triss by Brian Jacques (Firebird, c2002)
If there's a type of squirrel I'm preferential to, it's probably the Redwall squirrel.  In the world of swashbuckling adventures and epic deeds, these squirrels are fierce warriors.  The squirrels appear in many of the stories, but this one features a young female squirrel as the protagonist.  A young squirrel maid escapes the slavery of a wicked ferret and finds her way to Redwall where she'll be the next to take up the sword of Martin. This book is number 15 in the Redwall series.
 4.
The Tale of Timmy Tiptoes by Beatrix Potter (Warne, c1911)
One of two squirrel titles from this author.  Potter drew all her characters fairly realistically, despite their occasional clothing.  Timmy Tiptoes is gathering nuts for winter and trying to figure out a more sensible way of doing so than the regular method.
5.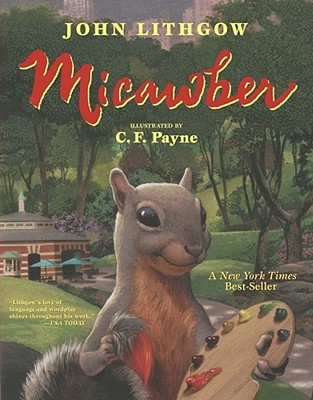 Micawber by John Lithgow, illustrated by C.F. Payne (Simon & Schuster, c2001)
A surprisingly entertaining picture book about a squirrel who is fascinated by art and artists.  He winds up accompanying one home and decides to try making art himself.  A delightfully different rhyming story for all ages.  You wouldn't even know this was a celeb-written book!
6.
Mr. Squirrel & the Moon by Sebastian Meschenmoser (NorthSouth, January 2015)
Haven't seen this picture book yet, but can't wait.  When the moon gets stuck in the branches of Mr. Squirrel's tree, he decides to push it out before someone can blame him for taking it.  But results are not what he expected . . .
7.
The Oaken Throne by Robin Jarvis (Seastar Books, c1933)
Book 2 in the Deptford Histories, this story is one of the prequels to the Deptford Mice trilogy.  I haven't gotten a chance to read any of these so far, but I'm going to have to find them and read them sometimes soon! A series of wars between the squirrels and the bats may destroy their kingdoms unless one brave young squirrel and bat can find a way to save them all.
8.
The Rifts of Rime by Steven L. Peck (Sweetwater, 2012)
Epic fantasy involving squirrels seems to be something of a theme here . . . Pinecone is no warrior, but he's the squirrel that's been entrusted with the mystical Scroll of Quickening and must keep it safe from the evils of the woodland at all costs.  This is the first book in The Quickened Chronicles, although no further books have been published to date.
9.
Urchin of the Riding Stars by M. J. McAllister (Miramax, c2005)
More epic fantasy!  When Urchin's mentor is accused of a murder he did not commit, it will be up to Urchin to find the true culprit before the real murderers overtake the kingdom!  This is book 1 in 5 of the Mistmantle Chronicles.
10.
The Dorset Squirrels by Michael Tod (Cadno Books, 1999)
Squirrel politics.  Red squirrels brace themselves for the arrival of Grey Squirrels who may threaten the Reds homes.  Will the Grey Squirrels prove superior?  I've not found this book anywhere, but it's a collection of three short stories about the interactions between these two different squirrel bands.  Honestly surprised they didn't title it The Silver Tide instead.
So there you have it! Anyone have any squirrel books to add to my list? Comments welcome!
About Stephanie Whelan
I'm a children's librarian with a life-long love of all things science fiction and fantasy.
Posted on February 8, 2015, in General Posts, Lists and tagged Animals, Authors, Books, Children's Books, Children's Literature, fantasy, kidlit, Lists, literature, MG Books, Middle-Grade Fiction, Picture Books, Reading, series. Bookmark the permalink. 2 Comments.