You're a 15-year old scientist crash lands her craft far from home on a backwater planet where an archaeological dig is going on to discover the remnants of an alien civilization.  While waiting for someone to pick you up, you join in the dig and befriend the local smiling, sort of bear like alien wildlife called Lumpies while waiting for help.  But soon you discover that the Lumpies may be harboring a secret . . .
Do you remember:
The Lost Star by H. M. Hoover (Avon, c1979)
Lian is a young teen in a far future where humankind has reached the stars.  Her parents are scientists who travel through space and set up research stations.  Since she left Earth at eight years old, Lian's life has been one surrounded by adults with little time to indulge a child.  In fact her parents often become so involved in their work, they don't pay much attention to her.   When Lian crash-lands her transport far from home in the wilderness of the current planet her  parents are stationed on, she's stranded.  A local scientist at an archaeological dig finds her and offers her a place to stay while waiting for someone to retrieve her.  Lian accepts.  She participates in the dig with the other members of the expedition, and discovers the local creatures called Lumpies.  These gray, sort of bear-like creatures with wide, benign grins charm her and she quickly "adopts" a group of them and gives them names.  But it seems that the Lumpies are more than they appear, and they have decided to reveal their secrets to Lian. . .
Ah  Helen Mary Hoover, how I loved reading all of your stories of far futures with human stories that were ultimately familiar and inspiring . . .This one has always been one of my favorites.  Lian is not sure where she belongs, and although she's a brilliant and capable young woman she still feels some disconnect and pain for her lack of a real child hood and recognition of her emotional needs.  Her connection to the Lumpies is almost natural as they complement each other in their vulnerabilities and needs.  And ultimately she finds her place and purpose in helping and defending them.  I'm honestly not sure if Lian's ethnicity was brought up in the story (the covers seem to depict her as darker skinned  and Asian, but I don't remember if it's a subject brought up in the book).  That said, she's a capable and smart protagonist who is already a scientist in her own right.  That she's a girl is really a non-issue compared with the fact of her youth.  At the opening of the story, the readers crash land along with Lian.  Despite some emotional misgivings and fear, she's mostly practical minded in dealing with her situation, not panicking "damsel in distress" mode.  She's a pretty rare heroine in science fiction, to be honest–though one of a type that Hoover does particularly well.
Looking back on this story now, I realize that at the time I'd read this, I'd already been reading about alien encounters on a planet where the aliens where first thought to be nothing more than cute wildlife.  I'd read my father's copy of Little Fuzzy by H. Beam Piper probably about a year or two before I encountered The Lost Star, but the plot's have some similarities of subjects and themes.  The primary difference is the characters.  Little Fuzzy is an entire cast of adult humans (and technically written for an adult/ya audience) but this book was written with a young teen at its' heart, with all her struggles and emotional turmoil.  While this book has a teenager as it's mainprotagonist, it reads much more as a tween audience novel than a young adult book.  That said, back when I read it there was no YA section as such, so I read through many things that had teen-aged heroes and heroines.
I have a very worn out copy in my home collection, and this is one of the books I'd love to see reissued.
Any H. M. Hoover fans out there?  Comments welcome!
Series are a big chunk of speculative fiction and for every new series starter, there must be the books that follow after.  Sometimes these are trilogies, quartets, or even more. However many the number, these stories usually have a built in fan base that is already eagerly waiting for the title before it hits the shelves.  Here are three for this Thursday! (a little late, I know!)
1.
Ro
se and the Lost Princess by Holly Web (Sourcebooks Jabborwocky, USA publication April 2014)
This second volume in the Rose series picks up the story just after the last adventure has finished.  While you might be able to dive into this book without reading the first, this reads better if you know the first story.  Rose is finding her new standing in the household hard to balance.  The staff are now nervous of Rose and her magic and she's struggling to hold her own against prejudice and jealousy.  All that gets put to the side, however, when a threat materializes against the princess, one that puts all magic users under suspicion.  Rose will have to pitch in to help find the culprits  and prove that magic can be as useful as it is dangerous.
There's some good stuff with the realities of how people might treat magic and magic users after something bad happens with magic–and Rose's inability to fit neatly into a role is more realistic than her finding the perfect spot with her odd set of talents.  The story doesn't quite have the zest of discovery that the first has, and it's setting up a lot of elements that won't conclude in this volume.  It's a decent second novel, but readers will want to find the first.
2.
The Forbidden Flats by Peggy Eddleman (Random House, Expected Publication September 2014)
This is the second volume in the Sky Jumpers series. I've reviewed the first book here.  Our first story had a complete adventure for twelve-year-old Hope, but apparently danger for her community is not averted for long, and when a quake starts changing the balance of the atmosphere and bringing the Bomb's Breath closer and closer, it's up to Hope and a group of others to journey to a distant community to find the one thing that can stop it.  In the story, readers get to see Hope's own back story develop.  She's an adopted child whose real parents she knows little about.  But when a blood relative joins her adventure, she gets a chance to learn more.
This is one of those sequels that really depends on reading the first book for it to make much sense.  I found some of the plot elements a bit convenient,but the overall world building did flesh out the world.  Readers who want to understand more about Hope's birth family and what happened to them will be the most satisfied by this volume while those looking for the more straight-forward adventure of the first may find this a bit slower-moving.
3.
Rain Dragon Rescue by Suzanne Selfors, illustrated by Dan Santat (Little, Brown Books for Young Readers, January 2014)
This is the third book in the The Imaginary Veterinary, a lighthearted fantasy series for early middle grade readers that looks at cryptids and mythical monsters. Ben and Pearl are still helping out at the "Worm Hospital" and helping Dr. Woo hide the hospital's critters from discovery, but when things start to go missing all over town, it seems there might be a mythical thief on the loose.  With Dr. Woo away it's up to our two protagonists to sort things out! But things soon go from bad to worse when an injured rain dragon needs their help–in order to help the dragon, Ben and Pearl are going to have to do some rule-breaking . . .
Consistently fun and funny series that's sure to appeal to readers who like contemporary fantasy without a lot of heavier epic story elements and drama.  This particular volume does introduce a new and dangerous villain, but the overall tone still remains in keeping with the start of the adventures.  This can probably be read as a stand-alone adventure, though these books work best in order if readers don't wish to have spoilers for what happened earlier.
So there's my three! Comments welcome!
Characters with red hair seem to be popular throughout fiction in general.  So I thought this Tuesday I'd take a look at redheads in science fiction and fantasy.  While redheads only make up about 4 percent of the population, there are plenty of them as fictional characters.  I've tried here only to include main characters where the red hair is a significant feature.
1.
Pippi Longstocking by Astrid Lindgren, translated by Florence Lamborn (Puffin, c1945)
Honestly, if you're thinking of red hair and don't automatically think of Pippi, then I'd be quite astonished.  Pippi's entire look is about that hair bound in two braids and sticking out on the sides.  At one point she's cracking eggs and one lands on her head. "I always did hear that egg yolk was good for the hair," said Pippi, wiping her eyes. "You wait and see-mine will soon begin to grow so fast it will crackle." Pippi's hair goes well with her own personality–and warns those around her they will be dealing with someone decidedly unconventional.
2.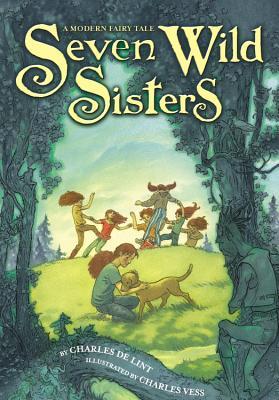 Seven Wild Sisters by Charles DeLint, illustrated by Charles Vess (Little, Brown Books for Young Readers, February 2014)
DeLint is no stranger to writing about redheads, and in this story he's got a whole band of them. Seven redheaded sister who wind up getting themselves entangled in the middle of an ages old fairy war.  Several time the point is made that red hair generally gives a human a better advantage against fairies, particularly in resisting the urge to yearn after fairyland itself.  It's a delightfully spun tale, stronger than his last story for children; The Cats of Tanglewood Forest (2013) which also features a red haired protagonist.
3.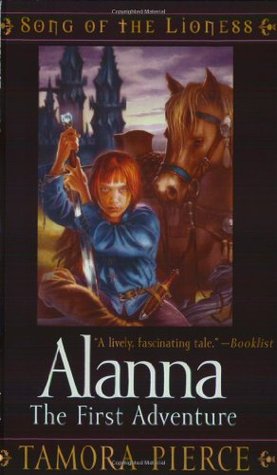 Alanna: The First Adventure by Tamora Pierce (Simon Pulse, c1983)
Possibly the toughest red haired protagonist on the list. Alanna is the girl who disguises herself as a boy to become a knight.  She and her her twin brother have the same coppery hair and violet eyes–a striking combination that becomes pretty well known throughout the series.   Alanna's character was the one that had me wanting to be a redhead!   As vivid in personality as in her appearance, Alanna was my first and favorite female warrior.
4.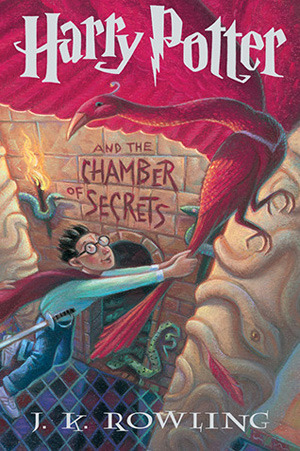 Harry Potter and the Chamber of Secrets by J. K. Rowling (Arthur A. Levine Books, c1998)
Red haired male characters in a starring role are hard to come by, but J. K. Rowling  managed to do it when she introduced readers to Ron Weasley.  There's much made of his red hair, and the fact it's shared by the whole family.  Draco Malfoy uses the trait to insult Ron along with his family's financial struggles and size.  The red hair trait remains significant throughout the entire series, but I brought up the second book in particular because we really get introduced to the whole family in this story.
5.
The Hero and the Crown by Robin McKinley (Ace, c1984)
Aerin's red hair is an inheritance from her mysterious mother, the woman who died giving birth to her.  It makes her stand out from those around her.  In order to prove her worth and gain acceptance, Aerin learns the art of dragon-slaying.  But one giant dragon may prove too much for our fiery young hero–can she defeat it, and find the strength to face her destiny? Sword and sorcery stories seem to particularly love redheads . . .
6.
Calling on Dragons by Patricia C. Wrede (Houghton Mifflin Harcourt, c1988)
The third book in The Enchanted Forest Chronicles is narrated by Morwen, a rather unusual witch, who is fine-boned and short, with ginger hair and spectacles.  She's pictured here on the cover.  While this book isn't the strongest of the four, it picks up the story when the King's magic sword goes missing and Morwen must join the quest to find the blade and stop the nefarious wizards who are up to no good.
7.
Gwinna by Barbara Helen Berger (Philomel, 1990)
This lovely lyrical tale tells the story of a child who is born with wings.  Her parents try to hide her strangeness and bind her wings, but finally Gwinna must fly away on a quest of her own, to find out who she is and who she will be.  Lovely full color illustrations make it clear that Gwinna has glorious red hair.
8.
An Acceptable Time by Madeleine L'Engle (Bantam Doubleday Dell, c1989)
In this continuation from the original Time Quartet, Meg's children are grown up enough to have adventures.  Here it is red-haired Polly who goes on an adventure through time and space.  She'll have to confront issues of sacrifice and forgiveness and find a way to get herself back home again.  Not the best in the series, but quite a gorgeous cover.
9.
Raggedy Ann in Cookie Land by Johnny Gruelle (Simon & Schuster, c1960)
Granted these are dolls rather than people, but I do think they count just fine as redheads–wouldn't you agree?  These two ragdolls starred in a number of sweet children's fantasy adventures written by Johnny Gruelle. These living dolls would travel to different "countries" where strange creatures lived and work out some problem or crisis.
10.
Shatterglass by Tamora Pierce (Scholastic Press, c2003)
I couldn't quite leave this list without another Tamora Pierce redhead.  This character is from her  Circle of Magic and The Circle Opens quartets.  Trisana, known as Tris is a redhead merchant family girl who happens to have wild weather magic gifts that allow her to harness lightning and wind  and so forth.  This rather temperamental character is prickly under the best of circumstances, yet you can't help but like her.  This particular book cover beautifully displays Tris with her hair in a range of braids.  This is where she keeps much of her power, to be unbraided when she needs it.
So there's my ten!  Who are some of your favorite redheads? Comments welcome!