Blog Archives
Science fiction–it's not just for chapter books!   They may only make up a sliver of picture book titles, but there are still a fair number of them.  A great way to share this genre with the younger audiences.  I've done lists of these before, but just for fun I want to revisit the topic.
1.
Alistair's Time Machine by Marilyn Sadler (Simon and Schuster, 1986)
Marilyn Sadler's Alistair series is sadly out of print, but these wild stories of a very ordered "boy of science" are charming and remembered fondly by many readers.  Two of the stories were featured on Reading Rainbow episodes.   Alistair is a very intelligent and pragmatic sort of boy to send on adventures.  He's also a rare protagonist in glasses!
2.
June 29, 1999 by David Wiesner (Clarion 1992)
This author/illustrator is well known for the strange, the bizarre and the surreal.  But this particular story features a science project that may–or may not–have gone awry! Our young scientist has sent vegetable plants up in balloons to study the affect of higher atmosphere.  But are the giant plants that land back down on her town results of her experiment gone horribly wrong or something more extraterrestrial?
3.
Company's Coming by Arthur Yorinks  (Knopf, 1988)
An utterly charming read about a suburban couple expecting company . . . who wind up with some outer space visitors they didn't anticipate.  But kindness and spaghetti will win the day.  A great story for kids whether or not they love science fiction!  Don't miss the author's other SF books: Tomatoes from Mars, and  Company's Going .  
4.
Robot Zot! by John Sciezka, illustrated by David Shannon  (Simon & Schuster, 2009)
Alien invades earth kitchen! There's adventure, danger, romance–all the things Zot is looking for.  The illustrations magnify the hilarity of this over-the-top alien's invasion.  A great read aloud for youngsters just beginning to learn about science fiction.
5.
Mars Needs Moms by Berkeley Breathed (Philomel, 2007)

A funny picture book that inspired a not so great movie. Breathed's vocabulary rich story about a boy who has to rescue his mom from aliens who have kidnapped her is pretty fantastical–but still qualifies as science fiction.  And it's rare enough we feature moms in SF at all!
6.
The Everything Machine by Matt Novak (Roaring Brook Press, 2009)
An apt fable of a planet where a  machine does everything for the people of the community . . . until the day it breaks down and people learn how to do for themselves.  Even when the repairman comes to fix the machine, the residents have learned a pointed lesson.  A great book to inspire discussion and debate.
7.
Jack and the Night Visitors by Pat Schories (Front Street, 2006)
A wordless story of a young boy and his dog (Jack) and an alien encounter.   The boy tries to capture the aliens to keep them, but the aliens are not interested in staying.  Nicely told through images, and a genuinely charming little book.
8.
Oh No! (Or How My Science Project Destroyed the World) by Mac Barnett and illustrated by Dan Santat (Hyperion, 2010)
Girl builds giant robot for science project.  Robot  promptly goes on a rampage!  This is a classic sort of science runs amok plot, with lots of action adventure styling for kids.  Great to see a girl scientist in this plot line.  There's a second book featuring our science adventuress on another adventure: Oh No! Not Again! (Or How I Built a Time Machine To Save History) (Or at Least My History Grade).
9.
Mr. Wuffles by David Wiesner (Clarion, 2013)
Yes, there are two Wiesner books on this list. I won't apologize for that. This Newbery Honor is another wordless story by the author.  Aliens have come to earth–bug sized aliens.  And their spaceship has been damaged by a terrifying cat–the so titled Mr. Wuffles.  The aliens find friendship and forge alliances with the bugs of the household who help them repair their ship.  A charming case of close encounters that is classic Wiesner.
10.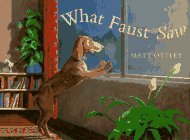 What Faust Saw by Matt Ottley (Dutton Juvenile, 1995)
There sure are a lot of pets encountering aliens!  This poor dog witnesses aliens landing and skulking about everywhere, but his barking only angers the family into being annoyed with their pet.  The aliens play an elaborate game of hide and seek with Faust causing the beleaguered hound no end of trouble!
I've two other Tuesday Ten lists of SF picture books you can find here:
Comments welcome!