A Tuesday Ten: Science Fiction Pathway VI (12-15 year olds)
For those reading along, this is the 6th part of this pathway, the introductory paragraph is pretty much the same  for each of these entries.
So, there are always lists out there detailing these or those must-read Science fiction books. Often SF and Fantasy are thrown in together without differentiation.  It's inspired me to try a different kind of series of Tuesday Ten lists, one that takes readers on a trip from childhood to adult with Science Fiction stories recommended in each age bracket.  A potential pathway so to speak.  I'm going to limit each bracket to ten titles (which is a REAL challenge in some cases), and I'm going to try and put in a range of works, recent and past, that are still available for readers to find.  After all, the point of this list is to give you ideas of titles share with your kids or read yourselves!  There will be many more options in each age range, this is only the jumping off point after all!  Let's blast off!
This week's Ten is focusing on the next group in my age bracket, the 12-15 year-olds.  (You can check out the 0-3 years list here , the 3-5 year-olds here, the 5-7 year-olds here, the 7-9 year-olds here and the 9-12 year-olds here.)  By now we have young teens who are probably interested fans looking for their next read.  Though it isn't impossible to coax a teen reader into trying something new–just might mean selling it to them the right way.  Sometimes adult enthusiasm can particularly misfire with teens who are looking to go their own way and forge their own reading, but it never hurts to leave a pile of books around.  Sometimes you can still do some reading aloud at this age, but another option is to "trade" books or read the same book together–this enables your teen reader to feel more of a partnership on what they're reading than simply being told what to read.    They will still be  having regular school assignments in book reading, both fiction and nonfiction and that may include some science fiction.  Teen readers will vary–some will find reading more challenging and want to stick to short stories and shorter books.  Some will be jumping up into adult reading with no hesitation, completely at ease with the transition into the adult realm of stories.  This is also a time when peer pressure can have a huge affect on a teen reader.  What their friends are reading and watching and talking about may have more impact.
It becomes harder to pick out books in this age range for two reasons.  The first is the sheer ephemeral nature of so much of YA literature.  I'm less prone to recommend the newest books simply because they may go out of print so quickly.  The second challenge is the that I'm considering this younger end of teen  readers and trying to recommend books that do not have graphic sexual content that puts the book in the next age bracket.
A Science Fiction Pathway: 12-15 year-olds
1.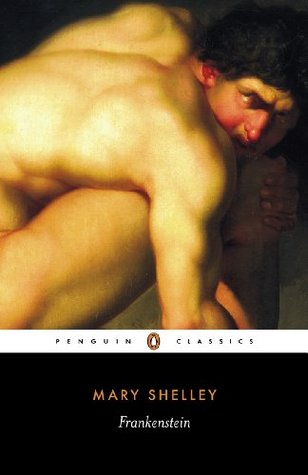 Frankenstein by Mary Shelley (Penguin, c1818)
We're going to kick off this list with a classic that not only is one of the first science fiction books ever written, but a such a book written by a woman.   Often Mary Shelley contribution to the SF genre overall goes wanting in favor of  others, but I think this is an excellent title to include in this pathway. For exploring the idea of scientific progress combined with scientific consequence, this is an excellent choice.   It also gives readers some great historical foundations in the science fiction genre as a whole.  Just about any decent SF library should have a copy of this book.
2.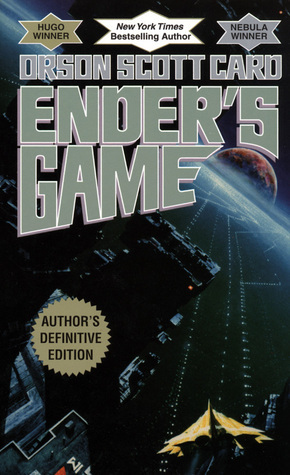 Ender's Game by Orson Scott Card (Tor, c1985)
Depsite the controversial nature of the author, this remains a classic of the genre that's worth including on the list.  Ender Wiggins is a child being trained through computer simulations to become Earth's General against alien invaders.  But Ender and his siblings, while remarkable, are only children.  Yet their reach and influence in the networks is vast.   This classic vision of warfare and of the lengths humankind can stretch it to is good food for thought.
3.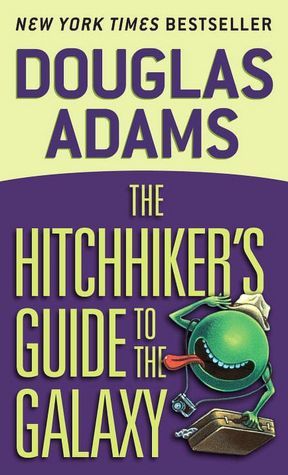 The Hitchhiker's Guide to the Galaxy by Douglas Adams (Del Rey Books, c1979)
Never underestimate the power of humor.  Douglas Adams amazingly goofy and wry romp around the Galaxy with his flawed cast of characters remains a favorite.  So many popular geek culture references originate in this work that it's worth including here–especially in a list that threatens to get to heavily bound up in issue driven books.  Science fiction can indeed be silly and fun!
4.
The Adoration of Jenna Fox by Mary E. Pearson (Henry Holt & Co., 2008)
What does it mean to be human?  What if you woke up to find you weren't the same person you had been?  that your body isn't the one you know? This is Jenna's story.  After a horrific accident Jenna slowly comes to know the truth about what her father has done and what she now is.  Can she come to terms with her identity and reality?  This exploration of issues of the human mind and how we might progress in the future is a powerful SF plot.  Similar stories are captured in Peter Dickinson's Eva and  Anne McCaffrey's Brainships series, but I thought this title most appropriate for the list.
5.
Door Into Summer by Robert A. Heinlein (Del Rey, c1957)
This is the age where I'd start recommending the bulk of Heinlein juveniles.  All these classic SF stories certainly have grown dated in some aspects, but they contain the seeds of science fictional adventure and invention.  They are some of the best anchor books for the "fun" that is so much a part of the genre.  This particular title was where I started with Heinlein, but really there are quite a number of what could be termed  Heinlein juveniles that would fit the bill.  Here you have a time travel/invention story that's also ultimately a tale of revenge.  I must have read it about 20 times as a teen.
6.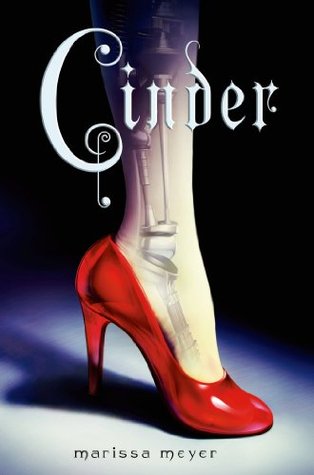 Cinder by Marissa Meyer (Feiwel & friends, 2012)
Imagine the story of Cinderella retold where our heroine is a cyborg set on an intergalactic stage.  Cinder is a gifted mechanic who is key to the fate of her world, though she doesn't know that. What she knows is that she is a second class citizen living with her stepmother and stepsister.  Space opera has great opportunity for expanding the stories and reaches of science fiction.  It often focuses more on the dramatic and sweeping story rather than the intricacies of future tech, but it is nevertheless an important part of the genre.  This is book one in the ongoing and popular Lunar Chronicles.
7.
The Illustrated Man by Ray Bradbury (Spectra, c1951)
Short story collections are an excellent idea at this age, and there are many out there.  But very few could compete with any of the story collections by SF master Ray Bradbury.  This collection contains both fantastic and futuristic tales, but the stories from it remain some of the most vivid in my mind.  Any of the Bradbury collections is highly recommended.  They open the mind while exposing the reader to incredibly powerful writing and language.   It's an opportunity that shouldn't be missed. One of my personal chilling favorites is "The Veldt".
8.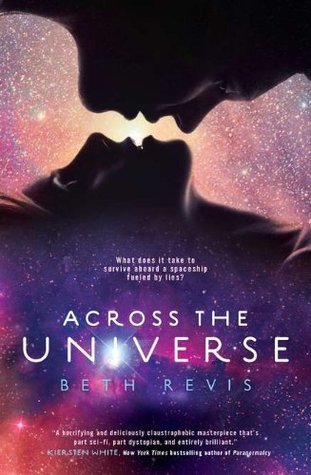 Across the Universe by Beth Revis (Razorbill, 2011)
There are a number of books that take on the subject of interstellar travel and create stories about what might happen.  I decided to feature this work, but I'm also giving a quick shout out for Earthseed by Pamela Sargent. In Across the Universe, seventeen-year old Amy wakes  fifty years earlier than she should from cold sleep, and discovers a murder mystery aboard the ship that's taking them to their new home. But what will the secrets she uncovers reveal?  Romance in science fiction doesn't negate its place in the genre, and it's often an intrinsic element in teenage storytelling.
9.
Akira by Katsuhiro Otomo (Dark Horse, c1984)
Graphic novels can be a huge draw in these years, and one of the classics is this manga.  Set in 2019 Tokyo after WWIII, the story follows two teenagers and the monstrous power known as Akira.  Many readers will know the anime inspired by the graphic novel, but I think it's worth  including in the list.  There are many manga and graphic SF stories out there that can catch a younger audience's attention.
10.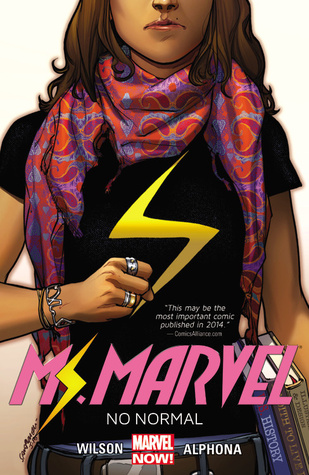 Ms. Marvel, Volume 1: No Normal by G. Willow Wilson, illustrated by Adrian Alphona (Marvel, c2014)
My biggest struggle with this list was including diverse characters for the age range.  Too many books just jump up to being very mature for this age group and I can't guarantee they fit my parameters.  But superheroes are one of those genre-crossing subjects that fall smack in the middle between SF and Fantasy.  Marvel's teenage Kamala Khan is a Muslim-American girl from Jersey who has just been granted  superpowers.  Ground breaking and lots of fun, this was definitely worth inclusion on the list, methinks.
Reminder, this pathway is neither a best of list or by far the only books to look at, these are merely jumping off points and ways to approach the genre, so if your favorite book isn't listed, feel free to shout out for it in the comments!
My earlier pathways can be found here:
A Science Fiction Pathway Part I ( 0-3 years)
A Science Fiction Pathway Part II (3-5 years)
A Science Fiction Pathway Part III (5-7 years)
A Science Fiction Pathway Part IV (7-9 years)
A Science Fiction Pathway Part V (9-12 years)
About Stephanie Whelan
I'm a children's librarian with a life-long love of all things science fiction and fantasy.
Posted on April 26, 2016, in General Posts, Lists and tagged Aliens, Authors, Books, Children's Books, Children's Literature, Diversity, Invention, Lists, literature, Reading, reviews, Science Fiction, series, SF, Space Adventure, Teen, Young Adult. Bookmark the permalink. 4 Comments.