A Tuesday Ten: A Science Fiction Pathway Part IV: (7-9 years)
Sorry for the delay!  Our house was full of the flu for over a week so I took some time to ride it out and get everyone well before hopping back into this!
So, there are always lists out there detailing these or those must-read Science fiction books. Often SF and Fantasy are thrown in together without differentiation.  It's inspired me to try a different kind of series of Tuesday Ten lists, one that takes readers on a trip from childhood to adult with Science Fiction stories recommended in each age bracket.  A potential pathway so to speak.  I'm going to limit each bracket to ten titles (which is a REAL challenge in some cases), and I'm going to try and put in a range of works, recent and past, that are still available for readers to find.  After all, the point of this list is to give you ideas of titles share with your kids or read yourselves!  There will be many more options in each age range, this is only the jumping off point after all!  Let's blast off!
This week's Ten is focusing on the next group in my age bracket, the 5-7 year-olds  (You can check out the 0-3 years list here and the 3-5 year-olds here.)  Here we get into kids who are learning to read themselves and enjoy listening to longer, more detailed stories.   They are becoming aware of nonfiction as well as fiction and having strong opinions and thoughts about what they like.  They'll be using their own library cards to check out things that appeal to them.  By the time they are in this age bracket, they've likely been exposed to some science fiction movies and may enjoy discussions about space travel, inventions, aliens, science and superheroes.
By this point, reading levels and ability become dramatically uneven, so the range of reading ability on this books goes from a few sentences per page to sizable chapter books with no or few illustrations. Some of these readers become extremely enthusiastic, zooming ahead of their peers.  Some of them will be sprinting up into tween and teen books in no time while others will stick to a more gradual reading progression.
A Science Fiction Pathway (7-9 year-olds)
1.
The Girl with the Silver Eyes by Willo Davis Roberts (Scholastic, c1980)
Despite the fact that this book is over thirty five  years old, it still is one of those wonderful books that captures so much of the imagination.  Psychic powers–the feeling of being strange and not like others, the struggle with being different, the excitement of being special–all this comes together in this story of Katie, a girl able to use her mind to move objects.  But when she starts realizing their might be other kids out there like herself, she's desperate to find them.
2.
My Teacher is an Alien by Bruce Coville (Aladdin, c1989)
This classic series from Bruce Coville is still in print, recently gaining a new set of covers!  Susan and Peter notice something odd about their teacher, but what they discover may soon have them in a desperate race to save their classmates from a terrible fate!  Aliens, humor, and kid heroes help to make this exceptionally popular, and accessible for new science fiction readers. Given that these are school stories to boot they have a fairly large audience of readers.  This is book one of four in the My Teacher is an Alien series.
3.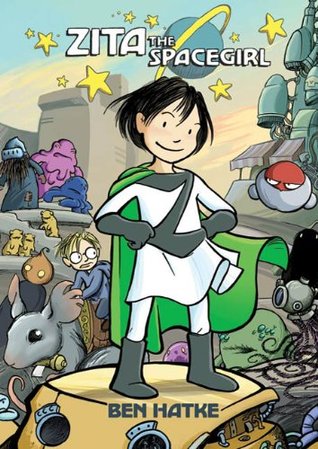 Zita the Spacegirl by Ben Hatke (First Second, c2011)
Graphic novels have their place in this genre, and one of the great space opera stories to be introduced to kids in recent years is Zita. When Zita launches off on a quest to rescue a friend of hers, she encounters all sorts of odd monsters and aliens and inadvertently becomes a hero along the way.  This book is one of three in this delightful trilogy.  A wild and wacky set of space adventures with great visuals and a stellar female protagonist.
4.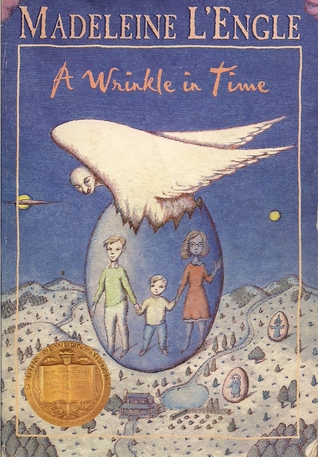 A Wrinkle in Time by Madeleine L'Engle (Yearling Books c1962)
This classic Newbery winner combines science, mysticism and sheer imagination in one amazing story about a girl who goes on a quest across the universe to rescue her father from a terrible evil.   One of my most beloved childhood classics, it continues to attract and inspire readers today much as it had for generations.
5.
The True Meaning of Smekday by Adam Rex ( Disney-Hyperion, c2007)
In a near-future earth, Tip is living on an Earth where the human population is being rounded up and sent to reservations while the aliens take over.  Her mom has been taken, and Tip is desperate to find her.  With just her cat and a renegade alien that goes by the name of J-Lo,  she winds up on a wild adventure that will have her saving the world for both the humans and the invaders!
6.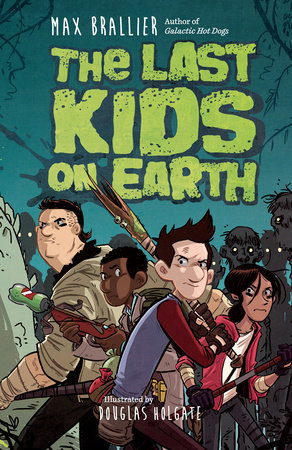 The Last Kids on Earth by Max Brallier, illustrated by Douglas Holgate (Viking Books, 2015)
It's the zombie apocalypse, kid-style!  Jack Sullivan has survived the monsters and zombies so far, but he can't do it for much longer on his own.  So he bands together with a group of other survivors, and becomes determined to take down the most fearsome monster of them all!  Funny action-adventure that's sure to appeal to appeal to those who like action movies.  One of the rare SF stories in this age range that's actually got a rather mixed cast of characters.
7.
The Silver Six by AJ Lieberman & Darren Rawlings (Graphix, 2013)
A group of orphans in a future earth dystopia discover that they all have a common connection, and that their parents left behind a secret that they'll have to break out and discover for themselves.  A marvelous mixture of action-adventure, dystopian future, puzzles and science fiction technology make this a great stand-alone graphic novel well worth the read!
8.
The City of Ember by Jeanne DuPrau (Yearling, 2003)
Ember is a city far underground where people have lived for generations by only the light of electrical powered lights.  They've managed to survive in this underground city–but now things are going wrong, food is running out and one by one the lights are going out.  Two young protagonists will have to find out the legacy of their city and how to return once more to the surface  of the world.  Great reading, imaginative world building that will pull in readers and get them thinking about solutions to problems.
9.
Animorphs: The Invasion by K. A. Applegate (Scholastic, c1996)
This series from the 1990s is being reprinted for a whole new generation.  The world is being invaded by aliens that can take over human brains . . . they've been infiltrating the earth for some time, the only ones who can stop them are a group of kids with the power to transform into animals.  They're the ones who are going to have to fight back!  This is book one of 54 in the Animorphs series. Quick reads, full of thrilling action and intrigue, great SF adventure!
10.
The Wonderful Flight to the Mushroom Planet by Eleanor Cameron (Little Brown Books for Young Readers, c1956)
One more classic for the list, before mankind ever made it to space writers were dreaming about the prospect.  Here two young boys get the chance to build a spaceship and blast off to the tiny planet of Basidium . . . and they bring along a pet chicken who turns out to be vital to the story!  Delightfully imaginative and full of that early optimism that's always been so inspiring.  A great way to get readers familiar with past generations of SF while still exciting them about the future.
Stay tuned for next week's pathway!  (Ages 9-12)!
Previous pathways:
A Science Fiction Pathway Part I ( 0-3 years)
A Science Fiction Pathway Part II (3-5 years)
A Science Fiction Pathway Part III (5-7 years)
About Stephanie Whelan
I'm a children's librarian with a life-long love of all things science fiction and fantasy.
Posted on March 22, 2016, in General Posts, Lists and tagged Aliens, Authors, Books, Children's Books, Children's Literature, kidlit, Lists, literature, MG Books, Middle-Grade Fiction, Psychic Powers, Reading, reviews, Science Fiction, series, SF, Space Adventure, Superheroes. Bookmark the permalink. 6 Comments.