A Tuesday Ten: A Science Fiction Pathway: Part III (Ages 5-7years)
So, there are always lists out there detailing these or those must-read Science fiction books. Often SF and Fantasy are thrown in together without differentiation.  It's inspired me to try a different kind of series of Tuesday Ten lists, one that takes readers on a trip from childhood to adult with Science Fiction stories recommended in each age bracket.  A potential pathway so to speak.  I'm going to limit each bracket to ten titles (which is a REAL challenge in some cases), and I'm going to try and put in a range of works, recent and past, that are still available for readers to find.  After all, the point of this list is to give you ideas of titles share with your kids or read yourselves!  There will be many more options in each age range, this is only the jumping off point after all!  Let's blast off!
This week's Ten is focusing on the next group in my age bracket, the 5-7 year-olds  (You can check out the 0-3 years list here and the 3-5 year-olds here.)  Here we get into kids who are learning to read themselves and enjoy listening to longer, more detailed stories.   They are becoming aware of nonfiction as well as fiction and having strong opinions and thoughts about what they like.  They'll be using their own library cards to check out things that appeal to them.  By the time they are in this age bracket, they've likely been exposed to some science fiction movies and may enjoy discussions about space travel, inventions, aliens, science and superheroes.
By this point, reading levels and ability become dramatically uneven, so the range of reading ability on this books goes from a few sentences per page to sizable chapter books with no or few illustrations.
Ages 5-7 years
1.
Go, Otto, Go! by David Milgrim (Simon Spotlight, May 2016)
Otto the robot is building a rocket to try and go home–will he succeed?  For the real beginners in reading, here's a book that combines repetitive text and simple sentences with a science fictional character and story.  David Milgrim's adorable Otto has been around for over a decade, but this newest adventure won't be out until May! Beginners just decoding words and sentences need simple primers like this to bound off into bigger adventures in the future.
2.
Space Cat by Doug Cushman (HarperCollins, c2004)
Cats in space are nothing new, but this beginning easy reader might be just the thing for a young science fiction fan still stumbling over sentences.  Space Cat and his trusty robot land planetside to refuel  but can they find the fuel they need?   A cute story and small amounts of text per page with dialog. help to make this a useful reading tool while still being entertaining!
3.
Commander Toad by Jane Yolen, illustrated by Bruce Degen (Puffin Books, c1980)
Some space books never die.  Jane Yolen's delightfully easy reader series is still popular today with new readers.  Full of science fiction jokes and references it's a rare easy reader series that entertains even as it helps youngsters learn the basics of reading.  There are seven books in all in this toad-tastic series, a great read through for any up-and-coming science fiction fan.
4.
Captain Raptor and the Moon Mystery by Kevin O'Malley and Patrick O'Brien, illustrated by Patrick O'Brien (Walker books, 2005)
Written in the spirit of the a golden age science fiction adventure tale with, yes, dinosaurs in space!  Our illustrious and legendary hero must investigate the mysterious something that has landed on one of their moons.  What could it be?  Lots of fun and a great older picture book with dramatic illustrations for kids to enjoy.
5.
Space Taxi: Archie Takes Flight by Wendy Mass and Michael Brawer (Little, Brown Books for Young Readers, 2014)
In this easy chapter book series for young readers Archie discovers that his dad isn't just an ordinary taxi driver–he's a space taxi driver!  And this is the first time Archie gets to go with him and be part of the adventures! Lots of fun with plenty of humor and light-hearted SF.  This is the first book in an ongoing series.
6.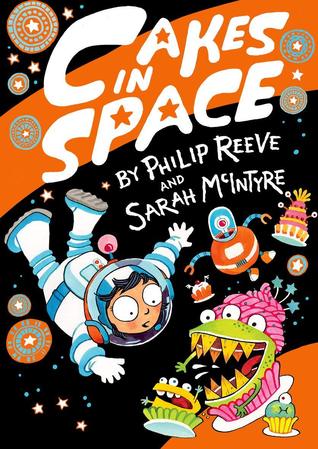 Cakes in Space by Philip Reeve and Sarah McIntyre (Random House, 2015)
This one was a huge hit as a read-aloud with my son.  The lively illustrations and larger print make this an approachable chapter book for intermediate readers .  With a biracial young heroine (if memory serves she's about 7 or 8 years old), this is a delightfully fun and funny adventure.  The best part? It also has some really nifty SF concepts that  show the author has more than a passing familiarity with the genre.  Cold sleep aboard massive space ships, AI robots, a greenhouse aboard the ship to preserve vegetation for their new home.  It really combines great space humor with some solid structure.
7.
Welcome to Mars: Making a Home on the Red Planet by Buzz Aldrin and Marianne J. Dyson (National Geographic Children's Books, 2015)
Another example of nonfiction blended with hints of science fictional speculation.  This book invites kids to think about the realities of Mars, how it compares to Earth and what it might realistically mean to live there.  Co-creator and Buzz Aldrin is an an astronaut-hero that kids can discover more about–and think about his observations as being from someone who has been out there in space.  While the text may need a parent's help in decoding, this is a great book to have on their bookshelves for young space explorers to pore over and think about.
8.
My Robot Buddy by Alfred Slote (HarperCollins, c1975)
This little chapter book made for a great read-aloud for my 6 year old last year.  I'm guessing in another few months he'll be reading it himself as he approaches his eighth birthday.  Slote's story of a boy who wants a friend and gains a "robot brother" is a perfect blend of SF concepts with accessible story themes and threats that are dangerous but not darkly scary.   Jack's new best friend is his robot 'brother' Danny.   Danny looks and acts much like a real boy except that he can't bend his legs the way Jack can.  With robot nappers out scooping up fancy tech like Danny, both boys soon run into trouble–and stop a dangerous crime ring!
9.
Franny K. Stein Mad Scientist : Lunch Walks Among Us by Jim Benton (Simon & Schuster, c2003)
A hilarious school-story series about an uncommon girl, Franny K. who is most definitely a mad scientist.  In this first story she tries her hardest to fit in with the other kids at her school, but when  a Giant Monstrous Fiend attacks the school, it's only a mad scientist who can truly save the day!  Small chapter books that can be shared through read aloud, or be read swiftly by more precocious readers–lots of my patrons love this series!
10.
Professor Astro Cat's Frontiers of Space by Dominic Walliman, illustrated by Ben Newman (Flying Eye  Books, 2013)
Great nonfiction is always an important part to building a reader–and since science fiction is based in the possible, rather than the impossible, fact-based books on science and technology are a great way to give readers a foundation in what we already know  and how science fiction bounds out from that.  One of the more enjoyable books to come along about space is this one–where our narrator, Professor Astro Cat, takes us on an information-filled journey through space, exploring concepts that young space fans can add to their growing knowledge base.  It's inspired an app: Professor Astro Cat's Solar System that won the 2015 Cybils award  in the app category.
Stay tuned for next week's pathway!  (Ages 7-9)!
Previous pathways:
A Science Fiction Pathway Part I ( 0-3 years)
A Science Fiction Pathway Part II (5-7 years)
About Stephanie Whelan
I'm a children's librarian with a life-long love of all things science fiction and fantasy.
Posted on March 9, 2016, in General Posts, Lists and tagged Aliens, Authors, Books, Children's Books, Children's Literature, kidlit, Lists, literature, MG Books, Middle-Grade Fiction, Picture Books, Reading, reviews, Science Fiction, series, SF. Bookmark the permalink. 6 Comments.