A Tuesday Ten: Diversity in Children's Science Fiction
In trying to create a diverse list of children's science fiction titles, I quickly find it a challenge.  Science fiction continues to be a fairly rare genre (unlike fantasy) and finding actual diversity within that small percentage of children's books becomes difficult.
1.
Ambassador by William Alexander (Margaret K. McElderrry, 2014)
If you'd asked me two years ago to tell you about  a middle grade science fiction novel featuring a Latino protagonist, I'd be scrambling to come up with something.  I'd at most be able to recommend the Young Wizard chronicles that combine SF with Fantasy  and The Scorpion Trials by Nancy Farmer.  But now we actually have a duology featuring a Latino youth whose been chosen to be the ambassador for all of Earth to the Galactic alliances beyond.  But being an ambassador only makes Gabe Fuentes' life even more difficult and fraught with danger.  With his parents facing deportation and assassination attempts putting his life at risk, Gabe's job is going to put his wits, intelligence and bravery to the test!   The second book, Nomad (2015) completes the adventure begun in the first book.
2.
Mars Evacuees by Sophia McDougall (HarperCollins, February 2015)
My kick off book for this list is still one of my favorites this year.  Funny, adventurous science fiction on Mars.    Alice Dare is one a few "lucky" kids to be on a trip to Mars where they will be safe from alien attack and learn and train to be the Earth's future defense force.  On her way there she befriends some of the other kids including the quirky but brilliant Josephine.  Josephine becomes  Alice's closest friend throughout the story and she's amazing at inventing solutions for things–especially if she's got duct tape.  In the sequel Space Hostages we meet Josephine's sister whose a brilliant scientist and plays a huge part in saving the day.
3.
Space Case by Stuart Gibbs (Simon & Schuster, 2014)
Dashiell Gibson is one of the first kids to live on the moon.  But living in the first moon colony isn't all it's cracked up to be.  The close quarters, lack of good food and bathroom issues all make things more than a little frustrating for Dash.  When one of the colony's renowned scientists is found dead, Dash is convinced that the death is no accident, but murder.  In the close confines of the colony can Dash uncover the culprit without endangering himself?
4.
The True Meaning of Smekday by Adam Rex (Disney-Hyperion, c2007)
Young Gratuity "Tip" Tucci tells the story of how the Boov invaded Earth and stole away her mother.  Now Tip is on a cross country adventure with her cat and a renegade alien to find her mom, and just maybe stop a second alien invasion!  Fun and funny, this adventure was the inspiration behind the movie Home that came out last year.
5.
Star Ka'at by Andre Norton (Archway, c1976)
Of course if you want to talk cheesy covers, let's try Andre Norton's StarKa'ats.   But at least our characters are shone on the cover! This 1970s series was one that I read early on and loved,  but it was only in revisiting it  that I realized one of the two human characters in the story is African American.  Elly Mae is adopted by the Star Ka'ats along with the boy Jim as these aliens pick up refugees of their race from Earth.  The telepathic ka'ats take the two children with them to their home world.  The kids adventures continue in three more titles: Star Ka'at World (1976), Star Ka'ats and the Plant People (1979),  and Star Ka'ats and the Winged Warriors (1981)
6.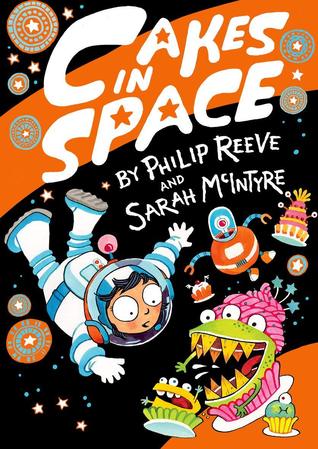 Cakes in Space by Philip Reeve and Sarah McIntyre (Random House, May 2015)
For slightly younger middle grade readers, this space adventure takes the cake!  Cold-sleep, interplanetary travel,  spoon-stealing aliens,  sentient carnivorous cakes,  and a plucky young heroine.  It's pretty clear in the illustrations of Astra and of her parents that our protagonist is biracial, which makes her one of the very few biracial female protagonists in SF so far.  This is a must read even for those who aren't particular fans of the genre!
7.
Blast Off by Linda C. Cain and Susen Rosenbaum, illustrated by Leo and Diane Dillon (Gin & Company, 1973)
There are very few books out there that you just can't get ahold of.  Even if they cost a bit of money, it's possible to procure a used copy from somewhere.  People don't believe me when I tell them this book isn't for sale anywhere–and only a few copies appear available in Worldcat at all.  It should be reprinted methinks.  Which is why I have it on the list.  It's the story of an African-American school girl who dreams of being an astronaut and blasting off to space despite the naysayers around her.  So she builds her own rocket and does so.  It's gorgeously illustrated by the Dillons, and the front cover simply does not do it justice, so I'm including an extra image.
8.
The Ear, The Eye and the Arm by Nancy Farmer (Puffin, c1994)
A Science Fiction middle grade Newbery Honor set in 2194 Zimbabwe?  Yep.  It's a rare speculative story for kids that actually set in Africa–and a science fiction story at that!  Three unusual and famous detectives, The Ear, the Eye and the Arm are hired to track down three children whom have disappeared.   Futuristic elements weave in with stories from Zimbabwe to create this SF adventure tale.
9.
Justice and Her Brothers by Virginia Hamilton (Point, c1978)
One of the more obscure SF trilogies out there has to be this one by Virginia Hamilton. This science fiction story of siblings with psychic powers took a while to get on my radar, and it's lamentable that it's completely out of print .  The other two books in the trilogy are Dustland (1980), and The Gathering(1981).  Justice discovers in the course of the story that she and her brother possess powerful psychic abilities–but who will prevail when siblings engage in a battle of wills and power.
10.
MiNRS by Kevin Sylvester  (Margaret K. McElderry Books, 2015)
In this story, raiders have come to the planetoid  Persus and the only ones left alive are a handful of kids hiding out underground, desperate to stay alive.  Christopher Nichols is attempting to lead this motley crew, but feels in over his head.  His best friend, Elena Rosales is strong and intelligent-she's passionate  and sometimes hot-headed in her motivations.  Elena comes across as a vivid human being with a large part to play in the struggle for survival and need to strike back at the raiders.
So there's my list!  Feel free to add your own SF titles in the comments!
About Stephanie Whelan
I'm a children's librarian with a life-long love of all things science fiction and fantasy.
Posted on February 19, 2016, in General Posts, Lists and tagged Authors, Books, Children's Books, Children's Literature, Diversity, kidlit, Lists, literature, MG Books, Middle-Grade Fiction, Reading, reviews, Science Fiction, sequels, series, SF, Space Adventure. Bookmark the permalink. 1 Comment.