What I'll Be Reading: 2016 Titles I'm Looking forward to!
Today we're taking a break from our usual Tuesday Ten to do a Tuesday Fifteen.  Fifteen new stories out this year that are part of a very quickly growing list of to-be-read items that I'll be diving into in the next few months.  There will be many, many more, but it's always fun to see what was of interest at the start of the year!
1.
Bounders by Monica Tesler (Aladdin, January 2016)
This winds up on the top of my list by dint of it being on the top of my current pile of to reads.  I'm excited about this fascinating debut.  A science fiction plot that gives us an ensemble cast of kids–kids with a lot quirks that get filed under the "special needs" banner.  Turns out there's a connection between brains structure and space travel, and particular kids have the knack that just might make them into the next generation of space pilots!  SF military adventure–I can't wait!
2.
Space Hostages by Sophia McDougall (HarperCollins, Expected Publication February 2016)
Already out in the UK, I don't think it's much of a secret that I adored the first title in this series, Mars Evacuees.  This futuristic space romp that combines great science fiction, great characters and lots of fun in one package was one of the best things I read last year.  I'm being patient about cracking the cover on my galley of the second installment of Alice Dare's adventures in space . . . but I'm only human and I can't wait to see what happens next!
3.
The Rat Prince by Bridget Hodder (Farrar, Straus and Giroux, Expected Publication August 2016)
I almost always have an interest in fractured fairy tales!  And when those particular fractures are notably different from the ones we've come to know . . . well then I'm doubly intrigued.  What happens when the Prince of Rats falls in love with Cinderella?  And becomes transformed into her coachman the night of the ball?  This brings to mind a Susan Meddaugh picture book; Cinderella's Rat (1997). However, I'm rather certain this story will be quite a different turn of fairytale . . .
4.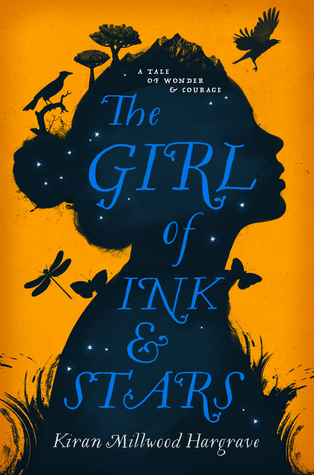 The Girl of Ink & Stars by Kiran Millwood Hargrave (Chicken House, Expected Publication May 2016)
There are always a few titles that catch me based on cover and title–and this was one of them.  Map making and cartography is an interesting subject for exploration–and I've seen it done well in several titles of speculative fiction–I hope it's done well here.  Isabella Riosse volunteers to lead the way into the Forgotten Territories when her close friend goes missing.  The blurbs about this book suggest it for fans of Frances Hardinge, so it is bound to be an interesting read, I hope!
5.
Secrets of the Dragon-Tomb by Patrick Samphire (Henry Holt and Co. Expected Publication January 2016)
Here's one I've been waiting over a year to see (impatiently).  A fabulous adventure-filled fantastical romp in a Regency-era Mars.  I'm a sucker for Middle Grade books that try something new in the speculative genre, and this strikes me as just such a thing.  Looking forward to giving it a try!
6.
The Eye of Midnight by Andrew Brumbach (Penguin, Random House, Expected Publication: March 2016)
I can't tell if this one is fantasy or just fantastic historical fiction set in New York City . . . but either way the early reviews have me wanting to give it a try!
7.
The Secret of Dreadwillow Carse by Brian Farrey (Algonquin Books, Expected Publication April 2016)
I very much enjoyed the Vengekeep Chronicles by Brian Farrey so a new adventure series written by him is certain to get my interest!   This one has two strong female protagonists–a princess and a peasant girl– on a dangerous quest.  Trying not to read too much about this one before I can get my hands on it . . . but certainly looking forward to it.
8.
Jupiter Pirates: The Rise of the Earth by Jason Fry (HarperCollins, Expected Publication: June 2016)
Since I'm a huge fan of this series and was missing an installment this past year, I'm very much looking forward to seeing what Jason Fry has in store for our characters in his next Jupiter Pirates novel.  I suspect this one may be moving out of middle grade territory, but since the series has been middle grade up to now, I'll keep it in the mix.
9.
The Bride From Huanan by Celeste Lim (Scholastic, Expected Publication Spring 2016)
No cover or firm pub date on this one yet, but I'm still eager to see more about this one.  It's a fantasy set in medieval China about a young girl sold by her family and who must find her own internal strengths to seize the magic of her own destiny.  Looking forward to seeing more info about this particular story as the year moves on.
10.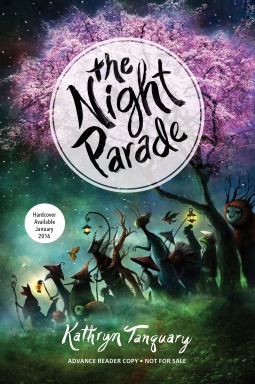 The Night Parade by Kathryn Tanquary (Sourcebooks Jabborwocky, Expected Publication: January 2016)
Saki Yamamoto thinks preparing for the traditional Obon festival in Japan is boring.  But when she makes a grave error in an effort to gain the interest of the local children, her life may be at risk! A death curse has been invoked and Saki has three nights to try and undo it . . .  I like the sound of this one, and look forward to seeing how the story plays out!
11.
The Inhabitant of Alexis O'Riley by Holly VanDyne (Egmont, Expected Publication: 2016)
Not a lot yet on this title.  But given the premise of this story I'm curious.  To save her life, Vanessa Meadows' brain was transplanted into the brain-dead body of another girl.  It's a body that Nessa doesn't like and is trying to come to terms with.  But someone out there is out to harm that body, and if Nessa wants to stay alive she's going to have to figure out who and why!
12.
The Goblin's Puzzle by Andrew S. Chilton (Knopf Books for Young Readers, Expected Publication, January 2016)
Four characters in a fun fantasy adventure.  A young slave boy, a tricky goblin, plain Alice and Princess Alice.  Can the four of them solve the puzzle?  This one should be available soon, so I'm hoping I'll get a chance to read it this month!
13.
The Evil Wizard Smallbone by Delia Sherman (Candlewick Books, Expected Publication September 2016)
I'm a fan of Delia Sherman's Changeling duology from a few years ago, and I've been hearing about this book for some time–so I look forward to getting a chance to actually read it!  Not too many details yet, but I'll be keeping an eye out for galleys on this one!
14.
The Wild Robot by Peter Brown (Little Brown Books for Young Readers, Expected Publication: April 2016)
This is Peter Brown's middle-grade debut novel about an abandoned robot finding her own place and purpose in the wilderness.  The art for the cover immediately makes me think of Miyazaki's Castle in the Sky and also the animated classic The Iron Giant.  I'm curious to see what this veteran picture book creator will bring to the world of middle grade.s
15.
Games Wizards Play by Diane Duane (HMH books, Expected Publication February 2016)
I've been reading the Young Wizards series over the decades and Diane Duane remains one of my overall favorite authors.  It's been some time since I've had a new story to read in this series, and so I will be keeping an eye out for this one to add to my collection.  It's the tenth book, and a long way since that original magic of So You Want to Be a Wizard, but I'm still kid enough at heart to be grinning ear to ear to add this to my 2016 list.
Admittedly I could be here all day and night adding new titles, so I'm cutting it off at fifteen, just enough to whet some appetites out there and hopefully get some of you looking for great reads this year too.  Please feel free to add your own titles that you're looking forward to in the comments!
About Stephanie Whelan
I'm a children's librarian with a life-long love of all things science fiction and fantasy.
Posted on January 5, 2016, in General Posts, Lists and tagged 2016, Authors, Books, Children's Books, Children's Literature, fantasy, Historical Fantasy, kidlit, Lists, literature, MG Books, Middle-Grade Fiction, Multicultural, Reading, reviews, Science Fiction, sequels, series, SF, Space Adventure, Urban Fantasy. Bookmark the permalink. 2 Comments.