2015 Favorite Fantastical Picture Books
An overview of picture books from 2015 that have some speculative fiction content.  Rule of thumb is that the book has to be more than simply anthropomorphic animals  acting out realistic fiction style drama.  These are some of my overall favorites.
1.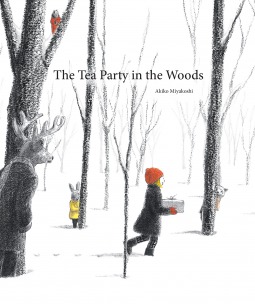 A Tea Party in the Woods by Akiko Miyakoshi (Kids Can Press, August 2015)
Little Red Riding Hood, Alice in Wonderland and Brave Irene meet My Neighbor Totoro in this charming story of a girl determined to deliver a pie to her grandmother through the snowy woods.  But it turns out the path she's following takes her someplace  else entirely–a very unusual tea party!  Fortunately it's happy endings all around, and the warmth of friendship and food weave all the way to the very end.
2.
Interstellar Cinderella by Deborah Underwood, illustrated by Meg Hunt (Chronicle Books, May 2015)
A birthday gift for my daughter this past year, I love this science fictional Cinderella with her love of mechanics and rocketry.  This Cinderella has more interest in the Prince's rocketship than in any kind of marriage, but she'll still show up her mean stepsisters in the end!  Now I just have to get myself and my kids some steampunk goggles . . .
3.
The Princess and the Pony by Kate Beaton (Arthur A. Levine, May 2015)
A Christmas gift for my niece.  Princess Pinecone dreams of the day she too can be a warrior on a fierce steed fighting battles.  But everyone just keeps giving her cozy sweaters much to her frustrations.  And when she finally asks for a battle horse of her own, she gets a roly poly pony with a tendency to fart.  Still Pinecone decides to make the best of it for her first  barbarian free-for-all.  Hilarity and charm with a delightful heroine, I love reading this aloud to kids.
4.
It's Only Stanley by Jon Agee (Dial Books, March 2015)
One precocious dog is making a racket one night in his home.  The people observe he appears to be going about repairs and house chores–albeit not the kind of thing a beagle is usually expected to do.  What Stanley is actually up to is something a whole lot more dramatic and science fictional!
5.
Lizard from the Park by Mark Pett (Simon & Schuster, September 2015)
In Central Park a young boy encounters an egg and a strange lizard.  He adopts the lizard as his own, but quickly realizes this is no ordinary critter! Can he keep his fast-growing lizard from unleashing panic in Manhattan?  Plus for pictures of the New York Public Library!
6.
Moletown by Torben Kuhlmann (NorthSouth, October 2015)
Another import, this book is not for the younger child.  It is, instead, a profound and very dark allegory about technological progress and the world.  It's a theme that has been done before, but it is elegantly handled in this story that is mostly images.  It is neither comforting nor simple for the reader, so it's a better fit for kids ready to think about environmental problems and issues in our world.  That said, it is beautifully done, with our civilization of moles demonstrating huge leaps forward in technology that utterly transform the world in which they live.
7.
Hoot Owl, Master of Disguise by Sean Taylor, illustrated by Jean Jullien (Candlewick, February 2015)
An off beat book I picked up for my nephew.  This hysterical read for younger listeners features an owl with amazing powers of disguise . . . but a distressing track record of actual success in hunting.  Until he encounters a pizza!  Great fun, great read-aloud. Highly recommended.
8.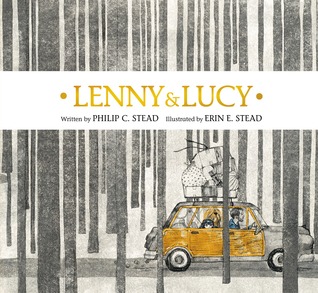 Lenny & Lucy by Philip C. Stead, illustrated by Erin E. Stead (Roaring Brook Press, October 2015)
This is book with just a touch of the surreal.  A boy moves from his familiar home to a new one, and he has trouble quelling his fears and unease.  So he creates Lenny, the Guardian of the Bridge, out of pillows.  After a while he creates Lucy as a friend for him.  These two large guardians help to ease  young Peter's transition . . . but as the story progresses their images grow more and more animated.  Is it simply imagination . . .or something more?  Too magical not to add to the list!
9.
The Only Child by Guojing (Schwartz and Wade, December 2015)
This wordless book also winds up on my graphic novel list, but it works as well as a picture book.  Gorgeous and whimsical adventures of one small child who is Spirited Away to fantastical worlds before finding her way back home again.
10.
Snow White and the 77 Dwarfs by David Cali, illustrated by Raphaelle Barbanegre (Tundra Books, April 2015)
I'm wrapping up this list with a very silly book indeed.  In this fractured fairy tale, poor Snow White  doesn't happen on seven dwarfs, she happens on seventy seven.  And they all are demanding and picky and none of them want the same thing to eat.  Poor Snow is run ragged trying to meet the demands of this crowd and the ending may–or may not be a surprise for readers!
So there are my faves for 2015–what picture books did you love?
About Stephanie Whelan
I'm a children's librarian with a life-long love of all things science fiction and fantasy.
Posted on December 31, 2015, in Lists and tagged Authors, Books, Children's Books, Children's Literature, Fairy Tales, fantasy, kidlit, Lists, literature, MG Books, Middle-Grade Fiction, Picture Books, Reading, reviews, Science Fiction, SF. Bookmark the permalink. 2 Comments.