A Tuesday Ten: Diversity in 2015 Speculative Fiction
It's been a year for diversity!  And while we're certainly nowhere near satisfactory on representation, there's quite a bit more to choose from in SF/Fantasy than is often the case.  Here are just ten examples from 2015.  Hopefully this is a movement that will keep going, and we'll continue to see more diverse books (and diverse authors) in years to come!
1.
The Lightning Queen by Laura Resau (Scholastic Press, October 2015)
It's rare that we have a middle-grade historical fiction novel set in Mexico. Rarer still that it's a speculative fiction novel.  This powerful story of friendship, courage and the way lives can transform one another has a specific element of the supernatural, but beyond that is simply a great story.  When young Teo meets the fearless and headstrong Esma, a gypsy girl who styles herself as "the Queen of Lighting",  he soon realizes his life will never be the same again.  A tale of friendship, romance and a special kind of magic.
2.
Hoodoo  by Ronald L. Smith (Clarion Books, September 2015)
This debut historical takes us into the supernatural world with our young protagonist, Hoodoo.  Hoodoo's family knows folk magic, but the boy himself has trouble casting any sort of spell.  And when a stranger comes to town, dark dreams start plaguing him, hinting of dark pasts and awful secrets.  Only by confronting those events of the past and standing up to the stranger will Hoodoo be able to save his town from the grip of dark magic.
3.
The Jumbies by Tracey Baptiste (Algonquin, April 2015)
One of my favorites of the year.  Corinne La Mer lives on an island in the Caribbean, one where creatures of myth and folklore live inside the deep dark forest.  Corinne isn't afraid of anything, not even the forest . . . until something follows her out.  A jumbie is loose in her village and it will threaten everything Corrine loves, unless she can come up with a way to stop it.  I don't think we've ever seen a middle-grade fantasy created with Caribbean folklore as it's foundations before.  But hopefully it won't be the last time we see such a thing.
4.
MiNRs by Kevin Sylvester (Margaret K. McElderry, September 2015)
This gritty SF thriller for middle grade readers tells a story of a group of kids stranded on their planetoid home when raiders attack and kill the adults.  Now the kids are in a fight to hide and survive long enough to contact Earth for help.  Several of our characters have diverse backgrounds in here, most notably Elena Rosales, who is fighting for her life alongside her best friend.  She's decided to be tough and no-nonsense, but she still struggles with doing what is right and feeling at odds with so much.
5.
Unusual Chickens For the Exceptional Poultry Farmer by Kelly Jones, illustrated by Katie  Kath (Knopf Books, May 2015)
An epistolary novel about super-powered chickens.  Sophie Brown has just moved from the busy west coast life to the quieter farm country life.  She's homesick and heartsick, until she encounters a very strange chicken with powers that no chicken should possess.  Life is about to get very interesting indeed and Sophie discovers a whole flock of extraordinary poultry–a flock she'll have to care for and protect so that they don't fall into the wrong hands!
6.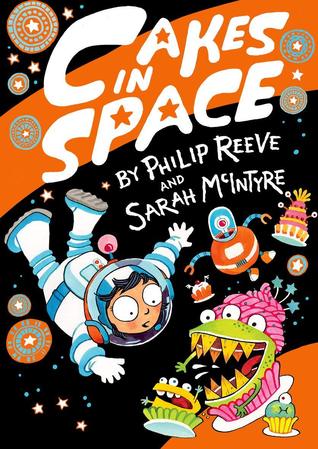 Cakes in Space by Philip Reeve and Sarah McIntyre (Random House, May 2015)
Our bi-racial heroine Astra is moving to her new home on Nova Mundi.  Thing is, her new home is 200 years away, and she and her family will be spending the trip in cold sleep.  But when things go wrong on the ship and Astra wakes up earlier than expected, she'll find a lot of trouble that needs handling, including some very vicious cakes!
7.
Six by M. M. Vaughan (Margaret K. McElderry, May 2015)
Parker and his sister Emma are on the run from shadowy corporate goons as they try to piece together just what has happened to their father!  One of the rarer forms of diversity to make the speculative fiction list are those  with characters who are differently abled.  Emma is deaf, and her father has invented a machine to allow Emma to communicate secretly and directly with her brother over distances.
8.
Hunters of Chaos by Crystal Velasquez (Aladdin, June 2015)
Four girls, each from a different background  discover they are heirs to special powers, and responsible to stop evil forces like the Brotherhood of Chaos from taking control.  Our main character has Mexican ancestry, while her schoolmates have Chinese, Egyptian and Navajo backgrounds.  This is the start of an exciting new series that's sure to win over a lot of middle grade fantasy readers.
9.
Young-Hee and Pullocho by Mark James Russell (Tuttle Publishing, May 2015)
I'm delighted to be able to include this title on the list!  Young-hee's younger brother is kidnapped and the only way she can get him back is to go on a quest to get a magical pullocho plant.  This won't be easy, and our modern day Korean girl must navigate through a world of Korean monsters  and mythology, succeed in her quest and rescue her brother–but it won't be easy!
10.
A Tale of Highly Unusual Magic by Lisa Papademetriou (HarperCollins, October 2015)
Two girls, one in Texas, on in Pakistan find copies of a book with blank pages.  When they open it and write in it, their words appear in each other's books. Kai and Leila are suddenly connected in an adventure by this strange magical book and the story it is slowly writing out  of a long-ago romance.  Books, magic and two girls on opposite sides of the world come together in this enchanting read!
So there you have it! Ten diverse speculative stories from this year.  They're not the only ones!  Please name your favorites in the comments!
About Stephanie Whelan
I'm a children's librarian with a life-long love of all things science fiction and fantasy.
Posted on December 23, 2015, in General Posts, Lists and tagged Authors, Books, Children's Books, Children's Literature, fantasy, Historical Fantasy, kidlit, Lists, literature, MG Books, Middle-Grade Fiction, Reading, reviews, Science Fiction, series, SF, Space Adventure, Urban Fantasy. Bookmark the permalink. 2 Comments.