A Tuesday Ten: Some Holiday Book Gifting
Been out of the loop for a bit with things, but I'm going to try to get back into the saddle!  For Today's Tuesday Ten I'm going slightly outside the usual niche of books I discuss to share some of the children's literature I'm considering for gifts this holiday season.  Now these were selected with my own friends and family in mind, but I thought it'd be fun to share. (Though let's hope said friends and family don't decide to read this one! ^_^)
1.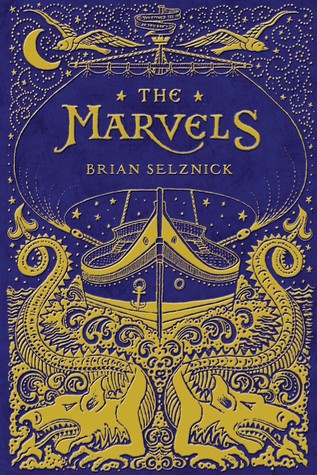 The Marvels by Brian Selznik (Scholastic, September 2015)
This book might win for pure presentation beauty.  Beautifully bound with gold edging and a gorgeous cover . . . you know you're getting something remarkable.  And the stories that unfold inside the pages of this book truly live up to the binding.  Brian Selznik is well known for his previous novels that combine long swathes of sketched illustrations that tell a wordless story before bringing in the text narrative to complement and add new layers.  This tale is one of his best and most thought provoking to date and I have an honorary nephew that I think will enjoy this.
2.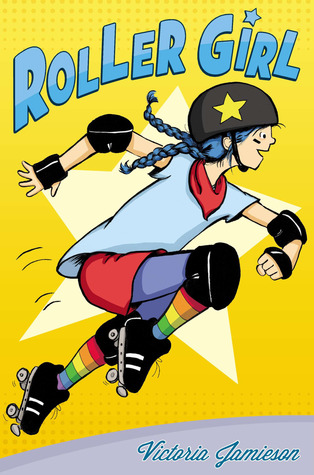 Roller Girl by Victoria Jamieson (Dial Books,  March 2015)
Graphic realistic fiction about growing up, friendships that change and the power of being yourself.  It's also about roller derby, hair dye and Hugh Jackman.  This one was just a delight to read and I want to pick it up for my best friend, because it's just that good.  And because, well, it's about roller derby, hair dye and Hugh Jackman!
3.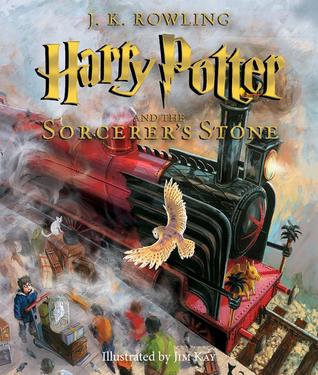 Harry Potter and the Sorcerer's Stone by J. K. Rowling, illustrated by Jim Kay (Arthur A. Levine, October 2015)
If you haven't seen the new edition of the first Harry Potter  book with illustrations by Jim Kay, do try and find an opportunity.  This is a gorgeous book to own.  I'm buying two of these this year.  One for my godson (he's 1 so it's a present for the future.) and one for my son who is just about old enough to begin discovering Harry Potter for himself.  This will be a way to make it super special.
4.
The Only Child by Guojing (Schwartz and Wade, December 2015)
I have a friend who I buy gorgeous picture books for every year for the holidays.  She's in her seventies.  This is one of my selections for this year.  A gorgeous graphic novel style picture book that tells of a magical journey wordlessly.  It's really breathtaking and I'm excited to hear what she thinks of it!
5.
Drum Dream Girl: How One Girl's Courage Changed Music by Margarita Engle, illustrated by Rafael Lopez (HMH, March 2015)
This was an early on favorite for me in picture books.  I'm ordering a copy of this for my daughter and for my niece.  It's the kind of book that every kid should read or have read to them about breaking down barriers and pursuing dreams.  Multicultural, lyrical, and quite lovely.
6.
Circus Mirandus by Cassie Beasley (Dial, June 2015)
One of my honorary nephews is just the right age methinks for this fantastic fantasy story of a magical circus.  He's tough to buy for generally because he tends to be a bit sensitive to stories, but I think this may be a good fit.
7.
The Underground Abductor by Nathan Hale (Amulet Books, April 2015)
I have one honorary nephew who's close to aging out of children's books entirely, but I think even he will get a kick out of the story of Harriet Tubman told through the window of Nathan Hale's Hazardous Tales.  This is his best book to date!
8.
Interstellar Cinderella by Deborah Underwood, illustrated by Meg Hunt (Chronicle, May 2015)
I've already bought a copy of this for my daughter, but I strongly suspect I'll be buying a second one for my niece.  Everyone needs a few good Cinderella tales–especially ones that don't go quite as expected!
9.
MiNRS by Kevin Sylvester (Margaret K. McElderry, September 2015)
Another one for my more sophisticated tween readers.  It's a great piece of gritty science fiction that I'm looking forward to sharing with some SF fans.  Adventure, danger and outer space!
10.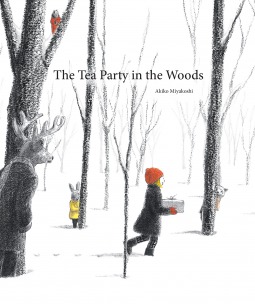 The Tea Party in the Woods by Akiko Miyakoshi (Kids Can Press, August 2015)
Another one for my young niece, a picture book that combines a touch of surreal magic with one young girl's journey through the woods with a pie for her grandmother.  She follows the footsteps of what she thinks is her father, only to wind up at a very different home and an extraordinary tea party.  Happy endings all the way around–I really hope she enjoys this one!
These are just a handful of things I'm considering, given what I've already bought and their ages and interests.  I encourage all my readers to look into their own discoveries this year to see what they might share over the gift-giving season with others!
About Stephanie Whelan
I'm a children's librarian with a life-long love of all things science fiction and fantasy.
Posted on December 6, 2015, in General Posts, Lists and tagged Authors, Books, Children's Books, Children's Literature, fantasy, kidlit, Lists, literature, MG Books, Middle-Grade Fiction, Picture Books, Reading, Science Fiction. Bookmark the permalink. 2 Comments.