A Tuesday Ten: 2015's Funny Fantastic
It's been a bit of hiatus for me.  Between colds and Halloween costumes I might have just gotten a tad busy.  But I'm back and ready for this week's Tuesday Ten!  This week?  What was funny in spec fic in 2015?  Funny can be hard to do well, and finding funny can likewise be a challenge sometimes, but here are some books that will inspires chuckles, giggles, guffaws and the occasional snicker.
1.
Hamster Princess: Harriet the Invincible by Ursula Vernon (Dial Books, August 2015)
This book for intermediate readers makes for a hysterical read aloud full of enough comic energy to make grown ups (who pretend they are not listening in) snort with surprise and laughter.  Harriet Hamsterbone is not your typical princess, and she isn't about to live her life swooning about.  Since her the curse she's under practically guarantees she's got to prick her paw on a hamsterwheel at age twelve, Harriet figures out that up until then, she's invincible!  Lots of fun to read for reluctant kids (and some reluctant parents too).
2.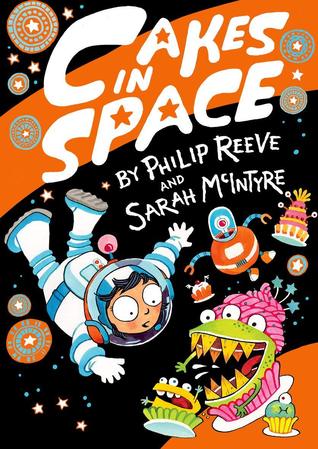 Cakes in Space by Philip Reeve and Sarah McIntyre (Random House, May 2015)
Let's face it, it's hard to do sci-fi that's both really funny and still manages to deliver a true futuristic atmosphere with plenty of space traveling science and tech.  But Philip Reeve delivers just that!  High adventure of the hilarious kind, it's great fun to read, and a perfect introduction to science fiction for younger readers (and listeners).  Young Astra is traveling in cold sleep to her new home on the planet Nova Mundi, but when she wakes up mid way through the journey, she discovers carnivorous cakes have taken over the ship!
3.
Dragons Beware! by Rafael Rosado, art by Jorge Aguirre (First Second, May 2015)
In this sequel to Ogres Beware, fantasy hijinks continue–this time Claudette and her friends must match wits against a dragon in order to rescue her father and save their town.  This delightful series turns epic fantasy tropes on their heads with ease while still providing a great action-filled adventure story with a tough, take-no-prisoners gal as protagonist.  I'll happily look forward to any further installments of this series!
4.

Diary of a Mad Brownie by Bruce Coville (Random House Books, June 2015)
Bruce Coville is almost always a sure bet for fun and funny stories in speculative fiction.  This latest tale features a Brownie named Angus who "inherits" a human girl whose a mistress of mess and clutter.  Despite their differences, these two individuals must learn to work together to find a a way to end a curse that entangles  them both!  A delightful comedy  for Coville fans and new readers of the author!
5.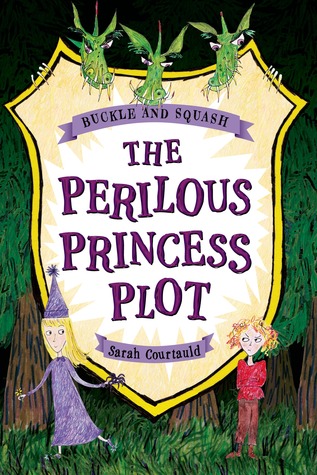 The Perilous Princess Plot by Sarah Courtald (Feiwel & Friends, May 2015)
Warning! Incredible Goofiness resides within.  Two sisters, two very different dreams.  Eliza dreams of adventures and battles with dragons.  Her sister Lavender dreams of being a princess and falling in love with a handsome prince.  When Lavender's prince does not come calling she decides to go off into the dark and dangerous woods on her own.  Of course Eliza must head off after her silly sister before she gets eaten or worse!  Funny footnotes and outrageous characters bubble up merrily in this fractured fairy tale stew!
6.
Galactic Hot Dogs: Cosmoe's Wiener Getaway by Max Brallier and Rachel Maguire  (Aladdin, May 2015)
Sometimes the galactic hot dog business just isn't all it's cracked up to be.  Earth-boy Cosmoe is captain of the Neon Wiener, the fastest flying food truck in the galaxy.  But Cosmoe's plans of cooking up the ultimate Mega-Dog backfire, sending him on the run from evil space pirates and mutant worm monsters. And who knows? Cosmoe and his buddy Big Humphree just might be the unlikely heroes to save the day!
7.
Ratscaliber by Josh Lieb (Razorbill, May 2015)
When an elderly rat bites Joey, he finds himself transformed into a rat himself.  Now he's off on an adventure that may change the fate of all rodent-kind.  Especially when the clueless kid pulls the enchanted Spork from the Scone.  A goofy Arthurian send up full of furry adventure, wild twists and turns and plenty of snickers.
8.
Good Ogre by Platte F. Clark (Aladdin, April 2015)
Comical writing continues to entertain in this series that began with Bad Unicorn.  Max thought all the magical Mayhem was over and he was back home on earth being just an ordinary kid again (even if he is the most powerful Wizard in three worlds).  But when evil raises it's shadowy head once more, Max and his friends must strike out in a wild adventure to stop it once more! Dark comedy and tropes of dungeons and dragons playing turned on their heads making this an entertaining read through.
9.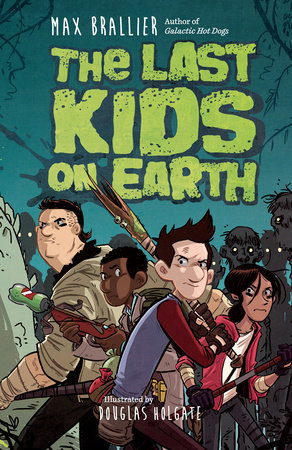 The Last Kids on Earth by Max Brallier, illustrated by Douglas Holgate (Viking Books for Young Readers, October 2015)
When the Monster Apocalypse hits town, and most of the population  is suddenly gone Jack winds up hiding out in his treehouse fort and figuring out how to survive against the monsters.    He bands together with a group of other kids and is determined to be seen as more than simply average among them–but what can he do to prove his made survival skills?  Described as The Walking Dead meets the Simpsons, it had to be included on this list!
10.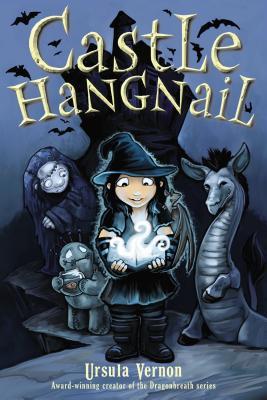 Castle Hangnail by Ursula Vernon (Dial Books,  April 2015)
Yup I've got two authors who have two titles apiece on this list, but I can hardly help that when they're the ones writing such funny stuff!  Castle Hangnail is in need of a new Dark Master. But when that new mast shows up she seems a little . . . short and young . . . and maybe not wicked enough?  Molly's determined to be the Wicked Witch that the castle needs whatever it takes!  But can she pull it off before the castle minions discover her secret?  Charmingly funny, Ursula Vernon channels Eva Ibbotson in this gently monstrous fantasy.
There's my ten!  Have more titles that made you laugh?  Add them in the comments below!
About Stephanie Whelan
I'm a children's librarian with a life-long love of all things science fiction and fantasy.
Posted on November 5, 2015, in General Posts and tagged Authors, Books, Children's Books, Children's Literature, fantasy, kidlit, Lists, literature, MG Books, Middle-Grade Fiction, Reading, reviews, Science Fiction, series, SF. Bookmark the permalink. 2 Comments.