Flashback Friday: It changes you forever, but you are changing for ever anyway . . .
You're a teenage girl whose little brother has suddenly fallen deathly ill.  You have a strong sense it's not natural, and that there is a paranormal predator who is harming him. So you go to the one person you know will believe you, a young man who's also a witch.
Do you remember: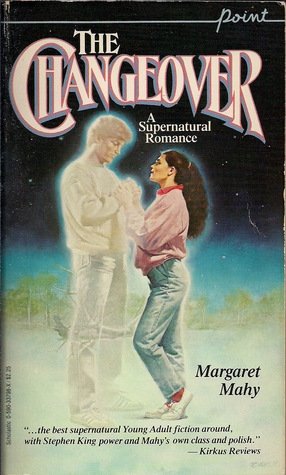 The Changeover by Margaret Mahy (Point Fiction, 1984)
Probably this was the first  book with the word "romance" associated with it I ever read.  Back before Paranormal Romances were a thing, Margaret Mahy wrote one for young adults.  I think I read and reread this about twenty times as a preteen and teenager.  It's a book that's pretty solidly YA from the fact that the content is about a girl who is coming into claiming her own change into womanhood (even if it is mystical here). The romance itself is actually pretty lightweight  by comparison with many of the dramatic relationships  in today's YA books, but at the time it was just what I wanted to read.
Laura knows she's on the boundaries of changing from one thing into another–she has some form of Sight or sensitivity that allows her to just glimpse the unusual and mystical.  So when her little brother falls ill, she immediately knows it's not just an illness, it's a paranormal predator.  Of course she can't convince her family of anything beyond the scientific and rational, but she needs help for Jacko before she loses him.  The only one she can turn to is Sorry, the young man who's mysterious, maybe dangerous, but definitely a witch.  She's hoping he can find a way to help her brother.  Sorry wants to help her, after all he's been drawn to Laura for years, but isn't sure how.  So he takes her to his family and they offer Laura a way to save her brother.  If she "changes over" becomes like them and leaves part of her mortality behind she'll have the power she needs.  But this is a thing that can't be reversed, so she'll have to decide if she's willing to pay the price . . .
It's a wonderfully delightful read still, even after all these years.  Even if my copy does have the rather awful 'Starman' style cover you can see at the top of the page.  The writing is vivid, the story is gripping, the subject matter highly unusual. So it's not surprising this book took home the Carnegie Medal  in 1984.   What is still notable about this book today is how much it focuses on the female protagonists and the feminine power.  For its time, this was pretty rare and even now it's still not that easy to find books like this.  For all that this is a story of romance, it's not really about the romance as much as it is the transformation of Laura.  And while she may become something else to save her brother, she's also claiming a power and an inheritance that is incredible and breath taking.   Our male protagonist is not the "hero" of the story so much as the helper, the one to provide Laura with a way of coming into her power.   Laura has to deal with the foreboding sense of this transformation being imminent, with making choices that will change her forever, with understanding power and how it has a price and a danger to it.  She is our hero.  And yep, there's plenty in here to echo what girls are facing as they go through puberty and begin their own transition into women.   That's part of what makes this book such a boon.  While this is a mystical transition, it still implies that the growth from girl to women can be an exciting and amazing thing–not just the giggling over  It's Perfectly Normal  book in the library and the lectures from health class. It's not something to be ashamed of–it is power and magic and wonder.
That still has an impact on me today.  Alanna of Trebond  from Tamora Pierce's books showed me that girls could be warriors and fighters.  But Laura Chant gave me a new vision of witches.  Of a female protagonist coming into her power as a mystic  and ultimately facing the villain of the story herself to reclaim her brother.
Any other fans out there?  Comments welcome!
About Stephanie Whelan
I'm a children's librarian with a life-long love of all things science fiction and fantasy.
Posted on September 18, 2015, in Flashback Fridays and tagged Authors, Books, Children's Books, Children's Literature, fantasy, kidlit, literature, MG Books, Middle-Grade Fiction, Paranormal, Reading, reviews. Bookmark the permalink. 2 Comments.