A Tuesday Ten: 2015 Speculative Fiction Picture Books!
So in keeping with my 2015 lists, I decided to do one to showcase some of the speculative fiction picture books out there.  I'm purposely avoiding the ones that are merely anthropomorphic animals in human roles and tried to stick to ones that truly show some spec fic elements.  There were actually less of them than I expected this year, but I found ten good ones to share!
1.
Interstellar Cinderella by Deborah Underwood, illustrated by Meg Hunt (Chronicle Books, April 2015)
Re-imagine the Cinderella tale in space.  Now make her an engineer who dreams of working on top notch ships without one whit of interest in getting married or any such nonsense.  Now have our inventive Cinderella be the only one able to get the Prince's ship back to being ship-shape again.  Told in witty verse with some great illustrations, this is one I immediately adopted for my daughter's collection.
2.
Star Wars: Epic Yarns: A New Hope by Jack Wang and Holman Wang (Chronicle Books, April 2015)
Ordinarily I steer clear of media tie-in books.  But I felt it was worth  mentioning this Epic Yarns series of board books.  Intricately crafted and photographed images with simple words retell the epic Star Wars trilogy.   With the new movie coming out this year, Star Wars fever is certainly on the rise, and this is just an awesome little book for parents who want to share their nostalgia and excitement with toddlers and PreK  kids who aren't quite ready for the movies yet, but can certainly enjoy these books.
3.
On the Shoulder of a Giant by Neil Christopher, illustrated by  James Nelson (Inhabit Media, April 2015)
I do consider folklore fair game for this list.  Especially unusual folklore, such as this Inuit tale about a giant.  Our giant finds a regular sized man hunting and decides that the small man must be a child and so goes about taking care of him as a parent might.  Our adult, small though he is,has to find a way to come to terms with this crazy situation–leading to this delightful picture book.
4.
Power Down Little Robot by Anna Staniszewski, illustrated by Tim Zeltner (Henry Holt & Co., March 2015)
One bedtime book for the list where our  young robot is persistently trying not to power down for the night, and his robot mother will employ all the tricks of the bed time trade to get him to settle down.  I admit that the science fiction here isn't much more than a setting for the bedtime context, but it still fits the parameters of the list.
5.
Mr. Squirrel and the Moon by Sebastian Meschenmoser (NorthSouth, January 2015)
I'm a huge fan of Waiting for Winter, so I couldn't wait to see and enjoy Meschenmoser's newest contribution.  When Mr. Squirrel finds the moon stuck in his tree, he tries to push it loose, only to have disaster strike again!  The creator's artistry makes this story particularly delightful, and full of crazy whimsy.  Highly recommended!
6.
The Princess and the Pony by Kate Beaton (Arthur A. Levine Books, May 2015)
Princess Pinecone knows what she wants for her birthday.  She wants a proper steed for a warrior princess!  But her wishes  fall flat when the pony she receives isn't at all like what she wanted.  Can she turn the situation around to her benefit?
7.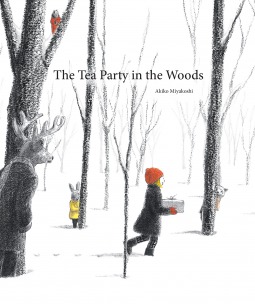 The Tea Party In the Woods  by Akiko Miyakoshi (Kids Can Press, August 2015)
Young Kikko thinks she's been following her father's footprints through the snow to her grandmother's house.  But the house she arrives at is unfamiliar, and when she peers in the windows, she discovers not people, but animals gathering for a tea party.  This book was a 2011 award winner in Japan, and is finally making its way Stateside! Reminded me a great deal of Hayao Miyazaki's brand of story telling.
8.
Moletown by Torben Kuhlman (NorthSouth, Expected Publication October 2015)
First off, I'd have to say that Moletown isn't a sweet story you cuddle up and read your kids about moles and gears.  It's a dark story, a powerful story and it's one that is not going to make for happy bedtime reading.  Essentially Kuhlman uses the imagery of moles in their increasingly intricate mechanical world to demonstrate the dangers of unrestricted progress for the sake of progress.  The story is mostly told by images, with only a handful of words, but the creator is undoubtedly giving readers a pointed message.
9.
The Princess Who Saved Herself by by Greg Pak, Jonathan Coulton, Takeshi Miyazawa, Jessica Kholinne, and Simon Bowland
Okay, I'll admit I have soft spot for this one.  My daughter adores it–and really where else can you find a guitar playing princess named Gloria Cheng Epstein Takahara de la Garza Champion?  The book is based on a song by the same title, and while the rhymes are a little cheesy on occasion, the spirit of the book and the illustrations bring it all together as a delightful whole.
10.
It's Only Stanley by Jon Agee (Dial Books, March 2015)
When noise in the night wakes the family, they soon realize it's only their dog, Stanley, working on some project.  But is Stanley really fixing drains and repairing oil tanks?  Or is he involved in another project altogether?  Absurd and silly  as only Jon Agee could possibly be, our clever dog goes on a very intergalactic adventure.
So there's my ten!  Can you add to the list in the comments?
About Stephanie Whelan
I'm a children's librarian with a life-long love of all things science fiction and fantasy.
Posted on September 16, 2015, in General Posts, Lists and tagged Authors, Books, Children's Books, Children's Literature, Fairy Tales, fantasy, kidlit, Lists, literature, Picture Books, Reading, reviews, Science Fiction, SF, Space Adventure. Bookmark the permalink. 1 Comment.