Review: Cakes in Space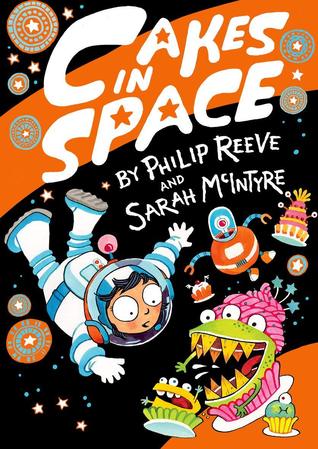 Cakes in Space by Philip Reeve and Sarah McIntyre (Random House, May 2015)
You know, if someone had told me that I'd fall head over heels in love with funny books for young readers in science fiction and fantasy this year, I'd have not believed them. See, while I can appreciate funny and subversive speculative fiction for kids, a lot of it just doesn't hit my funny bone and satisfy my desire for a good story in one delicious whole.  After the slam dunk fantasy Castle Hangnail by Ursula Vernon earlier this year, I figured I had come out ahead with one book that managed to turn me into a fan.  Little did I know that Cakes in Space was lurking in the background, just waiting for the right moment to grab my attention!
In this future space adventure, young Astra's family is moving to a whole new planet.  The catch?  That planet is 199 years of travel away, so Astra and her family will be in cold sleep for the trip, only to wake when they arrive.  But Astra wants a snack before her snooze and when she makes a request of the ship's cooking computers, she sets in place a chain of events that will ultimately cause trouble.  When a malfunction with her pod causes Astra to wake one hundred years early from her sleep, she discovers the ship is alarmingly off course . . . and there are ferocious, sentient cakes trying to eat her!  It's up to Astra, her  robot friend Pilbeam  to stop them, keep the ship safe from spoon stealing aliens and get their mission back on track!  Wild and wacky fun with a solid dose of science fiction!  Perfect for younger readers and reluctant readers.  Sarah McIntyre's engaging illustrations weave through the text and add to the story, creating clever visuals of the the characters, the setting and the technology.  Should I be disturbed that she's so good at drawing malicious cakes with teeth?
I've read a whole armful of humorous science fiction for kids in my time.  A lot of what's out there is super-duper silly to the point that the science fiction part gets lost in the mix.  The lightweight, Jetson's approach to the future is often utilized, where the trappings of science fiction are just that–trappings.  Kids reading these books will come away with a few impressions of aliens and spaceships and not much else.  And Cakes in Space could have gone that route.  It didn't.  Philip Reeve introduces readers to oodles of science fiction concepts:  cold-sleep, robotic assistants, shuttles from earth to spacecraft, sending humans to colonize planets, food synthesizers, how to move in zero gravity, etc.    Or just look at these gorgeous sentences: "The shuttle sped past the space stations that hung like chandeliers above the bright curve of the Earth, with little transport ships flitting between them." and "It swung past the huge, stripy face of Jupiter, picking up a little extra speed as the huge planet's gravity caught it and then flung it onward into the dark . . ."  They make the science fiction fan in me leap for joy, because this is the kind of writing that made me fall in love with the genre in the first place.
 Not that I should be surprised by this, of course, this is Philip Reeve after all, the author who created the Larklight Trilogy and the Hungry City Chronicles both of which manage to handle the science fictional aspects quite smoothly.  It's still impressive for Philip Reeve to deliver whip-smart science fiction in an entertaining package for a younger set of readers.
Oh, and it's funny.  Spoon-stealing aliens, evolving scary cakes funny.  The humor isn't the typical slapstick jokes or gross stuff, but instead a tongue in cheek romp through the galaxy. And while the reading age on this books skews younger, the humor is sophisticated enough to appeal to a broader audience, potentially making it an excellent choice for reading aloud.  Astra is a young heroine with a lot of guts and determination.  When she finds out the ship is in trouble she's off to solve it and get help.  We first get to experience the science fiction setting through Astra's eyes, which is useful.  As she's experiencing it, and having key concepts explained or introduced, readers are also learning about these concepts.  Thus we get a simple explanation of cold-sleep and why her family will use it to travel to their new home. Without super powers or special talents, Astra still helps save the day and get the ship safely where it needs to go. For added note, Sarah McIntyre's illustrations make it clear Astra's part of a biracial family, putting this in the very small–but growing–group of science fiction books for kids that feature diverse main characters.
My one small complaint has to do with the fact that I don't think it's ever explained why Astra's pod malfunctions when no one else's does.  It's a small thing, all in all, but something that seems convenience rather than explainable plot point.  That said, this is a marvelous read, a great science fiction romp, and just the kind of thing to entice new and reluctant readers to give the genre a try!
Check out the book trailer here:
About Stephanie Whelan
I'm a children's librarian with a life-long love of all things science fiction and fantasy.
Posted on July 26, 2015, in General Posts, Reviews and tagged Authors, Books, Children's Books, Children's Literature, Humor, kidlit, literature, MG Books, Middle-Grade Fiction, Multicultural, Reading, reviews, Science, Science Fiction, SF, Space Adventure. Bookmark the permalink. 5 Comments.