A Tuesday Ten: Ability through Disability
One of the harder things to find in speculative fiction stories for kids are stories with main characters who have some kind of disability.  There are some of course.  And I have every hope we will see more as the call for diversity and inclusion continues to ripple outward.   Even in adult fantasy the subject of disability is a tough one, especially when that disability is just part of the story, part of what makes the character who they are.  So I've tried to put together a list of those books I know that feature these kinds of protagonists.  I would appreciate any added titles my readers can put in the comments to help flesh out things further!
1.
The Half-a-Moon Inn by Paul Fleischman, illustrations by Kathy Jacobi (HarperCollins, c1980)
We'll kick this list off with a recent Flashback post.  In this slightly fantastical adventure story for younger readers our hero is Aaron, a young man who has just turned twelve heads out  alone in a snow storm in search of his mother when she does not return from town on time.  He gets lost in the wood and winds up having a wild adventure that he'll need all his wits to survive.  Aaron is mute, which makes his endeavor to find his mother harder when he can't speak  to explain his quest to illiterate strangers.  It's a brilliant example of including an element of disability without it becoming the central plot point.
2.
Six by M. M. Vaughan (Margaret K. McElderry, May 2015)
A much more recent offering, this new science fiction adventure has two main protagonists, Parker and his younger sister, Emma.  Ten-year-old Emma is deaf and in order to help Emma communicate, her inventor father has created a device that allows the family to communicate with her on a special set of devices. (Each family member has a bracelet that links them to the other three.  When any of them wish to send a thought to the others they can do so, and the thought is transferred in to an audio message only they can hear, or in Emma's case, a running script across the inside of her glasses.  The technology gives the kids an edge when running from the bad guys, and in ultimately finding their father.
3.
Handbook for Dragon Slayers by Merrie Haskell (HarperCollins, 2013)
Princess Matilda has always felt limited and trapped by her life due to her lame foot.  She's mainly stayed inside and never dreamed of having adventures of her own.  That is until her cousin tries to imprison her and steal her kingdom.  Now Tilda is on the run with her two best friends, and she discovers that adventure is there to be had, disability or no.  Merrie Haskell not only gives readers a great fantasy story full of magic and danger, but she spins a heroine who must come to change her own attitudes about her disabilities–and abilities, in order to come to be the person she was meant to be.
4.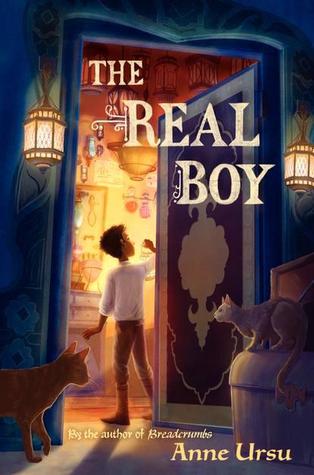 The Real Boy by Anne Ursu (Walden Pond Press, 2013)
External disabilities and disfigurements may not be exceptionally common in speculative fiction, but they're fairly obvious in stories.  What is often much more difficult to identify are those stories with characters who have invisible struggles: those associated with autism, Asperger's, etc.  While not as obvious, they can be just as important for readers to see in stories.  Anne Ursu introduces us to Oscar, a young boy who is the assistant to the island's magician.  Oscar is not comfortable with the big wide world and all the people in it, he's happier staying where things are more structured and ordered, away from people.  While no diagnosis is provided in the story, Oscar has to find the way out of his shell to be the hero the island needs.    He discovers that despite his oddities and different way of looking at the world, he's still very much a real boy.
5.
Centaur  Rising by Jane Yolen (Henry Holt and Co., 2014)
This fascinating small-town magic story of a horse farm where one of the family's horses gives birth to a baby centaur.  Mom, Arienne and her brother Robbie all decide they must keep this small creature of legend a secret.  But growing used to a body with horse and human parts clearly isn't a simple task.    For Robbie, a boy born with severe deformities due to his mother taking thalidomide, the centaur provides him with a connection, a brother who –like him– is something different.  It's a touching story of how the two build a bond between them, giving courage to each other despite the daunting things they struggle with.
6.
The Seeing Stick by Jane Yolen, illustrated by Daniela Jaglenka Terrazzini (Running Press Kids, c1977)
Another by Jane Yolen, this one a much older story, but one that's been unforgettable.  I admit that this one mainly makes the list because it's considered something of a fairy tale.  Hwei Min, the only daughter of the emperor of China has been blind since birth. The emperor offers great reward for anyone who can discover a cure for the girl's blindness, but everyone, from magician to physician, fails.  Until one day a wise old man comes to visit the princess and brings her a "seeing stick"  and shows the girl a new way to see the world.  Key to this story is that the princess does not regain her sight, but she regains her life and her ability to find her own way within it.
7.
Odd and the Frost Giants by Neil Gaiman, illustrated by Mark Buckingham (Bloomsbury, c2006)
A Norse adventure tale where a little lame boy named Odd runs away from home.  While on the run, he encounters several different animals, each with their story to tell.  Pretty soon, Odd is no longer running away, but on a journey  to help find a way to defeat the Frost Giants and end Winter.   Odd needs his crutch to get around, and his disability is the source of much of his unhappiness in the beginning, but he soon gains confidence and finds his way to a happy ending in this brief book.
8.
Eva by Peter Dickinson (Laurel Leaf, c1988)
I went back and forth on this, but finally decided to include it.  Eva nearly dies in a traumatic car crash.  Rather than lose her, her parents transfer her mind into the body of a chimp.  Now Eva is trying to adjust to an entire new reality of how to function, communicate, and how she's accepted by society.  In her heart and mind, she's a real human girl, but her body is that of a chimp . . . and chimps don't have rights in her future world.  I think, even though the actual "disability" is a strange one, this story does a lot to point out some of the ways in which society can sometimes treat those with disabilities, with the severest form being denying their very humanity and losing control of their own lives.
9.
The Mermaid's Three Wisdoms by Jane Yolen, illustrated by Laura Rader (Collins World, c1978)
And yet another Jane Yolen book makes the list . .. hmmm sensing a theme here.  In this story for younger readers, a mermaid is banished from her people because she lets herself be seen.  Now this mermaid is exiled to land, but she cannot speak and doesn't understand spoken language, since none of the underwater community used words as language.  She's discovered by a young girl who has felt driven apart from her own community by her hearing impairment.  But her use of sign language is something that the mermaid can understand, and the two can begin to communicate.
10.
Peter Nimble and His Fantastic Eyes by Jonathan Auxier (Amulet, 2011)
Peter is a ten-year-old blind orphan whose been trained in the art of thievery–and he's quite good at it.  One day he steals a mysterious box that contains three sets of magical eyes. When he tries the first pair, he is instantly transported to a magical island . . . and his adventure quickly takes off from there!
I'm going to add a shout out to one of my favorite adult SF series that has a protagonist dealing with rather substantial birth defects.  When Lois MacMaster Bujold created Miles Vorkosigan, she created a legend!  My adult readers who like space adventure who haven't read this, I highly recommend the Vorkosigan Saga–especially books dealing with Miles!
So there's my list! Please add to it in the comments!
About Stephanie Whelan
I'm a children's librarian with a life-long love of all things science fiction and fantasy.
Posted on June 24, 2015, in General Posts, Lists and tagged Authors, Books, Children's Books, Children's Literature, fantasy, Historical Fantasy, kidlit, Lists, literature, MG Books, Middle-Grade Fiction, Reading, reviews, Science Fiction, series, SF. Bookmark the permalink. 4 Comments.