A Tuesday Ten: 2015 Fantastical Pirates
So I'm always a fan of spotting trends in a specific year.  And this year, as I was sifting through the books and reading them it occurred to me that there were quite a few pirate type fantas and science fiction stories.  So many in fact that I can make an entire Tuesday Ten post out of them.  If you know of any other 2015 pirate tales of a speculative nature, add them in the comments.  Arrrrr!
1.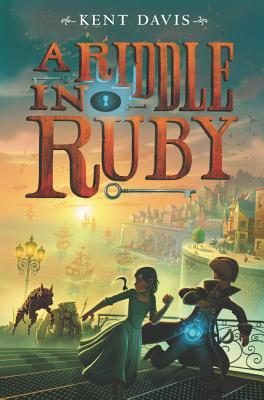 A Riddle in Ruby by Kent Davis (GreenWillow Books, Expected Publication September 2015)
Ruby Teach is the daughter of a smuggler and a pirate whose life winds up on a crash course with a young aristocrat in this alternate history fantasy.  Little does Ruby know that her whole life has been spent in hiding from several nefarious groups, as well as the Royal Navy.  I'm looking forward to reading this one sometime soon!
2.
The Galaxy Pirates: Hunt for the Pyxis by Zoe Ferraris (Crown Books, Expected Publication, August 2015)
This space-adventure fantasy makes no bones about its pirate connection.  Emma finds out her parents have been keeping secrets about who they are and where they're from.  Her mother and father aren't from anywhere on Earth–they're from a place far out in the galaxy, and now they've been kidnapped!  It's going to be up to Emma to enter the waterways of the galaxy and try to find her parents–all the while avoiding the clutches of the Queen Virgo.
3.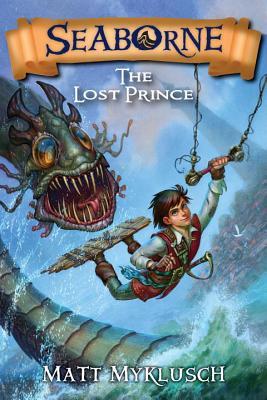 SeaBorne:the Lost Prince by Matt Myklusch (Edgemont USA, April 2015)
Dean Seaborne is in trouble with the pirate king, and the only way he can redeem himself is to succeed in the ultimate con–to pretend to be the long lost prince and heir of the mysterious kingdom of Zenhala.  If Dean can make it through the trials and convince the locals he's the prince, he can give the pirates access to the golden treasure of Zenhala.  If he fails, it's curtains for Dean and his mates.  The clock is ticking, but can Dean ultimately make the right choice before time runs out?
4.
Spacejackers by Huw Powell (Bloomsbury, June 2015)
Another lost heir story.  This time Jake Cutler was left as a babe on the planet Remota.  The monks have raised him, but Jake remains ignorant about where he's from and who his parents were.  Then pirates come to the planet  searching for Jake, and he barely escapes.    He befriends a group of bounty hunters and becomes part of their crew–and is soon off on a wild adventure around the galaxy!
5.
Seven Dead Pirates by Linda Bailey (Tundra Books, Expected Publication, September, 2015)
Lewis Dearborn has always been a shy, hesitant sort of boy.  But that was before the ghosts of seven dead pirates appeared in his bedroom.  Now he's part of their wild plan to retake their old ship and sail it to a fabled pirate utopia.  Fun and funny paranormal fiction!
6.
The Pirate Pig by Cornelia Funke (Random House, June 2015)
Julie is no ordinary pig!  She's a pig found at sea who can sniff out treasure-and it isn't long before the greediest pirate on the ocean is after her for her special talents!
7.
Princeless: The Pirate Princess by Jeremy Whitley, Rose Higgins and Ted Brant (Action Lab Entertainment, June 2015)
Our heroes are back for another adventure in this ongoing graphic novel series!  When Adrienne rescues another princess in a locked tower, she quickly realizes that Raven Xingtao, daughter of  the pirate king is going to be quite a handful. Now Adrienne's off on an adventure to complete Raven's revenge quest!
8.
The Buccaneer's Code by Caroline Carlson (HarperCollins, Expected Publication: September 2015)
The third book in this delightful series about Hilary Westfiield, a  girl who refuses to become a proper young lady and wishes to be a pirate instead.  This time Miss Pimm, otherwise known as the Enchantress of the Northlands wants Hilary to gather a band of scallywags to help her challenge Captain Blacktooth for the presidency of the League.  The fate of the kingdom may well lie in the balance!
9.
The Wand and the Sea by Claire M. Caterer (Margaret K. McElderry, June 2015)
In this second book in a new fantasy adventure series, Holly and Ben Shepherd return to the magical land of Anglielle to find things have dramatically changed.  Their friends have been imprisoned, the alliance is scattered,and now they must go in search of the Isle of Exile to find the Adepts that King Reynard now is desperate to find.  But getting there will take a sea voyage with a pirate captain with his own agenda  and it means Holly has to figure out her own Elemental magic.
10.
The Pirate Code by Heidi Schulz, illustrated by John Hendrix (Disney-Hyperion, Expected Publication: September 2015)
Looking forward to this one!  Hook's daughter is back in this anticipated sequel .  This time she's out to figure out her father's map, in order to discover where Hook hid his treasure.  After all, an infamous pirate captain can't very well keep ship shape without treasure–right?  High adventure, Neverland hijinks and some wild twists and turns promise to make this as much fun as the first book!
Posted on June 18, 2015, in General Posts, Lists and tagged Books, Children's Literature, fantasy, Historical Fantasy, kidlit, literature, MG Books, Middle-Grade Fiction, Reading, reviews, series. Bookmark the permalink. 3 Comments.