A Tuesday Ten: Prisoners of the Fantastic
So we're taking a break from colors to discuss a new theme for this week!  Prisoners! Now, while its's a common story trope for someone to get captured in an adventure story and need rescuing, I'm not looking for quite those kind of stories.  These are stories where one of the central characters, and their status as a prisoner is a key point to the story.  So lets kick off this list with . . .
1.
The Prisoner of Pineapple Place by Anne Lindburgh (Candlewick, c1988)
Pineapple Place is a street disconnected from time whose people don't age.  The street travels from city to city around the world, where the people aren't noticed by the regular residents.  One restless boy from this slice of static time wishes he could escape the world of sameness that is his life.  After 54 years, Jeremiah yearns for some kind of change in his life–a way out of the world that so many others see as a paradise, but he finds to be a "prison".
2.
Lilliput by Sam Gayton, illustrated by Alice Ratterree (Peachtree Publishers,  Expected Publication, August 2015)
Lily is a young Lilliputian kidnapped by Gulliver and brought back to London as his proof of  his adventures.  She does not stop trying to escape despite the daunting odds against her and the fact that every month she's imprisoned is a year in her life.  Lily is brave, determined and a heroine whom readers will root for as she fights for her freedom.
3.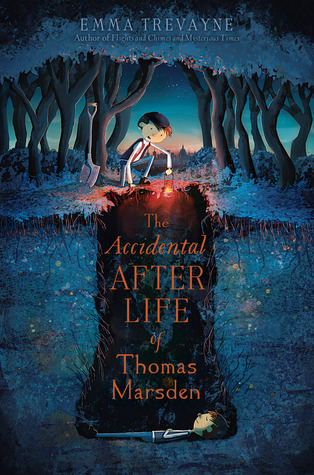 The Accidental Afterlife of Thomas Marsden by Emma Trevayne (Simon & Schuster, Expected Publication, July 2015)
There are a number of prisoner tales out this year.  In this story, Thomas Marsden discovers he might be something more than a foundling babe raised as a grave robber.  Indeed, he might hold the key to free an entire race of fairy folk who have been imprisoned and forced to summon the spirits of the dead for one greedy man's ambition.   In this book, it is the prisoners' own plotting that sets the story in motion.
4.
A Curious Tale of In Between by Lauren DeStefano (Bloomsbury, expected publication September 2015)
Pram is an unusual girl who died before she was born and brought back to life. This has left her able to communicate with spirits and ghosts, even interact with them.  Her gifts make her an outcast in most circumstances, but they also attract the attention of dangerous individuals who covet those gifts.  When Pram is taken prisoner, it will take all her wits to escape her captor.
5.
The Half-a-Moon Inn by Paul Fleischman (HarperCollins, c1980)
Twelve-year-old Aaron has been mute since birth.  When his mother does not return from her outing to town, Aaron heads off in search of her, but soon becomes lost.  He's taken prisoner by the Half-a-Moon Inn's proprieter, Madame Grackle–and forced to work for her and help her in her mad schemes.  Aaron never stops trying to figure a way to escape and get home again.  A great adventure tale with just a dash of magic!
6.
Grounded: The Adventures of Rapunzel by Megan Morrison (Arthur A. Levine Books, April 2015)
Rapunzel.  Possibly the best example of a fairy tale prisoner.  Our Rapunzel here doesn't know she is a prisoner–she's certain that Witch loves her and that all others in the world want to hurt her.  She doesn't want to leave her tower or go on adventures–and she certainly wants nothing to do with any princes.  That is, until a strange boy named Jack begins to make her unsure of her own memory–and reveals that things may not be quite as she believed.  This unusual fractured fairy tale offers a delightfully different take on the story of Rapunzel … and offers us a heroine who ultimately saves herself.
7.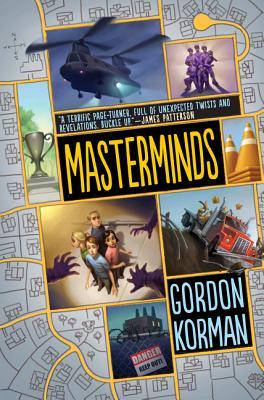 Masterminds by Gordon Korman (Balzer & Bray, February 2015)
Serenity, New Mexico is a perfect place for a kid to grow up.  There's no crime, every kid has a pool and a basketball hoop.  Community pride, kindness and honesty are stressed.  But for Eli Friedan, Serenity suddenly goes from the idyllic home to a prison.  Eli has never been past the town borders in his life, until the day he and his best friend are exploring and he accidentally goes past the border and finds himself crippled by pain and dizziness.  He's brought back to Serenity and the adults in his life try to ensure that everything is just like it's ever been, but it's all changed for Eli.  His best friend's been sent away.  His own father is trying to drug him.  And Serenity itself is clearly not exactly what it pretends to be. . .
8.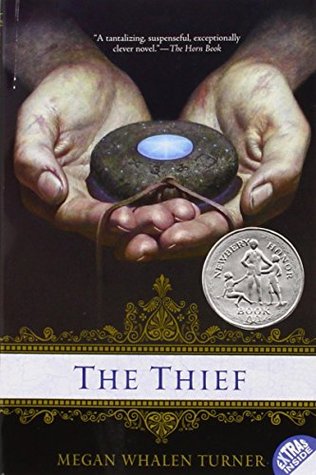 The Thief by Megan Whalen Turner (Greenwillow Books, c1996)
Gen is a thief in the king's prison . . . but now he has a chance at freedom. The magus has discovered the site of an ancient treasure that just might tip the balance of power to benefit the kingdom.  But he'll need a skilled thief to get it, and so he recruits Gen to retrieve the artifact for him.  This marvelous political fantasy, and 1997 Newbery Honor book is well worth a read.  The series,  The Queen's Thief  remains one of my favorites.
9.
Journey to Terezor by Frank Asch (Random House Books, c1989)
An odd science fiction tale about a family of humans abducted from Earth and brought to another planet to live alongside other misplaced Earthlings in a sort of zoo/colony.  Matt isn't content to live his life imprisoned, no matter how comfortable that prison might be and he starts plotting a way to escape and return to Earth.  His plans will ultimately lead him on a much bigger adventure.
10.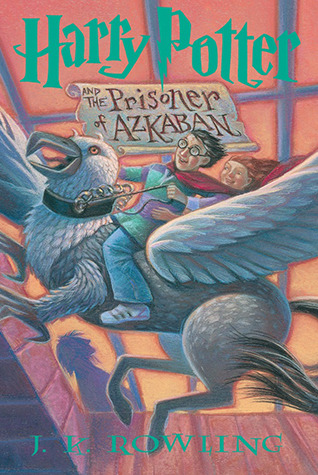 The Prisoner of Azkaban by J. K. Rowling (Scholastic, c1999)
We'll wrap up this list with a well-known prisoner story.  The third book of the Harry Potter series (and possibly my favorite) introduces us to Sirius Black, the prisoner at Azkaban whom is supposedly responsible for betraying Harry's parents to Voldemort.  When Sirius escapes, everyone is suddenly on guard, worried that the man will be after Harry . . . but few are what they seem in this third story of the boy wizard, and that goes for Sirius as well!
So there's my list!  What other prisoner tales would you add to my list?
Comments welcome!
About Stephanie Whelan
I'm a children's librarian with a life-long love of all things science fiction and fantasy.
Posted on June 11, 2015, in General Posts, Lists and tagged Authors, Books, Children's Books, Children's Literature, fantasy, Historical Fantasy, kidlit, Lists, literature, MG Books, Middle-Grade Fiction, Reading, reviews, Science Fiction, series, SF. Bookmark the permalink. 2 Comments.