A Tuesday Ten: Mellow Yellow and Orange Rhapsody
So I quickly found that neither yellow nor orange are extremely easy to find books for.  Unlike other colors that appear in some significance within stories, these two have only a handful of titles each.  Given that, I'll combine the two in one post!
1.

Yellow Submarine by The Beatles (Candlewick, c2000)
Bending the rules a tad here, since this is a picture book based on an animated movie . . . but when thinking yellow and speculative fiction, this is possibly one of the two most famous yellow items to come to mind.  My kids both love this picture book story of the magical submarine from Pepperland.  (to the point where my son actually was the Yellow Submarine one year for Halloween).  So I think it belongs on this list!
2.
The Wonderful Wizard of Oz by L. Frank Baum (Penguin, c1900)
The other famous yellow object comes from the color significant fairylands out of Baum's imagination.  The yellow brick road–the start of Dorothy's journey that leads her to the Wizard of Oz is an image that captured readers and viewers–and has been referenced endlessly in other stories, songs and art. The very words "yellow-brick road" conjure up a feeling of hope and adventure (as well as an urge to skip and sing).
3.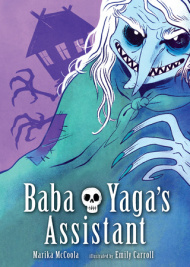 Baba Yaga's Assistant by Marika McCoola, illustrated by Emily Carroll (Candlewick, Expected Publication: August 2015)
An enchanting new graphic novel about one of the most famous witches in all of Russian folklore!  Masha knows all her grandmother's old stories of Baba Yaga, and thinks she's up to the challenge of matching wits with her!  There's a significant role in this story for one bright yellow ribbon . . . though I won't give away what that role will be!  Suffice to say, I think it warrants placing it on my list.
4.
Yellow Fairy Book edited by Andrew Lang, illustrated by Leaonora Alleyne Lange and Henry Justice Ford (Dover Publications, c1894)
 I haven't used Lang's books in every list, but given the dearth of yellow books, I'll add one in here.  This one was still early in the series, number four.  Lang was just beginning to really branch out to other regions of folklore with this particular collection.
5.
The Amber Spyglass by Philip Pullman (Laurel Leaf, c2000)
In this case "amber" is most certainly a hue that is usually somewhere between yellow and orange.  One of our main characters in this third book, Dr. Mary Malone actually builds the title-device, which proves to be one of the key artifacts for the final book of His Dark Materials Trilogy.
6.
Giant Peach Yodel by Jan Beck illustrated by Barry Root (Pelican Publishing, c2012)
A tall tale. A small boy with an amazing voice.  A giant peach that's going to take a good deal of team work to transport! I do believe a giant peach suitably orange for our list.  When Little Buddy Earl yodels a tiny fruit in to a super giant peach, but how will the family ever pick it for festival?
7.
The Jumbies by Tracey Baptiste (Algonquin Publishers, April 2015)
This was actually the first book I thought of for my orange list.  Firstly for the fact that an orange tree and the amazing oranges it produces  are one of the plot points of the story, but my favorite orange reference is that time of day that Corinne's mother's favorite, the "orange time" when the sky turns orange for a very brief time as the sun is setting.
8.
James and the Giant Peach by Roald Dahl, illustrated by Quentin Blake (Puffin Books, c1961)
Our second giant peach on this list!  In this book our massive peach allows our young protagonist to escape the tyranny  of his two nasty aunts.  Traveling along with a menagerie of critters made large by the same magic that grew the peach, James makes new friends and finds his way to embrace courage and hope for the future.  One of Dahl's delightfully bizarre but oh-so-charming stories that readers tend to find unforgettable.
9.
The Lemonade Trick by Scott Corbett, illustrated by Paul Galdone (Scholastic, c1960)
So yellow, right? That would include lemonade . . . and in this case, a very unusual lemonade made with the help of Kirby's chemistry set.  Kirby adds a potion to his lemonade that changes the very nature of the people who drink it . . . might it help him out with the local bully?
10.
The Tiger's Egg by Jon Berkeley (Julie Andrews, 2007)
In this second book of The Wednesday Tales Miles joins up with the mysterious Doctor Tau Tau on a quest to find a legendary item called The Tiger's Egg.  A stone said to hold the soul of a tiger.   From the first book in the series there has been a tiger that routinely returns to visit Miles and speak with him.  And since these massive cats are orange with black stripes, it seemed a perfect book on which to round out my list!
So there you have it!  Can you name other titles with these colors?  I'm all ears!
Posted on June 4, 2015, in General Posts, Lists and tagged Books, Children's Books, Children's Literature, fantasy, kidlit, Lists, literature, MG Books, Middle-Grade Fiction, Picture Books, Reading. Bookmark the permalink. Leave a comment.