A Tuesday Ten: The Silver Lining
We're continuing with our color theme for these lists.  This week is silver!  The metallic colors are a tad easier sometimes to conjure up in science fiction and fantasy.  Silver and gold particularly.
1.
The Girl with the Silver Eyes by Willo Davis Roberts (Aladdin, c1980)
This psychic-talent powered science fiction story from my childhood is still a fast favorite.  It turns out that a number of kids were born to mothers taking an experimental drug.  All four kids now possess uncanny silver eyes . . . and strange psychic abilities.    Despite the decades since this was published it remains a youthful favorite that I'm happy to see still in print.
2.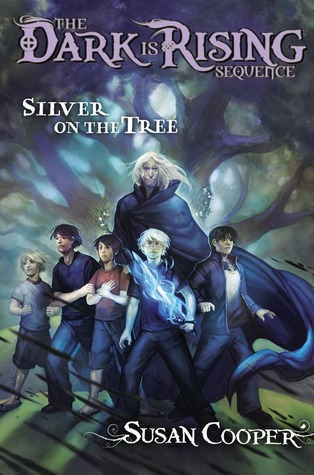 Silver on the Tree by Susan Cooper (Margaret K. McElderry books, c1977)
This is the final book in The Dark is Rising Sequence, and the title is the very last line of the prophecy of the series.  The line refers to the Midsummer tree from which will bloom a silver flower that blooms only once every 700 years, and whomever obtains it will have power over all High Magic.  Thus the crucial battle between dark and light is about to begin!
3.
The Silver Glove by Suzy McKee Charnas (Delacorte Books, c1988)
This is the second book in the Sorcery Hall series.  In this urban fantasy tale set in New York City, Val is sent a message and a magical silver glove from her Grandmother.  A dangerous wizard is stalking the family, and he's got his sights set on Val's mom.  The silver glove is the tool Valentine has to stop him, if only she can figure out how!
4.
The Silver Bowl by Diane Stanley (Harpercollins, c2011)
Molly goes to work for the King of Westria as a lowly scullery maid.  But she has a secret–she has visions of things that have come true.  And when she's promoted to polishing the silver, she encounters the ceremonial silver hand basin that warms to her touch, speaks to her and shows her visions of the past–and the making of the bowl itself.  Will she or no, Molly is woven into the palace intrigue and must choose how she will act.
5.

The Wonderful Wizard of Oz by L. Frank Baum (HarperCollins, c1900)
If the entire Oz series is anything, it is certainly color-full! Colors play such a significant role in so much of the story that it's certainly the only book that could make every single color list I could conjure up.  When it comes to silver . . . what could be more significant than the special silver slippers that Dorothy is given to wear?  The Wicked Witch of the West wants them for her own and readers are given the impression the shoes contain great magic.  But it's not until the very end of her adventures that Dorothy finds out the shoes can also send her back home to Kansas.  And so they do!
6.
The Silver Door by Emily Rodda (Scholastic, 2012)
This is the second book in The Three Doors trilogy.  Three companions, each with their own needs and goals, have sought out the doors.  In the first book they went through the Gold Door.  Now, two more doors remain.  I think it's pretty obvious what the second door will be . . .
7.
The Silver Chair by C. S. Lewis (HarperCollins, c1953)
It's no surprise this story falls onto this list.  We're well into the Narnian adventures at this point.  Jill and Eustace are given a quest to free a missing prince from captivity.  But in order to do so they must journey beneath the land and face an evil witch with a seductive silver chair.  The chair has enchanted Prince Rillian, and it's up to these two young people to break that enchantment!
8.
A Hat Full of Sky by Terry Prachett (Corgi Children's, c2004)
In this second installment of the Tiffany Aching storyline, Tiffany is going off to apprentice as a witch, and leaving her beloved chalk.  Roland, the baron's son, gives her a necklace in silver made to look like the Chalk Horse.   The horse is made up of stylized lines "not so much what a horse looks like, but what a horse is".  This necklace remains significant for many reasons for Tiffany as she grows into her role as witch and woman.
9.
The Silver Six by AJ Lieberman and Darren Rawlings (GRAPHIX, 2013)
In a future world Phoebe has been managing to get by for a about a year since her parents died in a horrible crash.  She's been managing to keep up the pretense her parents are still around and avoid child welfare–until now.  When the authorities movie in, Phoebe finds herself sent off to an orphanage where she finds five other kids whose parents also died in the same crash.  These kids have similar certificates to Phoebe's own . . . and together the kids decide to break out and discover what's really going on.  They dub their team the Silver Six.  Full of baddies, sacrifices and genuine humor, this is a great science fiction graphic for readers.
10.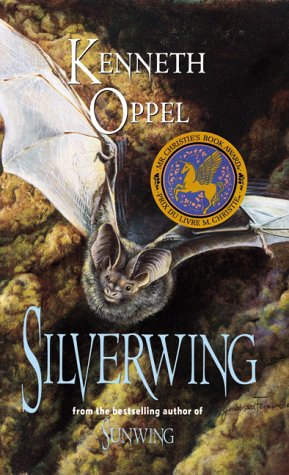 Silverwing by Kenneth Oppel (HarperCollins, c1997)
Shade is a silverwing bat, one of the smallest of his clan. During migration, Shade gets thrown off course and winds up on a wild adventure meeting other types of bats.  Some friend, and some foe.  This charming anthropomorphic tale of bats will give readers some perspective on these tiny flying mammals, as well as a lot of basic nonfiction information on bats and their habitats.
So there's my ten!  What other books can you think to add?  Comments welcome!
About Stephanie Whelan
I'm a children's librarian with a life-long love of all things science fiction and fantasy.
Posted on May 13, 2015, in General Posts, Lists and tagged Animals, Authors, Books, Children's Books, Children's Literature, fantasy, kidlit, Lists, literature, MG Books, Middle-Grade Fiction, Psychic Powers, Reading, reviews, Science Fiction, sequels, series, SF, Urban Fantasy. Bookmark the permalink. 3 Comments.