A Tuesday Ten: Seeing Red
Next up on my list is the color Red! Having fun rocking around the rainbow with these latest Tuesday Ten lists.
1.
The Secret Kingdom by Jenny Nimmo (Scholastic, 2011)
The first book in Nimmo's series, The Chronicles of the Red King tracks Charlie Bone's magical ancestor, The Red King.  In addition to the singular name, we have a magical cloak (made by the last moon spider) that helps give this illustrious ancestor his name.
2.

Mars Evacuees by Sophia McDougall (HarperCollins, February 2015)
The last color list I didn't have a decent science fiction book to pop on the list–this time I do!  What could be a better example of red in a story than the red planet itself?  Alice Dare and a whole group of other children are being shipped off to the fledgling colony on Mars to be kept safe while war rages on Earth.  But safety may not be in the cards in their new home . . . and Alice may wind up having to help save both planets.
3.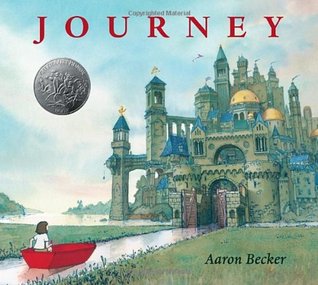 Journey by Aaron Becker (Candlewick, 2013)
This wordless picture book follows in the traditions of Harold and the Purple Crayon. A young girl uses her red crayon to draw a door on the wall of her room, and goes on a journey  into a wildly lush fantasy realm, navigating through it with the help of her trusty red crayon.  This story is apparently part one of what will be a trilogy, with the second book, Quest published in 2014.
4.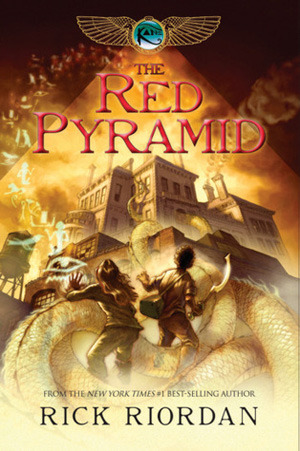 The Red Pyramid by Rick Riordan (Disney-Hyperion, 2010)
Book one of The Kane Chronicles has a big red pyramid as one of the big bad things that our heroes will have to deal with in this story.  Two children with the blood of pharaohs in their veins discover that Egyptian gods really do exist and one of them has his sights set on destroying both of them along with their father.  Egyptian mythology with contemporary adventure, much like the Percy Jackson stuff only with a different mythology.
5.
The Red Book by Barbara Lehman (HMH Books, c2004)
Two wordless picture books on this list!  But I couldn't resist adding this book.  The color is in the title, in the story, and is the color of the book itself!  A girl finds a book that shows pictures inside of another boy with the same book.  Through the book they can see each other and maybe more!  A neat magical tale that demonstrates the inherent magic of books themselves–this one is always a favorite of mine!
6.

Redwall by Brian Jacques (Firebird, c1986)
The first book in this swashbuckling series about furry woodland creatures having adventures and going on quests!  Our setting is the famed Redwall Abbey, seen clearly here as hewn from red stones that give the building–and series–it's name.
7.
Peter Pan in Scarlet by Geraldine McCaughrean (Margaret K. McElderry Books, 2005)
Wendy and her brothers are all grown up, but darkness is leaking out of their dreams and it seems that the only one who can help may be Peter Pan himself.  So the three set out on a quest to become children again and journey back to Never-Neverland in search of the famous Pan.  The first authorized sequel to the original stories by J. M. Barrie.
8.

The Fire Chronicle by John Stephens (Knopf Books for Young Readers, c2012)
The second book in The Books of Beginning series.  Each story features a different legendary book. In this one our young protagonists use a series of clues search for the Fire Chronicle. As it is named, this is "the book of fire" and it has powers related to the same.  Our heroes will need to master it in time to save their sister!
9.
Red Wizard by Nancy Springer (Atheneum, 1989)
A seventh grader is whisked into another world along with his crayons by a wizard trying to summon the perfect color red. The mistake may wind up helping stop a rebel warlock and succeed in helping Ryan in his own life back home.
10.
Fire World by Chris D'Lacey (Orchard Books, c2011)
The sixth book in this series takes our protagonists to  an alternate Earth known as Co:pernica.  There they discover that one of the firebirds from the librarium has been taken over by the Ix and turned to the side of darkness.  Firebirds and dragons both seem likely to come in red in this installment of the Last Dragon Chronicles.
And there's my ten!  What other books can you think of that would fit this list?  I'm all ears!  Comments welcome!
About Stephanie Whelan
I'm a children's librarian with a life-long love of all things science fiction and fantasy.
Posted on May 6, 2015, in General Posts, Lists and tagged Authors, Books, Children's Books, Children's Literature, fantasy, kidlit, Lists, MG Books, Middle-Grade Fiction, Reading, reviews, Science Fiction, series. Bookmark the permalink. Leave a comment.