A Tuesday Ten: A Study in Blue . . .
I decided it might be fun to do some lists that were an exploration on colors and where you'd find them.  Whether part of the title, a significant part of the book, or some other reference to the color, I've compiled a list of children's science fiction and fantasy that are bound to be feeling at least a little blue.
1.

Charlie and the Chocolate Factory by Roald Dahl (Puffin, 1964)
Hmm, you may at first be wondering why this is on the list.  Or maybe not.  Surely those well-versed in this story will recall a certain gum chewing gal named Violet who gets herself into a pickle . . . well actually a blueberry.  Wonka's group of ticket winners includes a lot of misbehaving children who are tromping around his chocolate factory, and when Violet gets her hands on some experimental gum she ignores the warnings and  tries it out . . . and winds up turning into a blueberry!
2.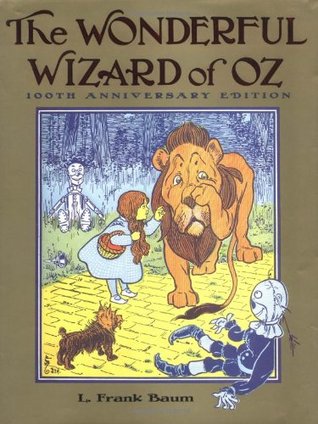 The Wonderful Wizard of Oz by L. Frank Baum, illustrated by W. W. Denslow (HarperCollins, c1900)
Baum's work is full of amazing colors.  And blue plays a significant role in Munchkin Land, where Dorothy first lands with her house.  The munchkins all wear blue and think it the best color of all–and they're flattered when Dorothy chooses to wear a checked dress with blue squares.  Since they believe her to be in possession of powerful magic, they feel it's a great honor for her to choose to include their favored blue in her dress.
3.
Emma and The Blue Genie by Cornelia Funke (Random House Books, 2014)
Young Emma and her dog Tristan are wandering the beach one night when they discover a glowing bottle washed up on the shore.  When Emma opens the bottle, she frees the genie, Karim, who explains he was imprisoned in the bottle by an evil genie and has lost most of his magical power.  Emma goes on a wild Arabian-styled adventure with the very blue Karim to get his magic back.
4.

The Blue Fairy Book edited by Andrew Lang (Dover Publications, 1887)
Yes, I know the main thing that's blue about this book is the title and cover, but this many hued series of folklore collections edited and curated by Andrew Lang are an essential part of our story-building past and still beloved by readers today.  This one is significant in also being the very first of the fairy books and therefore having some of the most famous fairy tales in its pages.
5.

The Lightning Thief by Rick Riordan (Disney-Hyperion, c2005)
Well yes, it's technically about a kid whose dad is the got of the Sea and all that, so blue might factor in there, but what I was really thinking of was Percy's preference for blue food.  And how his mom would go out of her way to make him blue cookies and blue cake. The only other character I know with a love of blue food is the dog Ponch from the Young Wizards Chronicles.  Ponch tries some blue food at Crossings, an intergalactic transport hub, and after his first taste is a huge fan.
6.
The Blue Roan Child by Jamieson Findlay (Chicken House, c2002)
Sometimes the animals themselves can be blue . . . or bluish, anyway! A girl-horse fantasy where a young girl shares a special bond with a blue roan horse. When Arwin, a blue roan mare, has her colts stolen from her by the evil Lord Ran, Syeira pledges to help her find and free the colts, and defeat the evil lord in the process.
7.
The Blue Ghost by Marion Dane Bauer (Random House Books for Young Readers, c2005)
A ghost story for beginning chapter book readers.  Liz is staying with her grandmother in the country at her grandmother's old house.  In the middle of the night Liz wakes up to see a mysterious blue form and hear it call her name.  The ghost needs her help, but what is it that this blue ghost wants her to do?
8.

The Blue Shoe by Roderick Townley, illustrated by Mary GrandPre (Knopf Books for Young Readers, c2005)
The first edition of this book was apparently  written in blue ink (I'll have to take Goodreads at its word on that since I haven't seen it).  The story opens with the making of a strange and singular blue shoe, crafted entirely out of strange blue gems.  The shoe  is never to be sold or damaged.  Of course our assistant cobbler winds up taking one blue gem for a beggar girl and the shoe loses its magical glow.  The results of these actions will send Hap on an adventure he never imagined.
9.
Wee Free Men by Terry Pratchett (HarperCollins, c2003)
Now, NacMacFeegle are technically not blue, but covered in blue tattoos that make them look blue.  These little fellows are Pictsies (not be confused with pixies–these blokes don't have pretty wings and go twing).  Pictsies  prefer drinkin, fightin and stealin sheep.  Though they will help out a young witch on her quest into fairyland to rescue her brother–whether they'll be of help is an entirely different question.
10.

Pinocchio by Carlo Collodi (Puffin Books, c1883)
How could I possibly leave out this famous story and the Blue Fairy that started it all?  It is the blue fairy that brings a wooden puppet to life.  But she is not a figure who simply flits in at the beginning and back in at the end again, in the book she's still around–and she's pained over each transgression that Pinocchio commits.  If you thought the Disney movie was a bit dark and wild, well, the book is much less sanitized, and much darker overall.
So there's my blue ten!  Can you think of others?  Comments welcome!
About Stephanie Whelan
I'm a children's librarian with a life-long love of all things science fiction and fantasy.
Posted on April 29, 2015, in General Posts, Lists and tagged Authors, Books, Children's Books, Children's Literature, fantasy, kidlit, Lists, literature, MG Books, Middle-Grade Fiction, Reading, reviews, series. Bookmark the permalink. 1 Comment.