Reviews: Masterminds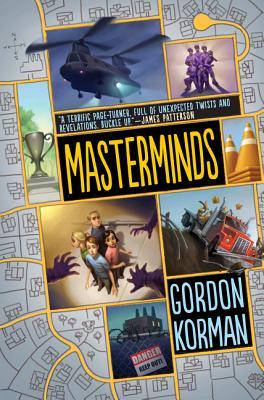 Masterminds by Gordon Korman (Balzer and Bray, February, 2015)
I first came across Gordon Korman when I was all of ten years old, I think.  Back when he was still in his teens and writing Bruno and Boots comedy adventures.  His name has continued to crop up since then, and his presence on library shelves has been a constant one.  He's ranged far and wide on types of stories, with a handful that fall into the SF and Fantasy  spectrum.  His newest, Masterminds, brings us to the town of Serenity, New Mexico.  It's an ideal sort of town, no crime, civics minded community members–the kind of place that sounds like what parents would want for their kids.  Only one problem.  Serenity may not be paradise after all  . . .
Eli never really thinks of leaving the town he's spent his whole life in.  He's happy there, even if life is sometimes a bit boring.  But everything changes the day that his friend Randy persuades him to go on a bike ride past the town limits to look at an old car.   Eli quickly finds himself tremendously ill, so bad that he collapses.  A helicopter descends out of nowhere to come to his rescue, along with the town's security force.  Eli wakes in the hospital to find that Randy has been sent away from town, and no one is willing to explain the truth about why he's suddenly lost his best friend.  Eli knows it has something to do with what happened that day at the town border, but he doesn't know what.   He decides to start investigating . . . and Serenity's placid facade starts to unravel around him.  Eli discovers that he's being watched . . . all the time.  He finds a glitch that proves the Internet he accesses in the town is markedly different from that others see outside the town.  Strange clues start piling up. Eli recruits his friends and finds other allies along the way . . . but what they uncover will shake them to their very core.
I don't want to give too much away–this book is too much fun to read!  We've all seen the perfect towns with something rotten at their core–that's not new.  What is new is the how and why behind this one–and it's a real twist on this trope.  What makes this book work so well, however is that the author has written a tightly paced, highly suspenseful middle grade adventure with a complex ensemble of characters.  That is not at all easy to do.   We get to see the plot unspool from the viewpoints of all the different characters, at once getting a real taste for who they are–both how they present themselves outwardly, and how they behave and think on their own.  These are not cardboard cut outs that simply stand in for stereotypes and certain character traits, they're fully fleshed out fascinating individuals who can surprise the reader with how they'll act and react in different situations.  They all have their strengths to bring to the table, and it takes all of them to start to figure out what's really going on and what to do about it. Because the book is the first in a series, there are plenty of loose threads not tied up, and an indication that the adventure that these kids are a part of has only just begun.  That said, the ending is satisfying  and doesn't leave our characters at a cliffhanger plot point (something I hate.)
I love the updated technology of this story: while we've had perfect towns before, usually these tales either take place within an earlier time frame or else the town itself kind of throws out the use of modern tech.  In those kinds of stories kids are literally kept from knowing about more advanced technology.  But this story takes place in the here and now, the kids have computers, cell phones, tablets.  They access what they think is the whole Internet.  Only after a while of investigating do they realize what a carefully screened version of reality they've been handed.  And the reason behind this whole conspiracy and the whole town?  Wow–did not predict that one for the world.
I've been reading Gordon Korman for decades now.  But this may very well be one his best books to date. For any kid who has ever encountered a mystery or conspiracy. This combines that sense of breathless suspense with plenty of danger, adventure and mystery–and enough science fiction that it qualifies for my blog!  Be warned when you start reading that you may not want to have to put it down until you finish the whole darned thing!
Publisher:Balzer and Bray
Publication Date: February 2015
ISBN13:    9780062299963
Recommended for grades 4 and up.
About Stephanie Whelan
I'm a children's librarian with a life-long love of all things science fiction and fantasy.
Posted on April 9, 2015, in General Posts, Reviews and tagged Authors, Books, Children's Books, Children's Literature, kidlit, literature, MG Books, Middle-Grade Fiction, Reading, reviews, Science Fiction, series, SF. Bookmark the permalink. Leave a comment.