A Tuesday Ten: Remarkable Female Protagonists!
Women's history month is here, and it's as good a time as any to talk about all sorts of amazing women and girls and what they've achieved.  For this list, I'm finding some of my favorite female protagonists from science fiction and fantasy to note.  Please add your own favorites in the comments below!
1.

How to Catch a Bogle by Catherine Jinks (HMH, c2013)
First up in a historical fantasy set in London.  Birdie is an orphan who is also an apprentice bogler.  Which means she plays bait for child-hungry monsters while Alfred the Bogler dispatches them.  She's tough as nails, confident in her own abilities and determined to live life her own way.  She doesn't like others interfering!  The book trailer for this one pretty much nails her character! https://www.youtube.com/watch?v=E7lMDqslWks
2.

First Test by Tamora Pierce (Random House Children's Books, c1999)
I struggled with this one.  Mostly because I love all of Tamora Pierce's heroines.  But I mention Alanna frequently enough that I felt I ought to bring up some of her other remarkable characters.  Kel is remarkable in that she is not a girl with a magical destiny–she's a girl with an uphill battle against prejudice and conservative thinking.  And she takes it on.  Actually, Kel doesn't just take on her injustice, she takes on a lot of injustices–so much so that she will stand up to the king and queen about them.  Her strength is in her determination, compassion and her leadership.  While she's not as flashy as Alanna or Daine, she  is as much a force to be reckoned with as both of them.
3.

Daja's Book by Tamora Pierce (Scholastic, c1998)
I'm not content with mentioning just one Tamora Pierce book, so I'll do one more from her other world-setting.  The Circle of Magic stories actually focus around four characters, three girls and a boy with unusual types of magic.  Daja has always been one of my favorites in this series.  Born a trader, she loses her parents and winds up being declared a bad-luck outcast by her people.  She's taken in by the teachers at Winding Circle and discovers she has a magic related to metal crafting and fire.  Daja faces lonliness, being shut off from the only life she's known, she's also been taught all her life to avoid crafting things, as traders buy and sell, they don't make things.  Now she's learning again.  The third book in the series brings Daja into her own power in truth, but it hardly ends there.  Her story has continued to grow and develop and I'm curious to see where it may go now that Daja is an adult.
4.

Sabriel by Garth Nix (HarperCollins, c1996)
I don't think I can think of another young woman who has taken up the duties of a necromancer in fantasy fiction.  The first time I read this through, I was instantly fascinated by the very different sort of magic Sabriel laid claim to.  She's a strong heroine with some confidence in her skills, even though she's fairly untried at the beginning of her quest.  A lot of fun to read and adventure with her as she battles the Dead who won't stay in death.
5.

DragonSong by Anne McCaffrey (Bantam Spectra, c1976)
Still one of my favorites  is Menolly, the young girl who has an incredible gift for music but is told only men can be Harpers.  She's forbidden to use her gifts and squashed down so badly by her community that she finally decides to run away.  Menolly goes out to live on her own in a perilous landscape  where she can be herself and play her music without being punished for it.  Eventually her gifts will bring her to the Harper Hall themselves where she will find that yes, girls can be Harpers too.
6.

Mrs. Frisby and the Rats of NIMH by Robert C. O'Brien (Aladdin Books, c1971)
This 1972 Newbery winner might well be quite the rarity in all of middle grade fantasy.  The protagonist is a widowed adult mouse with children.  Mrs. Frisby must seek out the rats of NIMH when her son becomes ill at plowing time and can't be moved.  The brave mouse's mission is to save her family and see them safely moved before the plowing can reach them.  A highly unusual sort of heroine to find,  but one well worth reading!
7.

Matilda by Roald Dahl, illustrated by Quentin Blake (Puffin, c1988)
While Dahl writes a lot of delightful books that I return to again and again, he doesn't feature female protagonists all that often.  I still remember discovering Matilda.  Bookish, incredibly bright, and burning bright with the need to learn and discover.  When her yearnings are thwarted and the people who try to help her are mistreated Matilda finds all her fury channels into a remarkable gift of telekinesis.  She is suddenly able to move objects with her mind alone.  Watch out world, because this small girl's pent-up fury is going to have a hey day with getting her revenge!
8.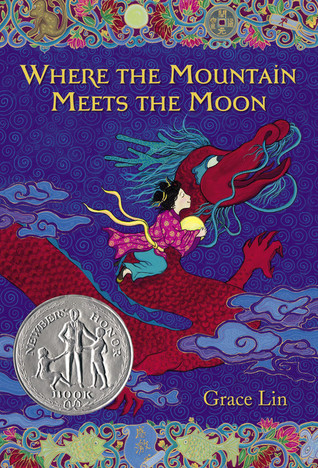 Where the Mountain Meets the Moon by Grace Lin (Little, Brown Books for Young Readers, c2009)
Minli's life is a hard one, helping her poor family survive.  But she loves and believes her father's magical stories and one day sets off on a quest to find the Old Man of the Moon  to ask him how to change her family's fortune.  Chinese mythology blends with an Oz-like adventure as this brave and spirited girl must use her cleverness and compassion to defeat enemies and help friends.
9.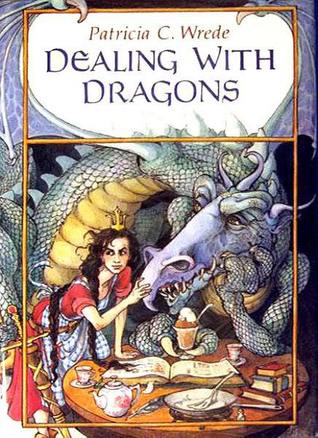 Dealing with Dragons by Patricia C. Wrede (HMH Books for Young readers, 1990)
I couldn't make a list and not mention Cimorene.  This stubborn princess of Linderwall has absolutely no interest in doing properly princess things–and she certainly doesn't want to marry a dim-witted prince with no conversational skills.  So she arranges a deal with a dragon, and begins the adventure of a lifetime!  What's perhaps notable about Cimorene as well is that in the third book of this series, she heads out adventuring while pregnant with her son.  A very non-traditional heroine who happens to be a great deal of fun to read about!
10.

The True Meaning of Smekday by Adam Rex (Disney-Hyperion, c2007)
Gratuity "Tip" Tucci's world has been taken over by aliens.  Her mom's been abducted by those same aliens, leaving Tip on her own.  What's an eleven-year-old to do but teach herself to drive and go on a wild search across country for her mom?  Along the way she picks up a rogue alien  who calls himself J-Lo and the two of them may just have to stop a second, much worse, alien invasion of Earth.  Tip  is a tough kid who takes matters into her own hands rather than letting others figure things out for her!
So there you have my ten!  Comments welcome!
Posted on March 10, 2015, in General Posts, Lists and tagged Books, Children's Books, Children's Literature, fantasy, kidlit, Lists, literature, MG Books, Middle-Grade Fiction, Reading, reviews, Science Fiction, SF. Bookmark the permalink. 2 Comments.