Reviews: Castle Hangnail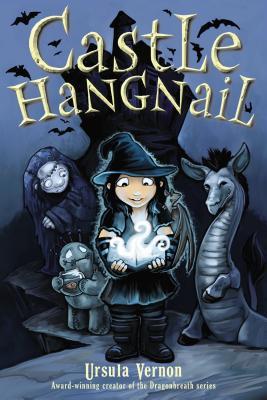 Castle Hangnail by Ursula Vernon (Dial Books, Expected Publication April 2015)
Humorous or comic fantasy can be a tough nut to crack.   Particularly middle grade comic fantasy.  The jokes have to work, the story has to balance a lighter tone while still allowing for a good conflict, the comments have to be funny, but not cruel.  Too often I've read books where the story is too silly for words, and there's no emotion to invest.  Or the ideas are meant to be funny but the tone is too dark and grim.  That's why even if Ursula Vernon makes it look easy, I'm not fooled.  She's done something quite remarkable here.
Our story takes place at the rather shabby, but still respectable Castle Hangnail.  A castle desperately  in need of an evil master.  If a master isn't found in time, the castle will be decommissioned and the resident minions will be forced to find a new home and job.  The castle Guardian is still hopeful that such a master will arrive–an evil sorceress perhaps, or a dark wizard.    What he gets instead is twelve-year-old Molly, who  is short (barely five feet) and plump and only possibly wicked.  While it's obvious that Molly has excellently wicked boots, the Guardian has his doubts about her qualifications as a wicked witch.  Molly is determined to convince all the minions that she is absolutely wicked and perfectly capable of completing the Board of Magic's lists of tasks in order to become the official master of Castle Hangnail.  This isn't easily done, but Molly applies herself to the job and slowly begins to get the list of tasks whittled down.  The biggest issue of all is that Molly is afraid of her new friends finding out the truth–that she isn't who she says.  She's just a girl from an ordinary family who happens to have a gift for some magic and figures that she's the evil twin.  But her parents think she's away at summer camp . . . and they're expecting her home in just a few weeks.  With Molly coming to love the castle and the minions and winning them over in turn, this is a terrible secret to harbor, and when the truth comes out it could destroy everything.
I admit, I was a tad concerned when I saw this cover–too many covers with art that shouts 'light-hearted fantasy for younger middle grade readers!' wind up being too dark and mature for that audience.  But I needn't have worried. In this case what you see is pretty much what is delivered!  This I read this book in jumps and gallops, happily devouring the whole of it in less than a day.  The sense of giddy delight was familiar to me–the book easily spun me back to my 8-year-old self reading Eva Ibbotson's Which Witch? for the first time. It was instant love the minute I met Molly.  And not just because I happen to love the name.  She's a delightfully smart and determined girl who comes up with ways to solve her problems.  She's the kind of hero that readers not only want to be like, but can actually imagine themselves being like.  The author creates a cast of characters that readers will love (or hate, depending on their role in the story).  The idiosyncratic minions were my favorite. Particularly the cook, who is a Minotaur (and don't ask her to make anything starting with the letter 'Q').   There's something so cozy about them and all of Castle Hangnail, you just want to settle in with Molly and enjoy.
The prose is spot-on, maintaining the witty humor without dropping the flow of the story or losing the reader in extraneous details.  Plenty of little moments are thrown in that will be worth a reader chuckle or two, and I can't wait to try this one as a read-aloud.    Despite the humor and charm there's a real set of conflicts and challenges to be overcome.   Readers will cheer on our protagonists and be delighted when the villains get their comeuppance.  Despite the ultimately uplifting and cozy plot, there's some real dark magic in the story and risks to the characters.  At one particular point (when the 'real' evil sorceress shows up) there's an event that was like a cold bucket of water in my face.  The really great thing is that it was just as much a shock for the protagonists–and it sets a clear line between merely wicked behavior, and behavior beyond the pale.
Ursula Vernon is no slouch in the writing department, but I'd be remiss if I did not mention her art and illustrative talents.  I admit I've been a fan of her online art for years (I encourage you to check out her art here)  While her styles and subjects vary, Ms. Vernon produces a range of fantasy art that is immediately endearing and downright "cozy" even in its strangeness. She uses this skill in Castle Hangnail, with illustrations peppering and weaving into the story text, enriching the book and maintaining the tone and characters perfectly.  The result? a beautiful whole of a book.
If you're looking for darkly serious drama or more mature tween fiction, this isn't going to fit your needs.  But for younger readers hungry for fantasy?  For those readers who want something cozy and "not to scary" but still incredibly fun and magical?  For readers who just enjoy a well written story in the tradition of Eva Ibbotson?  Yes, yes, and yes.  This is a book I will be pleased to add to my library shelves and recommend when the right readers come along.
Note: An advanced reader copy was provided by the publisher.
Publisher: Dial Books
Expected Publication Date: April 2015
ISBN13:     9780803741294
Recommended for ages 7-12
About Stephanie Whelan
I'm a children's librarian with a life-long love of all things science fiction and fantasy.
Posted on March 9, 2015, in General Posts, Reviews and tagged Authors, Books, Children's Books, Children's Literature, fantasy, kidlit, literature, MG Books, Middle-Grade Fiction, Reading, reviews. Bookmark the permalink. 4 Comments.