A Tuesday Ten: Snowstuff
It's snow-time here in the Northeast!  With a snow day allowing me and the kids to stay home today, I figured it was a great time for a review of some other titles with a frosty setting!  Here are my ten.
1.
Winterfrost by Michelle Houts (Candlewick, 2014)
This fairy story takes place on Christmas, when young Bettina is left home with her baby sister after a family emergency.  In all the rush, the family forgets to leave the traditional offering to the tiny nisse who cares for the farm.  And an angry nisse can be troublesome indeed.  When Bettina's baby sister is stolen away, she must go on her own adventure to get her back.
2.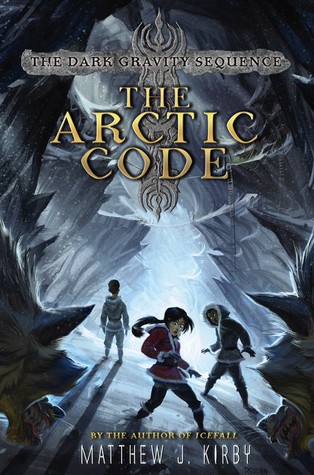 The Arctic Code by Matthew J. Kirby (Balzer and Bray, Expected Publication April 2015)
A new futuristic adventure coming out in a few months!  Eleanor lives in a future world where a new ice age is rapidly covering the earth, causing people to flee to warmer climates in search of a place to live.  Eleanor's mother has been working in the Arctic on a new discovery.  When her mom goes missing after a mysterious set of messages, Ellie decides she's got to go and find her mom herself–no matter how dangerous!
 3.
Adventures of a South Pole Pig by Chris Kurtz (HMH Books, 2013)
Flora is a young pig with an indomitable spirit, incredible optimism and a thirst for adventure.  Thus, it's rather frustrating being a pig on a farm.  When she actually gets taken on a ship bound for the South Pole, Flora thinks she's finally been recognized for her skills not realizing that she's being brought along as potential food!  In the end, Flora manages to win friends and win the day with her can-do spirit.
4.

The Golden Compass by Philip Pullman (Knopf Books for Young Readers, c1996)
Our heroine, Lyra travels north in search of her kidnapped friend, Roger.  This alternate world, multiverse fantasy trilogy takes Lyra on many adventures.  Some of the most memorable scenes in this first story have to do with her encountering the great armored polar bear who becomes her friend and companion for a time.
5.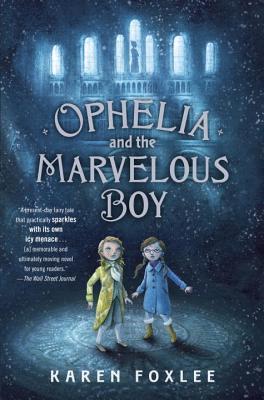 Ophelia and the Marvelous Boy by Karen Foxlee (Knopf Books, 2014)
Ophelia is staying in a city where it always snows. In a forgotten part of the museum, she encounters a mysterious boy locked away.  He's been imprisoned there by the Snow Queen, and he needs Ophelia's help.
6.
Rose and the Lost Princess by Holly Webb (Sourcebooks, Jabborwocky, c2010)
This second book in the Rose series occurs as an unusual cold and snowy winter grips England.  It seems like some kind of strange magic is a foot, though no one knows how.  Prejudice and suspicion against magic users is beginning to spiral into a clamor, and when the princess goes missing, it's up to Rose to help find her and put a stop to the dark magic that's abroad.
7.
 The Winter of the Robots by Kurtis Scaletta (Knopf Books for Young Readers, 2013)
This winter, something is lurking in the old scrapyard.  And it isn't fuzzy or cute. When a group of neighborhood kids notice something peculiar going on, they're going to have to put aside their differences and work together to uncover whatever lies in the scrapyard . . . and what to do about it!
8.
Winterling by Sarah Prineas (HarperCollins, c2012)
Fer can sense that the land is out of balance . . . that things are somehow wrong in this world beyond her "real" one.  But unless she claims her rightful place, the threat of endless winter may claim both lands . . .
9.
Winter of Magic's Return by Pamela F. Service (Fawcett, c1985)
In this post apocalyptic fantasy, winter has gripped the lands of Britain.  Technology and civilization are all but gone.  But humanity has a new hope in the form of a reborn Merlin and his young friends.  The three endeavor to bring King Arthur back to the land as magic reawakens across the world.
10.
The Icarus Project by Laura Quimby (Harry N. Abrams, 2012)
Maya accompanies her father on his arctic expedition and discovers something mysterious hidden in the ice.  The "what" is pretty obvious from the title and cover as this book takes a turn into the fantastic.
Posted on January 27, 2015, in General Posts, Lists and tagged Books, Children's Books, Children's Literature, fantasy, Historical Fantasy, kidlit, Lists, literature, MG Books, Middle-Grade Fiction, Reading, reviews, Science Fiction. Bookmark the permalink. Leave a comment.