Flashback Friday: Guess who's coming to dinner …
You're a couple in Bellmore expecting relatives for dinner when a UFO lands in the backyard.  Naturally wanting to be polite to the alien visitors (who asked to use your bathroom) you invite them to stay for dinner . . .
Do you remember:
Company's Coming by Arthur Yorinks, illustrated by David Small (Disney-Hyperion, c1988)
Shirley and Moe are a couple living in Bellmore, New York.  Their suburban life is about to get a bit of a shock when a spaceship lands in their backyard.  But it seems the aliens are friendly, and just passing through.  All they wish is to use the bathroom.  Shirley directs them into the house while Moe froths about the dangers of unknown aliens in their home.   When the aliens emerge again, Shirley does the neighborly thing and invites them for dinner.  The small aliens accept and promise to be back promptly at 6pm.  Of course Moe can't keep his anxiety under wraps and calls the government.  Soon the house is surrounded by tanks and choppers and all sorts of military personnel.  Shirley and Moe's poor relatives who have come for dinner are all out of sorts over these developments.  And then the aliens return. All ends happily, of course.  With spaghetti and meatballs for everyone.
It's a very silly sort of tale.  One I read again to my son tonight, which is why I decided to use it for tonight's Flashback post.  One of the things I really love about this story is that it's firmly located in a place.  Bellmore is a real town on Long Island, not terribly far from where I grew up.  A lot of stories like this might feature the neighborhood without placing it in a particular spot.  Sometimes that's to the good, of course, since it makes a picture book more universal.  But in this case I think it works well.  A very ordinary sort of couple encountering the extraordinary.  Not the first such story of it's kind, but one of the rare picture books embracing it.  Also interesting is that this is a picture book without child characters, every individual in the book is an adult, mostly older adults at that.
Just recently I was on a panel discussing science fiction in children's literature.  And it's a fact that much of the middle grade SF seems to have waned since the 1980s.  We spoke mostly about middle grade, but picture books have their place too.  They introduce kids to tropes and elements of SF.  They present settings and plot arcs that are traditional fare for science fiction.  They give the youngest set of readers and listeners a chance to scratch the surface of the genre.  I'll stand by my belief that science fiction is not too complicated for kids, and while you can't really introduce preschoolers to the bigger questions and issues inherent in the genre, you can can begin to provide the shape of things.  Arthur Yorinks appears to be one of the authors who was unafraid to embrace some of these shapes and put them into wacky stories for kids.  He's even written a companion book for Shirley and Moe.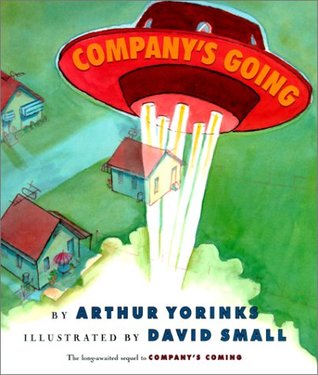 Company's Going by Arthur Yorinks, illustrated by David Small (Disney-Hyperion, c2001)
In this follow-up story that was published over a decade later,  the aliens are back with a favor to ask.  They're having a wedding on their planet and would like Shirl to cater the affair.  So it's off on an outerspace adventure despite Moe's misgivings.  Sure it's silly!  But that's the fun of it.
A lot of times I go looking for author background details and find out very little–or sometimes nothing at all.  I always find it sad when I book I fondly remember has an author who has vanished into obscurity.  In this case, Arthur Yorinks is hardly obscure.    He's a writer and director for American dance, film, radio, theater and opera.    Beyond his successful writing career for kids he's had an amazing career, and continues to do so.  One of his big projects has been founding a company for a new exploration of audio theater.  Another project has been launching his site Lost Marbles, a subscription based service where Yorinks and other authors deliver a new story every week.  The venture kicked off last January.
But back to the books!  There's nothing wrong with silly science fiction, to my mind.  More people are won over by humor and the willingness to poke fun–it allows a subject to appear less intimidating or inaccessible to the audience.  You might still find Company's Coming hiding out in the "Y" section of the picture books, since it was reissued in 2000.  I haven't found a copy of Company's Going yet, but I'll look forward to locating one!
Did you encounter any science fiction picture books as a child?  If so what were your favorites?  Comments welcome!
About Stephanie Whelan
I'm a children's librarian with a life-long love of all things science fiction and fantasy.
Posted on January 9, 2015, in Flashback Fridays, General Posts and tagged Aliens, Authors, Children's Books, Children's Literature, kidlit, Picture Books, Reading, reviews, Science Fiction, SF. Bookmark the permalink. Leave a comment.