A Tuesday Ten: In Stitches . . . Magic by Thread and Yarn
Thread magic.  An interesting, more domestic form of magic that isn't quite as showy most of the time, but does lead to much magic and mayhem.  Here are my ten titles!
1.
The Red Wolf by Margaret Shannon (HMH, 2002)
Princess Roselupin (hmm what's in a name?) is kept locked in a tower, her father determined to keep her "safe" from the dangerous wood below.  Roselupin receives a mysterious jeweled box full of yarn.  She knits herself a red wolf costume that allows her to become a giant wolf and go gallivanting around the kingdom.  A bizarrely delightful story in its way, very much a girl who won't be caged by her father . . . or anyone else.
2.
Extra Yarn by Mac Barnett, illustrated by Jon Klassen (Balzer & Bray, c2012)
Extra yarn also introduces us to a magical box of yarn.  This one's found by Annabelle who transforms her black and white world into one of knitted color with the contents of the box.  She always has "extra yarn" from the box, and the legend of it gets the attention of some nefarious sorts who want that magical yarn for themselves . . .
3.
The Cloud Spinner by Michael Catchpool, illustrated by Alison Jay (Alfred A. Knopf, 2012)
A boy with the power to weave clouds and light into magnificent garments is ordered by the king to produce a huge array of such things, despite  the boy's protests that the king does not need them.  Taking so much from the sky has consequences, as the King soon finds out!
4.
Princess and the Goblin by George MacDonald, illustrated by Jessie Willcox Smith (HarperCollins, c1872)
Princess Irene's beautiful and magical grandmother spins her a magic thread so fine it can't be seen, but it is attached to her fire opal ring.  When the princess is in trouble, she can feel the thread attached to her ring and follow the thread to safety.  A rather useful present, I think.
5.
Sandry's Book by Tamora Pierce (Scholastic, c1997)
My favorite depiction of thread magic may be Tamora Pierce's Circle books.  This is the first, but Sandry's story and abilities continue to grow throughout the books to come.  She is a "Stitch Witch" able to control and command magic in all sorts of threads.  This makes her surprisingly troublesome for anyone who might think her an easy target!
6.
Rump: The True Story of Rumpelstiltskin by Liesl Shurtliff (Knopf, c2013)
Ah Rumpelstiltskin.  I wondered which versions of the tale to include here.  All of them have to do with the magic of turning straw into golden thread.  And in this version, Rump is a young boy with a terrible curse thrust upon him when he discovers and old spinning wheel and tries to spin.  For Rump can spin straw to gold . . . but that's only the start of his troubles.
7.
The Rumpelstiltskin Problem by Vivian Vande Velde (HMH, c2000)
I had to include this volume as well.  A collection of short stories that each have a different take on the original story!
8.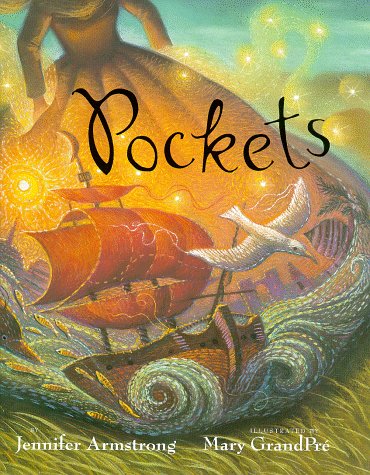 Pockets by Jennifer Armstrong, illustrated by Mary GrandPre (Knopf Books, 1998)
I was completely charmed by this story about a woman who transforms a town with her special, quiet magic.  She sews beauty on the inside of their pockets, unseen but absorbed and felt.  With the art of Mary Grandpre, this is worth a read!
9.
Ballad of the Harp Weaver by Edna St. Vincent Millay, illustrated by Beth Peck (Philomel Books, c1923)
An odd little book based on a bittersweet poem.  A poor boy is without any clothing to wear and his mother decides to play the harp the night through, magically weaving clothing for him . . . the ending is a sad one, so as I said, this is an odd story, but it certainly fits my list!
10.
The Wild Swans by Hans Christian Andersen, illustrated by Marcia Brown (Charles Scribner's Sons, c1838)
This would apply to both Andersen's Wild Swans and Grimm's The Six Swans.  But since I know the Wild Swans story better I figured I'd put that in.  Both stories deal with a young sister whose only way to save her enchanted brothers is to find the stinging nettles and make them into thread, then weave that into cloth to make shirts for each of them.  Only when all the shirts are on the brothers will the curse be lifted.  The kicker?  She can't speak a word or laugh during the years it will take to do this.  If she does, her brothers will die.
So there are my examples of thread magic!  Can you add any titles to my list?  Comments welcome!
Posted on January 9, 2015, in General Posts, Lists and tagged Children's Books, Children's Literature, fantasy, Historical Fantasy, Lists, literature, MG Books, Middle-Grade Fiction, Picture Books, Reading, reviews. Bookmark the permalink. 1 Comment.