A Tuesday Ten: A collection of ships
Running a bit late on this what with all the things going on this week!  Renovation work at my library!  Exciting stuff!  So here's my Tuesday Ten, ships of all sorts that are named in the text and play some significant part in the story.
1.
The Voyage of the Dawn Treader by C. S. Lewis (HarperCollins, c1952)
The third book in the Chronicles of Narnia series (publication order).  King Caspian sets out aboard the Dawn Treader in search of his father's seven friends who had set out to explore the lone islands and never returned.  Lucy, Edmund and their unpleasant cousin Eustace are all magically transported back to Narnia to journey with the king on this newest adventure.
2.
Jupiter Pirates: Hunt for the Hydra by Jason Fry (HarperCollins, 2013)
Another kind of ship–this one in space!  Our family of privateers has their own ship, The Shadow Comet and uses this ship to search for trespassers to take in for ransom.  The first book in an ongoing series, Curse of the Iris is scheduled to be out this month!
3.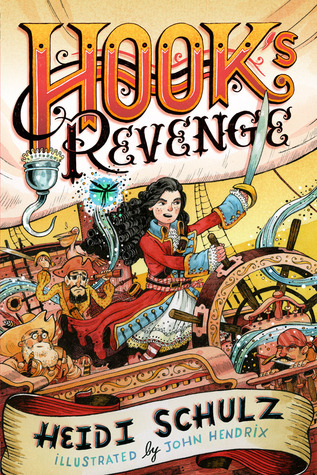 Hook's Revenge by Heidi Schulz, illustrated by John Hendrix (Disney-Hyperion, September 2014)
I figured I'd bring up this recent title to reference a famous ship that crops up pretty often in literature, and that is The Jolly Roger.  In this story, Hook has a daughter.  And Hook has obligated her to avenge him against the croc that killed him.  Jocelyn Hook  delights in the opportunity to skip out on finishing school and become captain of his ship.
4.
Leviathan by Scott Westerfeld (Simon Pulse, c2009)
Here's a title that is  the ship in question.  The magnificent airship made from bioengineering a whale.   The Leviathan is the pride of the British airforce and key player in the politics of the European theater as it readies for war.
5.
The Map to Everywhere by Carrie Ryan and John Parke Davis (Little, Brown Books, November 2014)
Our young protagonists both wind up on a quirky ship called The Enterprising Kraken, a ship that sails the Pirate Stream.  This magical stream transforms almost anything that touches it, and runs throughout a vast multiverse.  The ship is known to change corridors and play host to a strange crew.  There are a few other notable ships in the pages as well, but this one's my favorite.
6.
The Ship that Sailed to Mars by William Timlin (Calla Editions, c1923)
Rather than the plain cover, I'm putting up an image from the book. And to the best of my knowledge, I'm breaking my rule of specifically named ships, but this ship is mentioned and described in the title. It is singular, much as this book is.  Stunning illustrations combined with a fanciful journey from Earth to other planets have made this an absolute treasure.
7.
The Wreck of the Zephyr by Chris Van Allsburg (HMH, c1983)
A picture book by the incomparable Chris Van Allsburg about an ambitious young sailor who discovers a land where boats can fly.  Determined to fly his own ship, The Zephyr,  he gets one of the residents to give him magical sails and tries to learn to use them.  But ambition is ultimately his downfall . . .
8.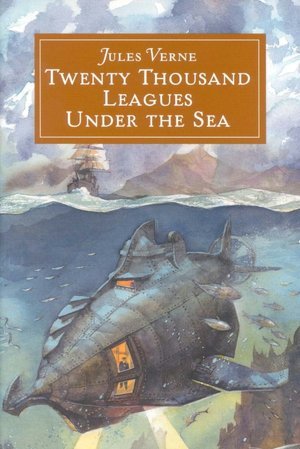 20, 000 Leagues Under the Sea by Jules Verne (Barnes and Nobles, c1870)
Though not strictly a children's book who can create a list of speculative fiction about named ships in books and not include Captain Nemo and the infamous Nautilus?  Our amazing submarine tours the depths of the waters, uncovering wonders and places no human has seen before.
9.
The Traveling Restaurant: Jasper's Voyage in Three Parts by Barbara Else (Gecko Press, 2011)
Jasper is a boy on the run from an oppressive ruler who is desperately searching for his baby sister.  He finds safety aboard  The Traveling Restaurant,  a ship that's more than it seems. This quirky and magical ship is a keystone for the entire story, as well as a lively set piece all on its own.
10.
The Planet Thieves by Dan Krokos (Starscape, 2013)
In this military science fiction work, the ship in question is the USS Egypt, a warship that is currently on routine patrol and carrying a group of new cadets.  But the ship is also secretly carrying a weapon that might change the course of the human's war with the aliens.  When things go awry and the ship is captured thirteen-year-old Mason Stark may be the only cadet capable of preventing disaster!
Can you add to the famous named ships here?  I'm all ears in the comments!
About Stephanie Whelan
I'm a children's librarian with a life-long love of all things science fiction and fantasy.
Posted on December 5, 2014, in General Posts, Lists and tagged Authors, Books, Children's Books, Children's Literature, fantasy, Historical Fantasy, Lists, literature, Middle-Grade Fiction, Picture Books, Reading, reviews, Science Fiction, SF, Steampunk. Bookmark the permalink. 2 Comments.