A Tuesday Ten: Science Fiction and Fantasy Militaries
Tuesday this week is Veteran's Day, a day to remember the men and women who've served in the military (or are serving currently).  I decided to take that as a cue for the topic and look for titles that feature characters involved in one form of military life or another.  It wasn't as easy as I'd expected . . .  focusing less on independent heroes and quests and more on actual warefare, battles and military positions, etc wound up being a fairly sparse territory.  Still, I think I've managed to come up with a decent list.  From pseudo-historical knights, to space cadets of the future here's my ten!
1.
Lady Knight by Tamora Pierce (Random House, 2002)
The fourth book in the author's Protector of the Small quartet.  While Ms. Pierce has other knights and plenty of heroes to choose from,  Keladry most purely embodies the spirit of the soldier and leader.    Rather than retread the "girl becoming a knight" story arc of The Song of the Lioness Quartet (sword and sorcery, lone wolf missions, heroic one-on-ones)  Keladry's journey teaches her how to work with others and lead them in battle.  Her solid composure and undaunted convictions make her a great character to read about.  It's the first time I started thinking about strategy and tactics and actual mechanics of battles.  This isn't as splashy a quartet as some of the others, but the more I read it, the more I find of value in the pages.
2.
The Planet Thieves by Dan Krokos (Starscape, 2013)
There is very little military science fiction being written for middle grade readers in the last twenty years.  So I was delighted to see that Dan Krokos has decided to try his hand at some.  Thirteen-year-old Mason Stark and seventeen of his fellow cadets are aboard the SS Egypt to accrue their required  spacetime for the summer.  It was supposed to be a routine trip.  But when the ship is attacked by alien enemies.  The captain and crew are dead, injured or taken prisoner, only Mason and the cadets are left to warn Earth . . . and stop the aliens getting ahold of a dangerous weapon that could change the course of the war . . .
3.
Leviathan by Scott Westerfeld (Simon Pulse, c2009)
Steampunk military!  Deryn Sharp is a girl disguised as a boy, and one of the youngest members of the British Air Service.  She's serving aboard the Leviathan, one of Britain's finest airships.  She's about to come face to face with Prince Aleksander, the boy who is a key piece to the entire war brewing on the continent, and her possible enemy in arms.  Two styles of military battles in these books, one based in metal tech and mecha suits, and one based in bioengineering creatures into weapons.  This is the first in the Leviathan trilogy.
4.
Return of the King by J. R. R. Tolkien (Mariner Books, c1954)
While not singularly children's, I'm freely taking advantage of this as a book that crosses over many ages.  Battles abound throughout the 3 book saga, but the unforgettable battles and characters of military might appear in this last book.  Aragorn comes to accept his mission to lead.  Eowyn disguises herself as a soldier to go into battle with her people . . . the key battles that will help turn the tide and save Middle Earth.
5.
Secrets of the Terra Cotta Soldier by Ying Chang Compestine and Vinson Compestine (Amulet, 2014)
And here's something rather different, and delightfully so!  Ming is a young boy struggling to survive in Maoist China and Shi is an an ancient terra cotta soldier who was once a living young man in the time of the first emperor.  Now Shi's spirit animates his clay form, allowing him to move and talk.  He's supposed to be one of many such soldiers guarding the emperor's tomb.  Now he needs Ming's help to convince his fellow soldiers that the existence of the tomb has been discovered  by greedy men.  It's time for the terra-cotta army to defend their emperor once again.
6.
The Blue Sword by Robin McKinley (Ace, c1982)
When destiny and magic take a hand, young and awkward Harry finds herself kidnapped and trained as a warrior among the mysterious desert people. She'll wind up being the warrior and hero that people are looking for, the one to give them hope, lead them and carry the legendary blue sword, Gonturan.  For war is coming to the country, and every ally will be needed to help win the day.  Lots of training, military trials and gathering of allies in this story.
7.
The Butter Battle Book by Dr. Seuss (Random House, c1984)
It seemed right to include this particular title on the list.  Seuss's story about two countries with much in common beyond one sticking point uses the fantastic to highlight the absurdities of an escalating arms race. The Yooks and Zooks go from a simple wall between the two sides to weapons that get more and more elaborate, with each side reacting to the other's newest device.  Awesome book and a powerful read from the master!
8.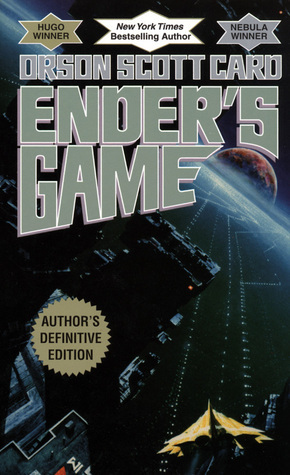 Ender's Game by Orson Scott Card (Tor, c1985)
I'm perhaps cheating a tad, since this book usually lands in YA, but I can't think of the combination of military and science fiction and not think of this book.  In a future of Earth where war rages on with alien "Buggers" there exists a Battle School for young kids with mock battles fought to train and test them, to pit them against each other and hone their abilities..  The search for the ideal General among these kids.  The question of who Ender Wiggin will be when all is said and done.  It's a chilling and powerfully told story that deserves to be included in this list.
9.
Tom Corbett Space Cadet Omnibus by Carey Rockwell (Archiebooks, c2010)
This compilation of Tom Corbett stories from 1952 and 1953 are of a more classic type of military science fiction.  Back in the golden ages of sci fi, when the notion of going into space were beginning to gain popularity, Tom Corbett came to life.  Tom is a young cadet headed off to space military school.  But things have a way of turning into amazing adventures for Tom.  This is a collection of all the original tales, written under the pseudonym Carey Rockwell.  These stories are also available via project Gutenberg.
10.
Galactic Warlord by Douglass Hill (Marcel Dekker, c1979)
This is the first book in the Last Legionary series , mostly published in the early 80s.  Kiell Randor is the only Legionary left alive after an attack, now this warrior is on a quest to find the being that leads the Deathwing.  Short and action-packed space-opera for the reluctant reader. These books clock in at just over 100 pages, which seems absurdly short by much of today's book standards.  While the content might not have been startlingly original, these stories were some the first exposure young readers would have had to space opera and military science fiction adventures.
So there's my ten!  I can't help but feel I'm missing some key military books out there . . . please comment with any others you can think of!
About Stephanie Whelan
I'm a children's librarian with a life-long love of all things science fiction and fantasy.
Posted on November 12, 2014, in General Posts, Lists and tagged Authors, Books, Children's Books, Children's Literature, fantasy, Lists, literature, MG Books, Middle-Grade Fiction, Picture Books, Science Fiction, series, SF. Bookmark the permalink. 1 Comment.