Preview for Spring 2015 from HarperCollins
So, the lovely folks at HarperCollins invited me to their Spring book preview  and I'm happy to say I got to hear about quite a few good things coming up in Science Fiction and Fantasy!
The Keepers: The Box and the Dragonfly by Ted Sanders (Expected publication: March 2015)
This title kicks off the first of four adventure stories blending SF and fantasy.  Our young protagonist becomes part of a mysterious society, and given a powerful gift . . . but danger lurks at every turn, and he gets caught between two ancient warring factions.  Kids with special powers, fabulous devices and secret societies . . . this has sure got my interest.  On a side note, dragonflies on the cover seems to be a trend lately . . .
Mars Evacuees by Sophia McDougall (Expected Publication: February 2015)
I've been impatiently waiting for this British science fiction title to cross the pond!  (Love the cover!)  When aliens attack Earth, a select group of kids is evacuated to Mars.  But once there, our protagonists troubles are only just beginning!  Psyched about reading some Martian SF for middle graders.
Archie Greene and the Magician's Secret by D. D. Everest (Expected Publication, April 2015)
Another British title for next year!  This one has our protagonist discover a secret society called the Flame Keepers.  It's a book about book magic where librarians are the magic users!  I always look forward to seeing my particular profession set in fantasy adventure mode.  The first book in a new series.
Ferals by Jacob Grey (Expected Publication April 2015)
Love the cover treatment here–and it looks even better in person with the metallic embellishments!  Caw is a feral, a human who can understand and interact with certain animals.  In the city of Blackstone, Caw's mostly been raised by crows after a night of violence left him all alone in the world.  But super sinister ferals lurk in the heart of Blackstone, with dark plans for the whole city.  And only Caw stands a chance against them . . .   Urban fantasy for the middle grade reader!
The Last Dragon Charmer: Villain-Keeper  by Laurie McKay (Expected publication, February 2015)
This interworld fantasy introduces a princely protagonist whose always expected his destiny is to slay dragons.  But when Prince Caden is transported out of his classic fantasy world and into the world of Asheville, North Carolina his dragon slaying dreams seem out of place.  This first book in a new series will have our protagonist questioning the destiny he's supposed to have, and discovering some surprising truths.
Monstrous by MarcyKate Connolly, illustrated by Skottie Young (Expected Publication, February 2015)
Frankenstein meets brothers Grimm in this debut novel about young Kymera, a girl with wings, bolts in her neck and a spiky tail.   Kymera keeps herself out of sight of other people, fearing their reaction to her monstrous form.  Until one night, while she's on a mission, a boy sees her and befriends her.  Call me intrigued by this one.  I'm very curious to see how the story plays out.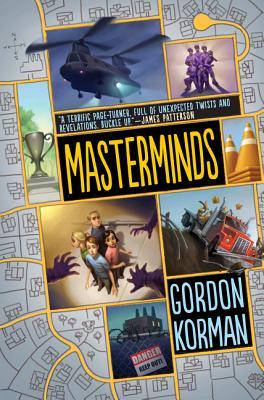 Masterminds by Gordon Korman (Expected Publication: April 2015)
Popular middle-grade author Gordon Korman is back with a brand new series!  This one is about a group of kids growing up in an idyllic town.  A town that's perhaps, too idyllic. Only 30 kids live in this perfect town, but none of them has ever left Serenity.  Until one day Eli and his friend Randy challenge each other to ride to the city limits, and everything changes.  Nothing is what it seems to be,  and no one can be trusted!
The Dungeoneers by John David Anderson (Expected Publication, 2015)
From Walden Pond Press, the first in a middle grade fantasy adventure trilogy where students are trained in dungeon raiding, and taking treasure from monsters is the easy part!  I am a fan of both Sidekicked and Minion, so I'm eager to see what the author does with a different milieu!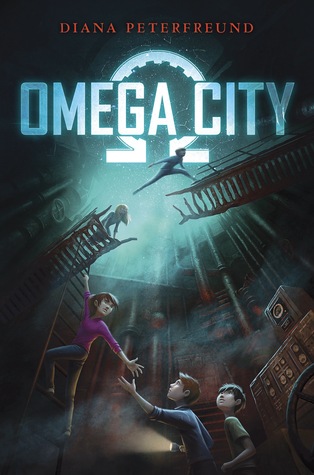 Omega City by Diana Peterfreund (Expected Publication: April 2015)
Goonies meets Cold War Conspiracy in this action-adventure thriller!  Following a scientist's riddle, a group of kids go treasure hunting.  What they uncover is a good deal more than they ever expected–and there are others hot on their heels who never want their discoveries to see the light of day . . .
Two more titles I want to mention, but I don't have covers for just yet!
 The Fog Diver by Joel Ross (Expected Publication, May 2015)
A science fiction story set in a future dystopia where most of the world is covered in a toxic fog, and only the very highest reaches remain fit for human habitation.  The protagonist, as the title suggests, is one of the few individuals who can risk diving into the fog to retrieve items from pre-fog times.
The Arctic Code by Matthew Kirby ( Expected Publication April 2015)
The latest Matthew Kirby from Balzer and Bray!  This futuristic tale is the first in an action-adventure science fiction trilogy.  It's the near future and the earth is in a new Ice Age.  Eleanor Perry's mother is a climatologist looking for ways to help humankind survive in the new climate.  When Dr. Perry goes missing, leaving behind only cryptic messages about a big discovery, Eleanor sets off to discover what those messages mean.
A big thank you again to HarperCollins for sharing some what we can look forward to seeing in 2015!  (My to be read list keeps getting longer . . .)
About Stephanie Whelan
I'm a children's librarian with a life-long love of all things science fiction and fantasy.
Posted on November 11, 2014, in General Posts, Publisher Previews and tagged Art, Authors, Children's Books, Children's Literature, fantasy, Genres, literature, Middle-Grade Fiction, Reading, Science Fiction. Bookmark the permalink. Leave a comment.