A Tuesday Ten: Twins!
Twins . . . they're one of the common tropes you'll run across in a lot of fiction.  I think there's always been a certain fascination with twins, the bond between them and the fact that identical twins can trade places with each other–experiencing an entirely different life than their own.  I've found  ten twin titles  for this list below!
1.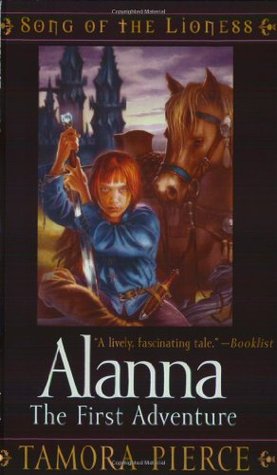 Alanna: The First Adventure by Tamora Pierce (Simon Pulse, c1983)
In this quartet, our protagonist's entire deception depends on her being a twin–and able to disguise herself and switch places with her brother so she can train as a knight in his stead.  Alanna's brother comes back in later books to add to the story in other ways.  Still one of my favorite books where a girl pretends to be a boy in order to find her place in the world.  First book in the Song of the Lioness Quartet.
2.
The Unwanteds by Lisa McMann (Aladdin, 2011)
The first book in the Unwanteds series (currently 5 books long), this story is set in a fantasy dystopia where people are separated into those who are strong, intelligent and practical–these are the Wanteds, who go off to university, and the creative, odd and imagination prone Unwanteds, who are to be sent away and gotten rid of.  This is the story of twin brothers, one Wanted and one Unwanted and how their destinies will ultimately put them at odds with one another, and ultimately pit brother against brother.
3.
The Horse and His Boy by C. S. Lewis (HarperTrophy, c1954)
Book five in the Chronicles of Narnia, this is the only story set with protagonists completely from the Narnian realm.  Young Shasta is an orphan raised far from home, he escapes along with a talking horse named  Bree and heads towards freedom.  Only along the way he encounters a young prince who looks just like him and a rather crazy "Prince and the Pauper" scenario plays out.  Later, it's realized that the boys really are twins and that Shasta was stolen away as a baby.
4.
Santa's Twin by Dean Koontz, illustrated by Phil Parks (William Morrow, c1996)
What's a twin list without an evil twin?  In Dean Koontz's foray into picture books, he gives us this hilarious holiday tale with an evil twin of Santa!  Bob Claus has stolen the slay and filled Santa's toy bag full of mud pies, cat poop and broccoli! It's up to two sisters to journey to the North Pole and rescue the real Santa in time to save Christmas!
5.
The Witch's Boy by Kelly Barnhill (Algonquin Young Readers, September 2014)
Like most of Kelly Barnhill's stories, this one is an unusual tale of magic and quests, of thieves and giants.  And it does also feature twins . . . in a way.  Our main male protagonist Ned lost his twin brother when he was young.  What he doesn't know is that his mother sewed the soul of his twin into his own skin, saving his life but also changing him.  A sort of "twinless twin" tale, I thought it appropriate to add to the list.
6.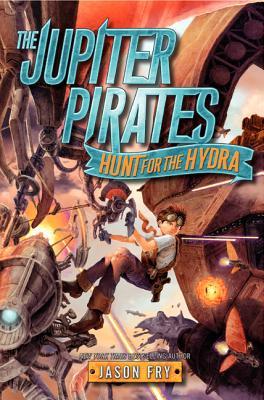 Jupiter Pirates: Hunt for the Hydra by Jason Fry (HarperCollins, 2013)
Tycho and Yana are twins that are part of a family of privateers in this science fiction space adventure!  In Tycho's family, tradition has it that only one sibling of the three will be chosen as the next captain of their spaceship, the Shadow Comet.  So all three are in competition to prove themselves worthy.  Adventure, betrayal and plenty of pirates! Arrr!
7.
The Akhenaten Adventure by P. B. Kerr (Scholastic, c2004)
Twelve-year-old twins John and Philippa have just discovered that instead of being normal New York City kids, they're descended from a long line of Djinn and they're being sent to learn how to use their formidable powers under the tutelage of the uncle Nimrod.  This series has been a favorite with many kids, although the author does seem to have some bias against the french in particular, and his Brit style humor may not be every reader's cup of tea. First book in the 7-book Children of the Lamp series.
8.
Switched by Sienna Mercer (HarperTrophy, 2007)
You know vampires have become passe in YA by the time the subject is part of middle grade fiction.  This paranormal school story series basically takes the whole "identical twins separated at birth" and adds the vampire element for flair.  Olivia comes to a new school where she meets Goth girl Ivy–who looks just like her under the make up.  It turns out they're twins, identical twins.  But Ivy is more different than Olivia first realizes–she's a vampire.  Vampires in this story are pretty light weight.  They don't drink blood anymore and live on rare meat and red drinks instead.  Book 1 in the popular My Sister the Vampire series which has 16 books published to date.
9.
The Wishing Spell by Chris Colfer, illustrated by Brandon Dorman (Little, Brown Books for Young Readers, 2012)
The first book in The Land of Stories series about a set of twins who wind up in a world populated by the characters from fairy tales and stories.  Twins Alex and Connor use a magical book to transport them into this world where there adventures are only just beginning.  Written by a celebrity author, I admit this series isn't one I've read myself and reviews seem to vary as to it's readability.  Twins tend to be a popular  trope in fantasy novels and sometimes I wonder if that's due to the fact that the writers want to attract both male and female readers to the story.
10.
Many Waters by Madeleine L'Engle (Laurel Leaf, c1985)
While this really sneaks in as YA, I can't leave it off the list as I loved this book from the Time Quartet.  Rather than focusing on Meg or her brother Charles Wallace, this book focuses on the time-traveling adventures of her twin brothers. Sandy and Dennys who inadvertently transport themselves back to the time right before the great flood.  I picked this cover image mostly because it shows the twins on the front, but it is a really cheesy image that gives an entirely different impression of the kind of story you're going to find.  I think the twins are like fifteen or sixteen in the story–not quite as old as the guys in the picture.
So what twin books do you prefer? Comments welcome!
About Stephanie Whelan
I'm a children's librarian with a life-long love of all things science fiction and fantasy.
Posted on October 17, 2014, in General Posts, Lists and tagged Authors, Books, Children's Books, Children's Literature, fantasy, Lists, literature, MG Books, Middle-Grade Fiction, Reading, Science Fiction, series. Bookmark the permalink. Leave a comment.