A Tuesday Ten: Villainy!
Heroes can be a delightful bunch.  They're the shining lights of the story quite often.  But they wouldn't be able to shine quite so bright without the help of some delightfully devious and dark villains.  There are too many out there to toss on a Tuesday Ten list, so I've contented myself with listing a few of my particular favorites.
1.
The Lion, the Witch and the Wardrobe by C. S. Lewis (HarperCollins, c1950)
At the top of my list we have the first book (publication order) of the Chronicles of Narnia.  Our villain?  The White Witch, Jadis.  Jadis' persona in this book borrows considerably from the old Snow Queen fairytale but she's more than just a fairytale image.  This isn't a villain on the rise, this is a villain that has won, has gained control of her chosen land and put it under her thumb.  Even when the protagonists rally against her, Jadis manages a take-down of the main good guy that is so complete readers are left with Lucy and Susan wondering how this could have happened.  Jadis is an unapologetic and defiant villain–she's set herself up against the powers of good without hesitation.   For readers interested in seeing how Jadis came to Narnia, you'll have to check out The Magician's Nephew (book 6 in publication order).  I do think having the incomparable Tilda Swinton play Jadis in the 2005 movie was a brilliant move.
2.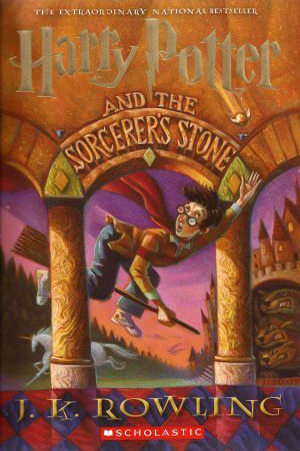 Harry Potter and the Sorcerer's Stone by J. K. Rowling (Scholastic, c1997)
He-Who-Must-Not-Be-Named is perhaps the most famous villain in recent children's literature.  Certainly he's a villain enough the capture everyone's dark imaginations.  Lord Voldemort is such a character that these books are almost a tribute to his backstory and his rise back to his former glory as they are the story of the Boy Who Lived and would ultimately defeat him.  Our first encounter of Voldemort in this book is actually one of the creepiest, even if the villain himself is not near full strength yet.  Voldemort's dark power lies partially in his ability to lead and inspire through fear and hatred.  He's a clever dark wizard, figuring out how to trick and take down his adversaries through minions and followers rather than directly confronting them.  Voldemort's determined persistence and refusal to lie down and die despite losing nearly everything (including his body) makes him a force to be reckoned with!
3.
Peter Pan by J. M. Barrie (Henry Holt & co., c1902)
And who could forget the incredible Captain James Hook of the Jolly Roger?  Seriously, where would wild boy Pan be without that imposing father figure to battle against?  Hook is genteel and devious, determined to be rid of his rival by whatever means possible.  He's not in any way a brave man, but he is a very manipulative one. Interestingly enough, Barrie reveals in the book that "Hook" is not his real name, but insinuates that to give the man's real name would "set the country in a blaze."
4.
The Map to Everywhere by Carrie Ryan and John Parke Davis (Little, Brown Books for Young Readers, Expected Publication November 2014)
One of the new books out this year, it has a brilliantly freaky villain called The Oracle.  This fellow goes around weeping black tears and causing everyone around him to be seized by utter sadness and start weeping uncontrollably.  He's a madman who's mind contain millions of fragmented visions of the future, but few of them are rarely ever in order.  A dangerous madman who plots the end of the world.  Standing against him are young Fin and his new friend Marrill.  But can they defeat him, or are they just pawns in the Oracle's own elaborate game?
5.
The Reluctant Assassin by Eoin Colfer (Disney-Hyperion, 2013)
This dark tween/teen time-travel adventure gives us one seriously frightening villain to deal with. Albert Garrick is already the nasty sort as a failed illusionist turned cold-hearted assassin, but when he finishes the job his young apprentice cannot, he winds up sucked into a wormhole vortex where his knowledge and world views combine with that of a government operative.  It leaves Garrick with a supernaturally dangerous level of knowledge and more than human abilities . . . turning him into a true monster.  Only his former apprentice and a young agent can hope to stop him before he destroys the fabric of time as they know it.
6.
A Wrinkle in Time by Madeleine L'Engle (Farrar, Straus and Giroux, c1962)
Implacable inhuman evil.  That's pretty much a good description of the nefarious IT that rules a dark world where everything is the same, ordered and without independent thought or creativity.  At one point IT manages to completely take over the mind of Charles Wallace, turning him to the cause of  IT.  Only through the love of his sister and her bravery in coming back to rescue him  is he able to break free from IT's hold.
7.

Mind-Call  by Wilanne Schneider Belden (Atheneum, 1981)
Cheesy cover aside, this story of a group of children with mental power who survive a quake and find themselves called to a strange mansion is surprisingly good. (And regretfully long out of print) .  I'm a little lacking on some details, but the fellow pictured in the back is the patriarch of the Logran family.  Each of those called to his home have some relation to him and have a share of his psychic ability.  This patriarch intends to control all of them and use them has his own tools for his own ends.  It becomes up to the children and teens to find a way to thwart this iron fisted  father figure who insists on absolute obedience and rule over them.
8.
So You Want to Be a Wizard by Diane Duane (HMH Books, c1983)
The entire Young Wizards series, though it may be based around different conflicts and challenges and dangers, always comes back to the villain at the heart of things, the Lone Power.  The lone power is the fallen angel, the one of the Powers that Be that chose darkness and brought death into the world.  It is everywhere through Kit and Nita's universe and even when it is defeated at one turn, another aspect will have to be defeated in the next book.    The Lone Power is very tricky in its corruption and seduction of thinking beings . . . and even our young wizard friends come close to falling victim to it more than once.  I love the fact that wizards on errantry have a formal greeting should they encounter the Lone Power in one of its many forms: "Fairest and Fallen, Greetings and defiance!"
9.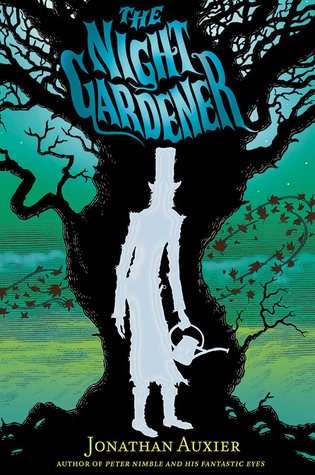 The Night Gardener by Jonathan Auxier (Abrams,  May 2014)
In this current title, our villain is not quite the eerie ghost gardener featured on the cover.  Not that he's a good guy, mind you.  Our two young protagonists go to work as servants for a cursed household .  The house in question has a huge tree growing next to it, a tree that actually has had part of the house built around it.  This is a tree that can grant a person something they wish for . . . or at least it seems to.  But the old adage of "be careful what you wish for" has never been more true.  For the tree is a hungry one and it exacts a heavy price for the magic it provides . . .  It's the kind of horrific villain that is hard to defeat or even combat. (How do you fight a giant tree?).  Creepy reading, perfect for the season!
10.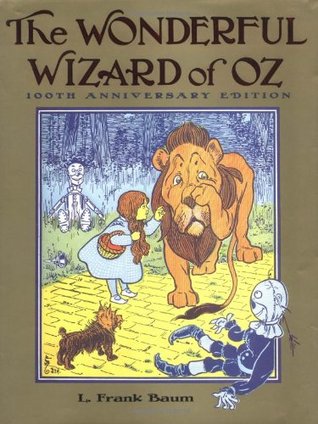 The Wonderful Wizard of Oz by L. Frank Baum (HarperCollins, c1900)
I figured I couldn't leave this list without  mentioning our favorite green-skinned witch, the Wicked Witch of the West.  Despite books and musicals that have done their best to rewrite her story, the original Witch has a very simple motive in harassing Dorothy and trying to capture her: she wants those shoes that Dorothy is stuck wearing and revenge for the death of her sister.  No matter that it was the girl's house and not Dorothy herself.  In the book, the Witch can't harm Dorothy in the slightest due to the kiss of the good Witch on her forehead.  So the Wicked Witch devises a range of schemes to try to stop Dorothy and to get her to take off or lose the shoes from her feet.  This particular villain has a very massive weakness: water.  When hit with water by an angry Dorothy, she starts to melt away, and all that wickedness with her.
Please share your own favorite villains! Comments welcome!
About Stephanie Whelan
I'm a children's librarian with a life-long love of all things science fiction and fantasy.
Posted on October 9, 2014, in General Posts, Lists and tagged Authors, Books, Children's Books, Children's Literature, fantasy, Lists, literature, MG Books, Middle-Grade Fiction, Reading, reviews, Science Fiction, SF. Bookmark the permalink. 1 Comment.