A Tuesday Ten: Peculiar Pigs
I've done a number of Tuesday Ten  animal lists, but today's is all about our porcine pals of the speculative fiction world!
1.
Charlotte's Web by E. B. White, pictures by Garth Williams (HarperCollins, c1952)
There was never a chance that this one was not going to be at the top of my list.  After all, Wilbur, the runt of the litter saved by young Fern who then goes on to befriend a spider has got to be one of the most famous literary pigs around.  And Wilbur, for all that he's a pig, is very human.  He's given the gift of a most extraordinary friendship, one that will transform him, within the eyes of others, and within himself.   It's a friendship that shows the nature of self-sacrifice and love much more so (in my opinion) than The Giving Tree.
2.
Freddy and the Space Ship by Walter Brooks, illustrated by Kurt Wise (Puffin, c1953)
Quite possibly one of the only pig-based SF stories I know are a handful in  the Freddy the Pig series.  Walter Brooks published 25 of these books about the intrepid and ambitious Freddy the pig on his many varied adventures.  Accompanying Freddy are some of the other animal residents of the Bean farm.  In this story they take the Bean space ship to Mars!  Hard to find some of these, but at least a few are still in print and on library shelves.
3.
The Amazing Bone by William Steig (Square Fish, c1976)
Steig has pigs in a few of his picture books, but this one has stuck with me since the first time I read it, quite possibly because our female pig character is in terrible danger. Pearl finds an amazing talking bone when she's out walking, but when she's beset by robbers and then a hungry fox, can she and the bone outwit them all and get home safely?  There aren't too many picture books short of Hansel and Gretel where our anthropomorphic characters are threatened very directly with being eaten! This book has been enthralling children for ages, and I don't see it stopping anytime soon!
4.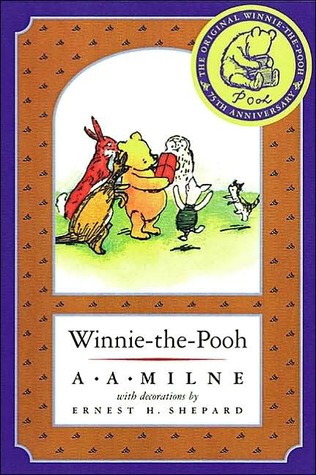 Winnie-the-Pooh by A. A. Milne (Dutton Juvenile, c1926)
You didn't think I'd forget the timid and terrified Piglet of the classic Pooh books, did you?  This little fellow may not be in the title, but he's Pooh's best friend!  His more cautious nature  and tendency to worry makes him a charming match with the much more happy-go-lucky Pooh bear. Key to piglet as well is that he's very small when compared to most of the other creatures and therefore much more vulnerable to all sorts of troubles. Strangely enough this book has made it onto the Challenged lists in recently years not only for talking animals, but for Piglet in particular . . . seems some folks are convinced that Islamic kids wouldn't want pigs in their literature, which is a fairly silly idea.
5.
Babe by Dick King-Smith, illustrated by Maggie Kneen (Knopf Books, c1983)
While most people are aware that Charlotte's Web was a book first and a movie later, less people are aware that Babe, the movie was based on this book by Dick King-Smith.  This author has a love of crafting animal stories, and Babe is the one that's gotten him the most acclaim.  Like most of our farm pigs, Babe's life is at risk, since a pig's role in a farmyard is to eventually be eaten.  Rather than let that fate overtake him, however, Babe demonstrates his talents by showing he can herd sheep just like a sheep dog . . . but is it enough to save his life?  Both the movie and book are delightful and highly recommended. Especially since this is one live-action talking animal movie I can actually tolerate.
6.
Beryl: A Pig's Tale by Jane Simmons (Little, Brown Books for Young Readers, c2010)
Beryl is a motherless pig being raised Cinderella-style by her aunt and cousins.  When her aunt sees that she's put on the the next farm truck for the slaughterhouse, Beryl makes her escape from the truck.  Once free, Beryl befriends a wild pig–something her own pink aunt and cousins would be horrified by.  This book makes no bones about covering the issue of prejudice.  In this case pink pigs  and their assumptions about wild pigs.  While not the strongest book of my list, it definitely deserves a spot!
7.
Mogo, the Third Warthog by Donna Jo Napoli, illustrated by Lita Judge (Disney-Hyperion, c2008)
Donna Jo Napoli is well known for her new takes on old fairy tales, and this story is no different.  Remember the tale of the three little pigs?  The author uses that story as her jumping off point for the tale of Mogo, the youngest of three Warthog brothers.  When the three brothers are left to survive on their own, Mogo faces many dangerous obstacles, but it is ultimately the need for connection and friendship that drives him to befriend a lonely baboon. Like most of Donna Jo Napoli's stories, she quickly transforms this fairy tale into an entirely new story.
8.
The Adventures of a South Pole Pig: A Novel of Snow and Courage by Chris Kurtz (HMH Books, 2013)
Plucky and optimistic Flora isn't interested in herding sheep like Babe, Flora has ambitions of being a sled-pig, of pulling a sled in the snow along with the dogs that do so.  She wants to explore and see the world.  Nothing makes her happier than when she's taken along when the men leave for Antarctica. Flora thinks she's being brought along as part of the sledding team, not realizing the crew plans to put her on the menu! Flora's bravery and determination, however, help to save the crew when things go wrong, and she proves herself to have the heart of a true hero.
9.
The Pig Scrolls by Paul Shipton (Candlewick, c2001)
Gryllus is a talking pig who had once been a man in Odysseus's crew, but was turned into a pig by a sorceress.  He decided he rather liked life as a pig and is content to remain one long after all the other men have been changed back.  But his life of tranquility is abruptly ended when a prophecy is announced.  Someone or something is killing off the gods.  The only one able to put a stop to it?  A talking pig.  Now Gryllus is stuck in an adventure he never wanted in the first place . . . fun and funny fantasy set in ancient Greece.
10.
Chocolate Mouse and Sugar Pig and How They Ran Away To Escape Being Eaten by Irina Hale (Atheneum, c1978)
This long titled book is an odd and obscure little title I remember  from back in the days when my mother read books to us.   Essentially this it the story of two candy confection critters who make a break for it.  While it's been several decades since I've seen the book, let alone read it, I remember being enchanted by this tale and the desperate escape of these two.  I admit I can't remember the story completely, but the Sugar Pig part stuck out for me and so I though it'd be a good way to finish off the list.
What books can you add?  Comments welcome!
Posted on October 1, 2014, in General Posts, Lists and tagged Animals, Books, Children's Books, Children's Literature, fantasy, Historical Fantasy, Lists, literature, MG Books, Middle-Grade Fiction, Picture Books, Reading, Science Fiction. Bookmark the permalink. 2 Comments.