Reviews: Phoebe and Her Unicorn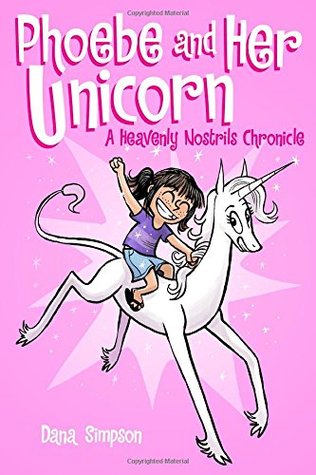 Phoebe and Her Unicorn: A Heavenly Nostrils Chronicle by Dana Simpson (Andrews McMeel Publishing, September 2014)
I've had this book in my pile of TBRs for a while.  And I admit, I was avoiding it.  Because . . . well, it's pink and has a girl and unicorn on the cover.  And while I've had my fascination with unicorns over the years, as an adult I have little patience for the terribly twee sorts of stories that often involve girls and unicorns.  Then a friend mentioned I really should read it.  And that Peter Beagle had done an introduction.  And while I may have limited patience for most unicorn-related fiction out there, Peter Beagle has written The Last Unicorn–which is quite possibly one of my favorite fantasy tales of all time.  And I knew right then, if Peter Beagle had written the introduction, then needed to sit down and read this book!
For those who may not be familiar Phoebe and Her Unicorn began life as comic strip titled Girl which won the Amazon's Comic Strip Superstar competition in 2009.   Her comic  Girl  became Heavenly Nostrils  and the story morphed into the friendship between a girl and her unicorn.  While the strip is available as a syndicated webcomic strip at GoComics, readers will now have a collection of the strips edited and streamlined into a single volume.  Dana Simpson has many fans for her latest comic strip work, including Peter Beagle himself.
  The premise of this comic-strip story is that Phoebe, a nine-year old girl, encounters a unicorn and manages to manipulate her way into having the unicorn become her best friend.  The strip follows Phoebe and her new friend, Marigold Heavenly Nostrils as they play and plot and occasionally encounter Phoebe's family or classmates.  So we have a slightly geeky and definitely weird Phoebe, and the narcissistic Marigold (because she is, after all, a unicorn, the epitome of loveliness and awesomeness!) .  The interaction of these two characters gives the creator plenty of material to turn into witty dialog and wry humor.   This work is being compared to Calvin and Hobbes, but while the two strips have some similarities (one real-world character, one slightly unreal character as best friends, clever dialogue)  I don't really feel they're that similar beyond the surface.  Phoebe's unicorn is very real, to the point of interacting with the girl's parents and classmates.  She's not an imaginary creature, or a toy.  Marigold uses her "Shield of Boringness" to prevent humans from becoming overwhelmed at seeing a unicorn.  Phoebe lacks Calvin's more precociousness and elaborate plans–she isn't extraordinarily talented, intelligent or even extraordinarily bad, she's just a little awkward, a little weird and a whole lot lonely nine-year-old girl. She manages to win a wish from Marigold when her skipping stone hits the unicorn in the head and snaps her free of staring at her reflection.  Phoebe wishes to be the unicorn's best friend, and thus begins the journey!
This is a story that has it's wellsprings in a dream that many, many girls probably had when they were younger.  I know I spent much of my fourth and fifth grade years drawing unicorns.  But rather than being the saccharine sweet story of that dream-come-true,  the comic turns it into something much more witty and fun for middle-grade audiences, as well as older adult readers like me.  Neither character is perfect (although Marigold would like to think she is), but they complement each other well.  Despite Marigold's narcissism and conviction that humans are ugly, she does come to share an actual friendship with Phoebe.  In turn Phoebe puts up with Marigold's narcissism because if you'd spent your childhood day-dreaming of unicorns, wouldn't you be willing do forgive a lot to have one as a friend?  I love the pure fun of it all.  From Phoebe's crazy plans and off-beat style, to Marigold's tendency to take everything humans say a bit too literally.
 Like any good comic strip writer, Dana Simpson has honed her craft,  the clean lines and brevity of text are testament to the work put in.   Marigold's form and elegance echo the unicorn from the animated The Last Unicorn, even with just a few lines to depict her form. Phoebe, on the other hand is a freckled, gap-toothed girl who marches to the beat of her own drummer.  The collection  of strips includes the Sunday strips that are outside the particular story going on in the regular strips,  but it doesn't break up the flow that much.  Any reader who enjoys the comic is not going to be put off by the occasional Sunday strip.
I can tell you now that there are plenty of my young library patrons who will see the cover and grab this to read, because –UNICORNS!  A perfect fit for the younger middle grade readers who are outgrowing simple, sweet stories and looking for something funnier to read, but still want to stick to the fantasy genre. I just wish the cover wasn't quite so pink . . . because there are readers out there who would love this collection, but might not get past the cover.   Given that the comic strip's online iteration has more strips and story arcs, this is hopefully only the first of the Heavenly Nostrils chronicles and that we'll see more volumes in the future!
Note: An advanced reader copy was provided by the publisher.
Publisher: Andrew McMeel Publishing
Expected Publication Date: September 2014
ISBN13:     1449446205
Recommended for ages 6-12
About Stephanie Whelan
I'm a children's librarian with a life-long love of all things science fiction and fantasy.
Posted on September 25, 2014, in General Posts, Reviews and tagged Authors, Books, Children's Books, Children's Literature, Comics, fantasy, Graphic Novels, literature, MG Books, Middle-Grade Fiction, Reading, reviews, Unicorns. Bookmark the permalink. Leave a comment.