A Tuesday Ten: A Roster of Redheads
Characters with red hair seem to be popular throughout fiction in general.  So I thought this Tuesday I'd take a look at redheads in science fiction and fantasy.  While redheads only make up about 4 percent of the population, there are plenty of them as fictional characters.  I've tried here only to include main characters where the red hair is a significant feature.
1.
Pippi Longstocking by Astrid Lindgren, translated by Florence Lamborn (Puffin, c1945)
Honestly, if you're thinking of red hair and don't automatically think of Pippi, then I'd be quite astonished.  Pippi's entire look is about that hair bound in two braids and sticking out on the sides.  At one point she's cracking eggs and one lands on her head. "I always did hear that egg yolk was good for the hair," said Pippi, wiping her eyes. "You wait and see-mine will soon begin to grow so fast it will crackle." Pippi's hair goes well with her own personality–and warns those around her they will be dealing with someone decidedly unconventional.
2.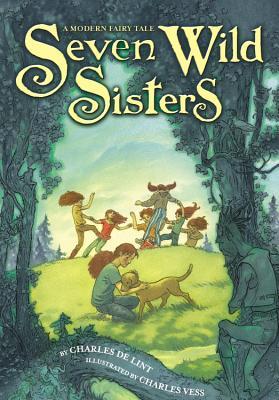 Seven Wild Sisters by Charles DeLint, illustrated by Charles Vess (Little, Brown Books for Young Readers, February 2014)
DeLint is no stranger to writing about redheads, and in this story he's got a whole band of them. Seven redheaded sister who wind up getting themselves entangled in the middle of an ages old fairy war.  Several time the point is made that red hair generally gives a human a better advantage against fairies, particularly in resisting the urge to yearn after fairyland itself.  It's a delightfully spun tale, stronger than his last story for children; The Cats of Tanglewood Forest (2013) which also features a red haired protagonist.
3.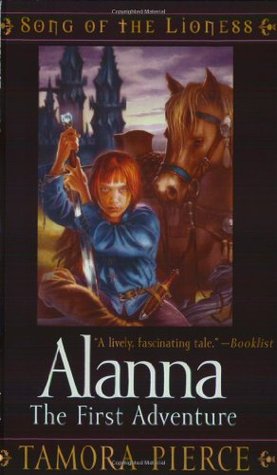 Alanna: The First Adventure by Tamora Pierce (Simon Pulse, c1983)
Possibly the toughest red haired protagonist on the list. Alanna is the girl who disguises herself as a boy to become a knight.  She and her her twin brother have the same coppery hair and violet eyes–a striking combination that becomes pretty well known throughout the series.   Alanna's character was the one that had me wanting to be a redhead!   As vivid in personality as in her appearance, Alanna was my first and favorite female warrior.
4.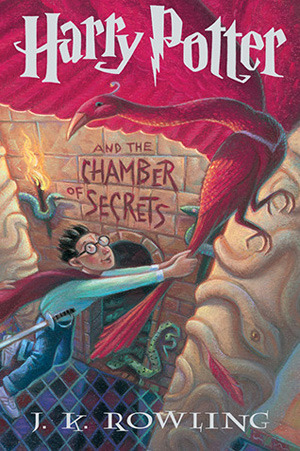 Harry Potter and the Chamber of Secrets by J. K. Rowling (Arthur A. Levine Books, c1998)
Red haired male characters in a starring role are hard to come by, but J. K. Rowling  managed to do it when she introduced readers to Ron Weasley.  There's much made of his red hair, and the fact it's shared by the whole family.  Draco Malfoy uses the trait to insult Ron along with his family's financial struggles and size.  The red hair trait remains significant throughout the entire series, but I brought up the second book in particular because we really get introduced to the whole family in this story.
5.
The Hero and the Crown by Robin McKinley (Ace, c1984)
Aerin's red hair is an inheritance from her mysterious mother, the woman who died giving birth to her.  It makes her stand out from those around her.  In order to prove her worth and gain acceptance, Aerin learns the art of dragon-slaying.  But one giant dragon may prove too much for our fiery young hero–can she defeat it, and find the strength to face her destiny? Sword and sorcery stories seem to particularly love redheads . . .
6.
Calling on Dragons by Patricia C. Wrede (Houghton Mifflin Harcourt, c1988)
The third book in The Enchanted Forest Chronicles is narrated by Morwen, a rather unusual witch, who is fine-boned and short, with ginger hair and spectacles.  She's pictured here on the cover.  While this book isn't the strongest of the four, it picks up the story when the King's magic sword goes missing and Morwen must join the quest to find the blade and stop the nefarious wizards who are up to no good.
7.
Gwinna by Barbara Helen Berger (Philomel, 1990)
This lovely lyrical tale tells the story of a child who is born with wings.  Her parents try to hide her strangeness and bind her wings, but finally Gwinna must fly away on a quest of her own, to find out who she is and who she will be.  Lovely full color illustrations make it clear that Gwinna has glorious red hair.
8.
An Acceptable Time by Madeleine L'Engle (Bantam Doubleday Dell, c1989)
In this continuation from the original Time Quartet, Meg's children are grown up enough to have adventures.  Here it is red-haired Polly who goes on an adventure through time and space.  She'll have to confront issues of sacrifice and forgiveness and find a way to get herself back home again.  Not the best in the series, but quite a gorgeous cover.
9.
Raggedy Ann in Cookie Land by Johnny Gruelle (Simon & Schuster, c1960)
Granted these are dolls rather than people, but I do think they count just fine as redheads–wouldn't you agree?  These two ragdolls starred in a number of sweet children's fantasy adventures written by Johnny Gruelle. These living dolls would travel to different "countries" where strange creatures lived and work out some problem or crisis.
10.
Shatterglass by Tamora Pierce (Scholastic Press, c2003)
I couldn't quite leave this list without another Tamora Pierce redhead.  This character is from her  Circle of Magic and The Circle Opens quartets.  Trisana, known as Tris is a redhead merchant family girl who happens to have wild weather magic gifts that allow her to harness lightning and wind  and so forth.  This rather temperamental character is prickly under the best of circumstances, yet you can't help but like her.  This particular book cover beautifully displays Tris with her hair in a range of braids.  This is where she keeps much of her power, to be unbraided when she needs it.
So there's my ten!  Who are some of your favorite redheads? Comments welcome!
Posted on August 27, 2014, in General Posts and tagged Books, Children's Books, Children's Literature, fantasy, Lists, literature, MG Books, Middle-Grade Fiction, Reading, reviews, Tamora Pierce. Bookmark the permalink. 6 Comments.