A Tuesday Ten: Fantasy Dealing with Death and Loss
So if you've been reading my blog, you know this subject is on my mind right now.  But it's also a subject I've explored a bit as a librarian.  Books that deal with the subject of death or loss of a loved one.  While there are many fictional resources out there, the speculative fiction side of things is a bit thinner. These aren't stories of heroic plot deaths.  Not our Obi Wan Kenobi, Dumbldore, or Boromir style of death.    These are  at once less dramatic and more heart-wrenching losses–or about the people dealing with those losses.  I've curated ten titles here for consideration.
1.
The Goblin and the Empty Chair by Mem Fox, illustrated by Leo & Diane Dillon (Beach Lane Books, 2009)
We'll start this list with a picture book.  It's one with a deceptively simple story about a goblin who has a kind heart but believes he has a frightening face that no one would wish to see.  So he keeps to himself, but watches others.  When he observes a family suffering and struggling over daily tasks and sadness, he secretly pitches in to help them.  As a family in grief recognizes the lonely heart of the goblin . . . something precious and profound occurs.  This book can be read with or without a discussion of death, since the book never explicitly mentions death, but its clear there has been a loss in the family that has led to the empty chair.  Clues in the always stunning art of the Dillons help to fill in the blanks.
2.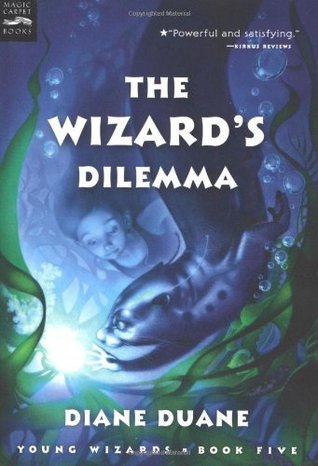 The Wizard's Dilemma by Diane Duane (HMH Books, c2001)
If you've read my lists for long, you know how often Diane Duane's Young Wizards series will crop up in discussions or lists.  But I've never had the occasion to mention this book in the series before now.  This is a spoiler of sorts if you're reading the series, so do be aware!  This is the book where Nita finds out her Mom has cancer.  And you'd think–hey! Nita's a wizard, she'll figure out what to do about that silly cancer stuff.  Nope, not so easy by a long shot.  Nita and her mother will both have to face some hard truths in this book.  It's probably the point in the wizarding  series where these books really lost a bit of their innocence for me.  Human life doesn't have neat and tidy endings.  And death is hard to face, even when you have magic on your side.
3.
Nightingale's Nest by Nikki Loftin (Razorbill, February 2014)
One of this years lovely but poignant fantasy novels.  Our main character comes from a family that has been destroyed by the death of his little sister.  Her loss has sent the family into a spiral of pain and mourning, one that none of them seem to be able to find an answer to.  Then  12-year-old Little John meets the wild young Gayle, a tiny girl with an astonishing voice–a voice that brings some hope and healing to his world.  This isn't an easy book.  It's a good look at the way loss can shatter people differently, and how they try and cope with life afterward.  It also brings with it hope and a promise that things can change again. Ultimately an uplifting story despite the darkness within it.
4.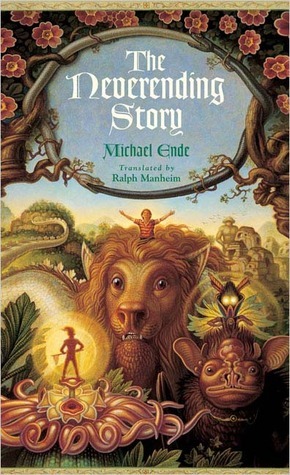 The Neverending Story by Michael Ende, translated by Ralph Manheim (Dutton c1979)
If you're not familiar with this book, but only with the movie, I strongly suggest you go find a copy and read it through.  It's a very different story than the one crafted for the theater.  Bastian is a boy who has lost his mother.  While the whole of the book details the fantasy adventure Bastian reads, the entire tale can also be taken to heart as a look at a grieving boy dealing with loss and the distance from his father.  His fantasy worlds are dying away until he finds the magical book that allows him to actually step into the world of fantasy and save it, embrace it.  Bastian is given the chance to have everything he wishes to have . . . but in the end he loses himself in the wishes, and the "fantasy".  It is Atreyu who must help save and transform Bastian back into himself.  And of course this can be interpreted many ways, but knowing Bastian is going through the struggle of grief, I can see it as depression turned into a fierce and desperate escape into a realm of magic and dreams–but the reinvented Bastian loses himself in this realm, and ultimately comes to realize who he wishes to be is just that person.  To me this speaks to the need we all have to escape sometimes, and that this escape isn't necessarily a bad thing, that we can use it as a way to journey back to ourselves once more–only knowing better who we are.
5.
Through the Mickle Woods by Valiska Gregory, illustrated by Barry Moser (Little, Brown and Company, 1992)
I first encountered this obscure picture book years ago as a teen.  It's the story of a grieving king,  and a young boy, Michael, who both miss the Queen who has died recently.  To honor her final request  and in her memory, he journeys into the Mickle Woods one snowy night to go and speak with the Bear.   The Bear has  three stories to tell the mournful king, three messages about life and death and  how to go on living.  It's a powerful tale, with some thought-provoking stories.  The messages here about life and death aren't meant to clear away the sadness and anger completely, but instead to remind us that all of it is mixed together, and that life does go on.  That the morning bells will ring again.  This is worth a read if you can find it, and Barry Moser's art is a perfect complement to the writing.  I haven't picked this up to reread yet, but I plan to when I'm ready to hear these messages again.
6.
Ophelia and the Marvelous Boy by Karen Foxlee (Knopf, January 2014)
My other title from this year.  Ophelia is a young girl whose mother has recently died after being ill.  All three family members left behind mourn and struggle in their own way, Ophelia included.  So when their father takes the girls to live in a strange town while he prepares an exhibit for the local museum, he does so with the hope  that a change of scenery will help them get through this rough period.   Ophelia discovers that the museum houses secrets, magic and monsters  that will put those she loves in danger.  It is up to her and the marvelous boy to stop the Snow Queen from  overtaking the world and turning it all to winter.  This is also the story of Ophelia remembering her mother and finding strength in those memories as she  tries to help the marvelous boy complete his quest.  Readers slowly learn about the relationship mother and daughter had, and what they talked about over the months before Ophelia lost her.  It's a book of survival beyond the tragedy, and beginning to believe in one's own strength once more.
7.
Charlotte's Web by E. B. White, illustrated by Garth Williams (HarperCollins, c1952)
You can't really deny this is a story that touches on death.  It's there from the very first line, when Fern asks where her father is going with the ax.  Little piglet Wilbur has his death deferred that day, but faces the danger of death again when he's sold to the nearby farm and learns what it is that farmers do with pigs.  Again, his death is deferred due to another's actions.  The extraordinary spider Charlotte decides to befriend Wilbur, and to go about engineering his safety.  Not a little thing for a spider to take on!  (Spoiler alert for those of you who haven't read this–though if you haven't WHY NOT?)  Ultimately, while Charlotte's plan succeeds, she spins out her own life in doing so, and Wilbur loses his dearest friend.  It's terribly sad, and yet . . . this is a spider's normal lifespan, and Charlotte has simply lived it.  It's a message about the natural cycle of life and death, and the profound difference friendship makes in the middle of all that.
8.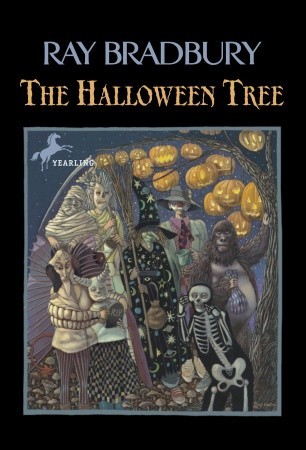 The Halloween Tree by Ray Bradbury (Yearling, c1972)
Something a little different.  Bradbury's book takes eight costumed boys on night adventure through time and space so that they visit all sorts of places, exploring elements of death and the meaning of Halloween.  Bradbury lyrical writing and insights make this a book worth exploring for older readers.  "  These eight boys travel around the world with Mr. Moundshroud in order to find their friend, Pipkin.  When, at last, they find him  they each give one year from the end of their own lives to save Pipkin's own.   "When you reach the stars, boy, yes, and live there forever, all the fears will go, and Death himself will die."
 9.
Badger's Parting Gifts by Susan Varley (HarperCollings, c1984)
The last picture book on my list.  This tale of animal friends who have to deal with the loss of their aging badger friend.  When he passes on, their lives seem full of neverending sadness and grief, until they begin to remember the good times they shared and the gift that he gave them while alive.  This is a more direct discussion for youngsters about death and mourning and how memories help us through it.  A reminder of how family and friends can support one another , and how much impact one individual can have on our lives, even if they are no longer living.
10.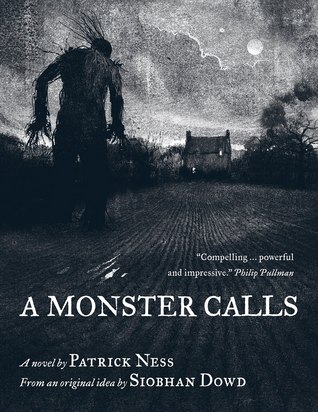 A Monster Calls a novel by Patrick Ness, illustrated by Jim Kay, from an original idea by Siobhan Dowd (Walker Books, 2011)
This book packs a wallop.  Based on an idea by Siobhan Dowd, who died before it could be written–an idea that was taken up by Patrick Ness and transformed into this incredibly powerful, heart breaking, soul shaking work. Our main character is Connor, whose mother has cancer.  Connor is struggling to cope with the very real nightmare of losing his mother right before his eyes.  So when the monster calls at his window one night–he can't really be all that afraid.  The monster may be ancient and wild and dangerous, but it isn't what the monster does, or the stories it tells that Connor fears most.  It's what the monster wants from Connor at the end of all the stories.  It wants the truth.  This book shook me to the core.  I don't know if I can reread it anytime soon after losing my father to cancer this past month. And that's because the book gets all of it pretty spot on.  Ultimately this a book of truth, of catharsis, and of facing monsters–no matter how much you'd wish they never came to call.
So there's my ten.  I hope you'll forgive my prolonged absence.  I'll plan on being back in form for the weeks ahead!
As always, Comments welcome!
About Stephanie Whelan
I'm a children's librarian with a life-long love of all things science fiction and fantasy.
Posted on August 20, 2014, in General Posts, Lists and tagged Authors, Books, Children's Books, Children's Literature, fantasy, Lists, MG Books, Middle-Grade Fiction, Picture Books, Reading, reviews. Bookmark the permalink. 2 Comments.