Flashback Fridays: In Life's name and for Life's sake . . .
You're a kid running away from bullies that are chasing you after you just couldn't keep your mouth shut.  To escape them, you dash into the library and hide in the children's stacks.  While you're there you spot a book among the other titles that intrigues you.  You take a look at it, and take it home.  It's a book that's about to change your life, and pull you into the ongoing fight of good and evil in the universe . . .
Do you remember
So You Want to Be a Wizard by Diane Duane (HMH books, c1983)
There was a time when contemporary fantasy, and outright urban fantasy was fairly rare.  There was a time when youngsters training to become wizards was not cliche.  Back in the 1980s there were a few books that became central to my genre reading–anchors if you will.  And this story about a geeky girl who takes an oath and begins her path to wizardry, was one of them.
We meet Nita when she's on the run from some bullies and she dashes into the sanctuary of the library and hides out in the children's stacks.  While hiding out, she browses through the shelves and notices a book she's never seen before.  Next to the other books for kids on career opportunities is a book titled So You Want To Be A Wizard.  Well who wouldn't take a look at such a thing?  Nita quickly realizes the book isn't a joke and it isn't an ordinary book at all.  It's a wizard's manual that was waiting for her to find it and put it to use.  Once Nita says the Oath contained in the book, she'll become part of the wizarding world with the ability to magic and encounter amazing things.  But becoming a full wizard isn't a walk in the park.  Along with Kit, another young wizard on Ordeal, she will travel to an alternate New York City landscape. Once there, they'll have to use their knowledge and wits to battle the dark magic of the Lone Power.  Can these two young wizards complete their Ordeal and make it back home again?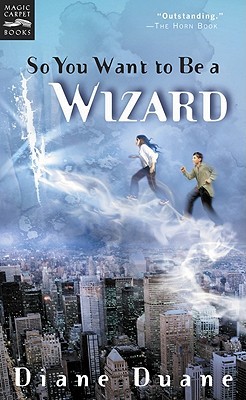 What's not to love?  Nita–a strong female protagonist who is also a geeky girl who doesn't get on well in school with her peers.  She's a great character in part because she's pretty ordinary, despite her sudden extraordinary abilities.  Nita isn't a girl with a huge sense of destiny and power–but she's the right person for the job.  She's likable, believable and vulnerable–all things that make her worth reading about.  Kit Rodriguez, our second protagonist has to be one of the only Hispanic-American protagonists I've run across in middle grade fantasy.  He's a nice complement to Nita, both in personality and wizarding abilities.  They make a great team.  Then there's the setting: New York , my own stomping ground.  And an alternate New York City full of monstrous, sentient cars and wolf-like creatures.  Rather than castles and forests, we have all this epic good and evil taking place in a city–real urban fantasy.  It was probably my first urban fantasy novel.  Magic among the mundane and everyday elements of our world.  Battles of good and evil.  Magical allies of all shapes and sizes.   It's the kind of magical adventure that deserves its three decades of publication.
Nita and Kit go on to have many more adventures in the further books of Young Wizards series.  The last book published was A Wizard of Mars (2010), but there's another title in the works for February 2016  you can find out more here.
One of the big points of interest for me in this book was that magic isn't a free-for-all of neat tricks.  Magic-users in Diane Duane's universe can't just go about doing spells as they please with no repercussions.  Magic comes with a price tag–and it's not necessarily an easy one to pay.  The author also manages to pull off a fascinating villain who isn't always as easy to ignore or repel as you might want them to be.  I've enjoyed growing up with Nita and Kit in their world, and obviously others have as well.  And while I may be fond of Harry Potter, when I think of urban fantasy and wizards, this is the series I come to first.   Out of authors I've yet to meet, Diane Duane is high on the list.  I'd love to meet her and thank her for giving this geeky girl such adventures with protagonists that she can identify with.
Readers who love the series may want to hunt down the adult/YA spin-off cat duology: The Book of Night With Moon and To Visit the Queen.
And if you're not aware, there's an entire website devoted to all the background information about the books and the characters within them that can be found here: The Errantry Concordance: The Online Encyclopedia of the Young Wizards Universe
You can also see my discussion regarding the different covers this book has had here: Art Interlude:So You Want to Be a Wizard.
Comments welcome!
About Stephanie Whelan
I'm a children's librarian with a life-long love of all things science fiction and fantasy.
Posted on July 28, 2014, in Flashback Fridays, General Posts and tagged Authors, Books, Children's Books, Children's Literature, fantasy, MG Books, Middle-Grade Fiction, Reading, reviews, series, Urban Fantasy. Bookmark the permalink. 5 Comments.