A Tuesday Ten: Magical Time Travel
Time travel is a popular way to incorporate an element of fantasy or science fiction into a story.  It can take many forms for the sake of a story, sending characters forward or backward to different moments in history.  Within the realm of time travel, I always like to break the stories up into two types.  The first category is magical time travel.  These are stories where the ability to travel in time is magical in nature, or never explained at all.  It may require a mystical connection or a mysterious talent.  But what makes it distinct from science fictional versions of time travel is that there is no machine or technological process created with the intent of manipulating time–it places these time-travel story firmly in the fantasy realm, even if the event of time travel is the only fantasy element in the story.
1.
The Freedom Maze by Delia Sherman (Candlewick, January 2014)
We'll kick off this ten with this time slip story where thirteen year-old Sophie  wanders into a maze on her family's land that sends her back in time from 1960 to 1860, one hundred years in the past.  While Sophie has been yearning for an escape and adventure, what she experiences back in the 1860s isn't so simple or light-hearted.  Sophie's resemblance to the plantation owners (her ancestors) and her dark summer tan have others at the plantation assume she is one of the master's half-white  children.  Sophie is put to work as a house slave, and then later out in the fields.  The author uses the tool of time-travel to give younger readers and up close view of slavery and the questions it raises about treating others as less than human yet living alongside them. Sophie's journey is not an easy one–certainly not the adventure she'd imagined at the outset.
2.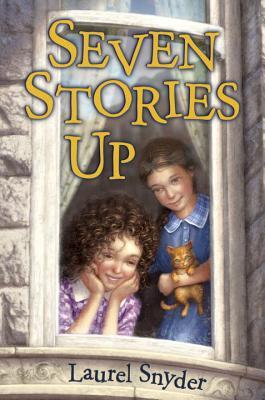 Seven Stories Up by Laurel Snyder (Random House, January 2014)
Another 2014  title for the list! Annie goes to visit her Gran for the first time at the woman's house in Baltimore, but the mean-spirited, cranky old woman she meets is hardly what she'd hoped for.   The next morning, Annie wakes to find herself in the same room, but back in the year 1937.  Her grandmother is a girl her own age who has been stuck living inside her rooms for years because of her health.  Annie's friendship  and companionship with young Molly slowly help the girl to blossom and risk adventure.  This sweet story of family, and how friendship and courage can change the course of time itself.
3.
A Chance Child by Jill Paton Walsh (Farrar Straus Giroux, c1978)
Creep is a badly abused boy who escapes one night from the closet he's locked in.  His escape turns out not to be just from that space, but from time–he slips back in time to the days of the British Industrial revolution, when youngsters went to work in factories and mills to survive.  Creep's brother back in modern times desperately tries to find him–but how do you locate someone who is now in your past?  A thought provoking book that gives a good intro to the Industrial revolution and some of the negative impacts it had on the land and people.
4.
The Cave of Time by Edward Packard, illustrated by Paul Granger (Bantam, c1979)
Decided this was a must for the list.  After all, what's more time-travel oriented than the very first Choose Your Own Adventure title?  The Cave Of Time allowed readers to enter a mysterious cave as the protagonist and then make different choices as to the path they would take.  Different choices would lead to different outcomes in the distant past, far flung future, or paradoxical current time.  Forty different endings are possible here, what will you pick?
5.
Saving Lucas Biggs by Marisa de los Santos and David Teague (HarperCollins, April 2014)
Thirteen year-old Margaret's father has just been sentenced to death for a crime he didn't commit.  To save him, she'll have to use a forbidden family talent for time-traveling to try and go back in time and change events of the past in order to change history, and the life of judge Lucas Biggs, the man who sentenced her father.  She hopes if she can do that, she might change the judge's heart to relent on his ruling.  This is an interesting book from several angles, but from a time-travel aspect, I can't think of another story where the "talent" is some kind of genetic gift in a family line–one that comes with a hefty price.
6.
Time at the Top by Edward Ormondroyd (Purple House Press, c1963)
It is 1960 and Susan Shaw is disgruntled with the fast pace and noise of the world around her in New York City.  When a strange old woman promises her "Three" she's not certain what it means, until she discovers she's granted three trips to the top in the apartment's old elevator, three times back to the year 1881.  In 1881 Susan finds the kind of life and family she's always dreamed of, but this family is facing troubles too, and Susan may have been sent back to be some kind of help to young Victoria who wishes to protect her mama from a black-hearted suitor.  A light-hearted romp in time, this one avoids dealing with actual historical issues in favor of idealizing, but it's a great little read for  those who enjoy something gentler.  I do think it may be the only time-traveling elevator I've heard of as well!
7.
A Tale of Time City by Diana Wynne Jones (Firebird, c1987)
It's World War II Britain, Vivian is one of many children being evacuated to the countryside.  Instead she's kidnapped by two strange boys who whisk her away to a strange place called Time City.  Standing outside of the usual time arc of Earth, Time City's residents can travel to different times and places throughout all of history.  Vivian's kidnapping turns out to be a case of mistaken identity, but to fix their mistake and get Vivian home again may not be easy.  Someone is messing with events in the time stream, and if they aren't caught soon, all of time could wind down!  And if that happens, Vivian won't have a home to go back to.  Crazy time travel, mystical time anchors, quirky characters and –don't forget!–butter pies!  It's a romp indeed.
8. 
The Devil's Arithmetic by Jane Yolen (Turtleback Books, c1988)
This is one of those books where the time travel element is at it's least obtrusive into the story.  Modern-day Hannah doesn't appreciate her Jewish heritage and is bored at the family Seder–until she is transported back in time and back in space to 1942 Poland.  There she is Chaya, an orphan girl who is gathered up with the other Jewish citizens to be taken to a concentration camp.  Hannah's memories become confused and distant, making it hard to cling to future memories, instead only experiencing the "now" as Chaya.  With Hannah submerged into the character of Chaya, the readers become more spectators of the historical events.  Hannah/Chaya isn't an interloper into past history, but a part of it, and all the awful arithmetic of staying alive another day, another hour.
9.
Archer's Quest by Linda Sue Park (Clarion Books, c2006)
Sometimes time travel works a little differently.  In this case, Korean-American Kevin has a young man in strange clothes appear out of nowhere, claiming he fell off a tiger.  The young man is Chu-mong and he is a traveler in both time and space, somehow transported from ancient Korea to modern America.  Kevin realizes that Chu-mong is part of ancient Korean history–a heritage he's never bothered to research before.  And he' got to figure out a way to get the Korean archer back home so that he can fulfill his destiny!  Both fun and informative, this book allows a modern-day character to come face to face with his own cultural heritage while at the same time allowing the ancient characters to interact with the modern-day world.
10.
Tomorrow's Sphinx by Clare Bell (Margaret K. McElderry Books, c1986)
Possibly the oddest of the time-travel stories on my list.  This is a futuristic story with intelligent cheetahs that weaves in a narrative of ancient Egypt and the boy-king Tutankhamen.  Kichebo is a strangely marked Cheetah with a black coat and only small amounts of golden fur on her tail and muzzle.  A lonely outcast, Kichebo finds a place of her own by some old ruins.   While at these ruins, she begins to hear a voice in her mind–the voice of another black cheetah.  Only this cheetah lived thousands of years ago, the companion of a fabled Pharaoh.    As she telepathically communicates with this other cheetah, she begins to merge into those past experiences, nearly losing herself in that past.  While our cat never actually travels back in time herself, her mind reaches across the barriers of time so that both the past and future times become the present "now."
So there are my ten!  There are plenty of other time-travel stories out there!
Check out  this list of Time Travel Books at Charlotte's Library for more titles.
Name your  own favorites in the comments!
About Stephanie Whelan
I'm a children's librarian with a life-long love of all things science fiction and fantasy.
Posted on July 22, 2014, in General Posts, Lists and tagged Authors, Books, Children's Books, Children's Literature, fantasy, Historical Fantasy, Lists, literature, MG Books, Middle-Grade Fiction, Reading, reviews, Time Travel. Bookmark the permalink. 2 Comments.