A Tuesday Ten: Off the Map . . .
My apologies for the lateness!  Put my back out and had trouble sitting long enough to type this! Maps are a fascinating area of story making.  They are essential for world building details  and most treasure hunts.  Maps can come in all shapes and sizes and materials.  I decided to see what fiction I could find related to maps for today's ten!
1.
The Glass Sentence by S.E. Grove (Viking Juvenile, June 2014)
The first book on my list is a new offering for this year.  It's actually a tween book that probably skews more towards young adult with the violence inherent in the plot.  However, it's way too perfect a fit for this list to pass up.  This alternate history fantasy adventure is all about maps and map-making.  In Sophia Tims world, time has shattered across the globe–leaving large areas in disparate times.  Sophia herself comes from New Occident, Boston of 1891, but when her map-maker uncle goes missing, his last message sends her on the run across the time zones.  Unlike the traditional maps , this story is full of wildly imaginative maps that provide amazing pieces of information through different materials. This is the first book in The Mapmaker's Trilogy but it's an impressive debut by the author.  If you like maps, it's certainly one to look for.
2.
The Map that Breathed by Melanie Gideon (Henry Holt & Co., c2003)
Some maps are gateways in and of themselves, such is the case in this more obscure story.  Young Billy is able to create windows into other worlds with his art .  . .  but he and his friend Nora have no idea that a mysterious booklet and a drawn map will pull Nora into that other world !  It also allows a dark evil into our own world, an evil only Billy can stop!  Can these two friends solve the mystery and save both worlds?  I haven't read this particular adventure, but it certainly fit the scope of this list!
3.
The Slippery Map by N. E. Bode (HarperCollins, c2007)
In this light-hearted fantasy adventure,  Oyster R. Motel is a young boy who dreams of other worlds, desperate to escape life in the nunnery where he's grown up.   At the start of Oyster's adventure, he discovers that imaginations can be mapped–and he's sent with a map of his own imagination in hand into another's imagined world.  Now Oyster will have to figure out why he's here in someone else's  dreamed up world, and what connection this world has to his own special map!
4.
  The Map to Everywhere by Carrie Ryan and John Parke Davis (Little, Brown Books, Expected Publication: November 2014)
I'm just starting this one.  Fin is a boy with a special gift that makes him a master thief living on a strange pirate world–but only a special map, The Map to Everywhere, will help him find his mother and his true origins.  Merrill is a girl from Arizona who gets swept up into  The Pirate Stream and now The Map is her key to getting back home again.  These two young protagonists are on a race to gather the pieces of this map, before darker forces can do so.  For if they fail, it may be the end of all worlds as they know them to be!  Bound to be an interesting ride!
5.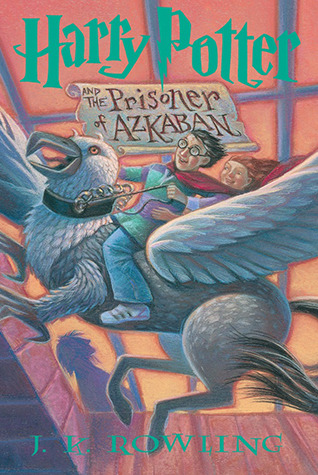 Harry Potter and the Prisoner of Azkaban by J. K. Rowling (Scholastic, c1999)
True, the book is not exactly about maps . . . but there is a map in this story that is absolutely pivotal to the plot.  Known as the Marauder's Map, it is a specially spelled piece of paper that shows a map of Hogwarts and the surrounding environs, with secret passages labelled.  It also shows where people are at any given moment.  And it cleverly hides itself from authoritarian eyes with another spell.  It's one of my favorite map artifacts in a story if only because it's clearly a sort of contraband item to have.  "I solemnly swear I'm up to no good!"
6.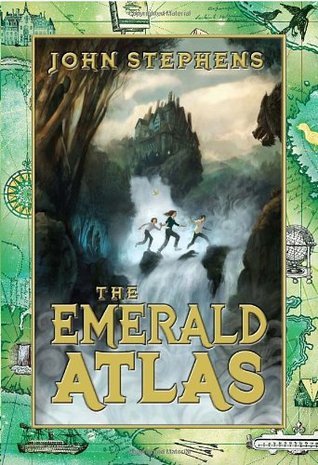 The Emerald Atlas by John Stephens (Alfred A. Knopf, c2011)
The first book in The Books of Beginning fantasy series.  Three children with a special destiny must discover the truth of their origins and powers.  Along the way, the children find an mysterious book with a green cover and seemingly blank pages.  The Emerald Atlas, as it happens to be, can allow our protagonists to travel through time, depending on what is placed in the book.  The oldest girl, Kate, has a special affinity for the Atlas and must learn how to use it to help her siblings and others in danger.
7.
The Once Upon a Time Map Book by  B.G. Hennessy, illustrated by Peter Joyce (Candlewick, c1998)
Something slightly different here.  This book is a collection of maps of six different enchanted lands that most readers should be somewhat familiar with.  Aladdin, Jack and the Beanstalk, Snow White and the Seven Dwarfs, Alice in Wonderland, The Wizard of Oz  and Peter Pan are the six worlds illustrated in map form for this book.  Loads of details have been added in to delight the audience wending their way through these landscapes.  The book features six fold-out maps  for children to explore.
8.
The Long-Lost Map by Pierdominico Baccalario (Scholastic, c2005)
This is the second book in the Ulysses Moore series, an Italian fantasy adventure translated for English-speaking audiences.  Our three protagonists  cross into a Door into time, but it collapses around them, sending the boys through the Door into ancient Egypt–with no way home!  Jason and Rick's only chance lies with a mysterious long-lost map that may hold the key to getting them home.  But they aren't the only ones after the map.  There's another visitor from the modern world desperate to find the map–Jason and Rick have to find it first!
9.
 
Mossflower by Brian Jacques (Ace Books, c1988)
This prequel to the first Redwall book tells of how Redwall Abbey first came to be in a land where the peasantry was cruelly ruled by wildcats, until a warrior came to the land.  Martin the warrior is in need of a new sword, his having been broken, but to get that blade he'll have to journey to Salamandastrom, a mysterious place that's home to a mystical line of badger warriors.  Now, Brian Jacques' series often provides readers with a riddle.  In this book, the riddle is the map.  A goose flying over the land describes it in verse.    Our heroes have to interpret the verse to figure out where they must go.
10.
The Wizard's Map by Jane Yolen (HMH books, c1999)
A mysterious old map in Scotland leads to a ghostly magic!  When American-born twins Peter and Jennifer travel to Scotland, they uncover a strange old map that has an uncanny relationship with places it displays.  The twins learn that this map is actually an ancient wizard's map, drawn as a mirror to his heart.  But now that evil wizard is coming through time to claim his map once more.  In order to keep safe their world, the twins cannot give it to him, but when wizard Michael Scot threatens their family, it will be a race against time to save them!  This is the first book in Jane Yolen's Tartan Magic series  of ghostly stories in Scotland.
So there's my ten!  Sorry so late!  What books can you add?
Comments Welcome!
About Stephanie Whelan
I'm a children's librarian with a life-long love of all things science fiction and fantasy.
Posted on July 18, 2014, in General Posts, Lists and tagged Authors, Books, Children's Literature, fantasy, Historical Fantasy, Lists, MG Books, Middle-Grade Fiction, series. Bookmark the permalink. 1 Comment.