A Tuesday Ten: Arthurian Inspirations
King Arthur.  Merlin.  The Knights of the Round Table.  Camelot.  Stories about these things are very much a part of our culture and  fantasy references when talking about knights and kings and such.  Readers' may have never read the original source material, but chances are  they've heard about Arthur, and Arthurian mythology.  Today's list explores fiction that references Arthurian mythos–from historical fantasy, to contemporary encounters, to futuristic revivals.
1.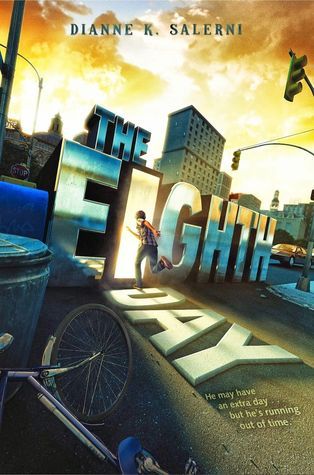 The Eighth Day by Dianne K. Salerni (HarperCollins, April 2014)
This first book in a new urban fantasy series asks, what if there were actually an eighth day in the week?  A slice of time that only certain, special people of particular bloodlines could access.  Thirteen-year-old Jax Aubrey has just discovered he is one of those people.   Ancient Arthurian legends combine with modern life. Descendants of those legendary folk hold the key to the Eighth Day–and some of them could bring about the end of the world as we know it! Jax's own magical inheritance is just beginning to be discovered, who can he trust in this strange new realm?
 2.
The Grey King by Susan Cooper (Simon Pulse, c1975)
If you're speaking of children's middle-grade fantasy and Arthur, then The Dark is Rising Sequence may immediately come to mind.   While there are overtones of Arthurian lore throughout the sequence,  this particular book brings the legendary king and his magical advisor, Merlin into the story.  Young Bran isn't certain of his own heritage, only that he has some clues he isn't the modern boy he was raised as.  Part of Bran's struggle will be coming to terms with  the truth of his identity.  This is the fourth book in Susan Cooper's contemporary fantasy series where ancient good and evil duke it out in modern times.
3.
Tomorrow's Magic by Pamela F. Service (Random House Books, c1987)
My futuristic offering for the list.  In a far-off nuclear winter, humans live much as they might have in medieval times, but constantly having to avoid mutant creatures and dangerous landscapes.  But there's more at work, time has cycled round and now magic is returning to the land once more. With it comes a reborn Merlin, now a young boy named Earl who has no memory of his past. It rather makes sense for Arthur and Merlin both to cycle back into the British lands since Arthur is, after all," the once and future king."  This volume contains the first two books in Pamela Service's New Magic Trilogy.
 4.
A Connecticut Yankee in King Arthur's Court by Mark Twain (Dover Publications, c1889)
Technically, this isn't really a children's story–though I've known adults who've read it aloud to children.  But still, it is both a classic time-travel story and an Arthurian adventure story by one of the United States' most beloved homegrown authors.  Adventure and sature combine  in this historical time travel fantasy to provide some rather wry observations about the past and present.  There are some condensed versions out there that are more appropriate for younger readers to try themselves.
5.
The Squire's Tale by Gerald Morris (Laurel Leaf, c1998)
Terence is an orphan living with an old hermit in the wood until the old man has a vision that sees Terence as the Squire of the knight Gawain.  So will-he or nill-he, Terence is tossed into an adventure where he must rescue damsels, protect the king, and  discover his own origins.   This is the first book in the 10-book series focused on Terence and his growth from boy to man and from squire to knight.  The earlier books are middle-grade, but the later books move up into young adult territory by the end.
6.
Merlin's Mistake by Robert Newman (Hyperion, c1970)
Admittedly this is slightly more YA than straight-forward middle-grade, but I couldn't resist including it in the list. Two boys on a fantasy quest through medieval England. Sixteen-year-old Brian jumps at the chance to go on an adventure with young Tertius.  The younger boy is out to fix a mistake Merlin made long ago.  In the story, Merlin–like a goofy fairy godmother–gives Tertius a magical gift.  But instead of providing him useful wisdom that can help him in life now, Tertius only has future knowledge of things like spectacles and automobiles.  I remember being struck by the strange misfortune of such a gift for someone living in medieval times.
7.
The Hidden Cave by Ruth Chew (Scholastic, 1978)
Quite a few of my other titles on this list would be pretty common to find on any list of Arthurian fiction.  But not this one.  Ruth Chew's  paperback stories about contemporary kids encountering magic and magic-users in their own world were some of my favorite fantasy  during my third and fourth grade years.    Some of it has recently come back into print, but so far this particular story is mostly lost to obscurity.  Two kids discover an old man who turns out to be Merlin, suddenly wakened from his long sleep.  The kids work to keep Merlin a secret and introduce him to some modern conveniences. (I still remember Merlin's reaction to cereal in the book, he kept calling the cornflakes little "leaves").
8.
The Dragon's Boy by Jane Yolen (HarperTrophy, c1990)
Jane Yolen seems to have a love of all things Arthurian.  In this historical fantasy readers get to meet young Artos who gets teased and bullied by the others at the castle.  He has no idea of his own origins or destiny until the day he  encounters a dragon . . . and becomes his student.  This slightly different spin on the Arthur story nevertheless covers many of the basic elements, echoing the plot arc of The Sword in the Stone with Arthur as pupil learning the skills and wisdom that will one day make him great.
9.
Knights of the Lunch Table: The Dodgeball Chronicles by Frank Cammuso (GRAPHIX, c2008)
Well I had to include at least on goofy offering, didn't I?  Artie King is the new kid at Camelot Middle School–but easing into the school year won't be as easy as all that! Up against brawny bullies and villainous principals, life could become rather . . . legendary.  Or at least really awesome.  This irreverent take on the Arthurian story line  delivers an average Joe whose got to stand up to the bad guys.
10.
Passager by Jane Yolen (HMH Books, c1996)
My second Jane Yolen story on this list!  This is the first book in the Young Merlin Trilogy, which quite directly tells the story of Merlin as an eight-year-old boy abandoned in the woods and struggling to survive.   A falconer catches and "tames" this half-feral boy, and helps him learn his true name and destiny.  It's a short but elegantly written read that will leave the audience eager for the next book in the series.
So there are my ten for the week, what are your favorite stories with references to Arthurian lore?
Comments welcome!
Posted on July 10, 2014, in General Posts, Lists and tagged Books, Children's Books, Children's Literature, fantasy, Historical Fantasy, Historical Fiction, Lists, literature, MG Books, Middle-Grade Fiction, Reading, reviews, series. Bookmark the permalink. 4 Comments.