Flashback Fridays: We're off to see the Wizard . . .
You're a little girl from Kansas whose house was swept up by a tornado with you in it and set down again in a fabulous fairyland.   It also seems as though your house has landed on the current tyrant of the country you're  now in and its citizens couldn't be more overjoyed.  The local good witch sends you off on a quest with a pair of silver shoes.
I'm pretty sure everyone remembers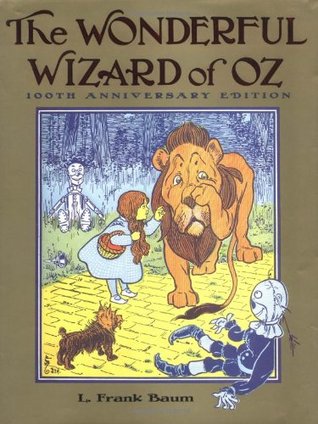 The Wonderful Wizard of Oz by L. Frank Baum, illustrated by W. W. Denslow (HarperCollins, c1900)
This beloved American fairytale has never gone out of style despite being over 100 years old.  When L. Frank Baum originally penned his story of an intrepid girl quester with her dog who seeks for way to get back to Kansas, did he know what he was creating?  I hope he had an inkling.  For many of you, The Wizard of Oz movie  (1939) might be the version you grew up with.  I was fortunate to have both.  Which means I know that Dorothy in the book has silver–rather than ruby–slippers.  Actually, there are a lot of details that have been changed for the sake of Hollywood's sense of storytelling.  But most critical is the ending itself. Yes, Dorothy does tap her shoes together three times to wish herself home–but she doesn't wind up waking from a dream she had, to realize everything was simply something she'd made up while unconscious.  Nope.  Dorothy is flown home over the great deserts that surround Oz, and she loses those shoes in the desert–landing in front of her aunt and uncle's home in Kansas.  There's no doubt she's been gone somewhere else–though she's very happy to be home.
Hollywood's ending makes a safe sort of sense.  With her song "Somewhere Over the Rainbow" Judy Garland sets up her character as a girl who wants more out of life–who wants magic and adventure in the great wide somewhere (oh wait, that's Belle).  Well she wants to go somewhere else anyway.  And she gets her wish, but spends the whole time looking for the way back home.  When she wakes up back home and realizes that all the outlandish characters from her "dream" are right there in her own home life, it reinforces that Dorothy's got a richness around her in her own home that's really similar to that of her fairyland.  But it also acts as a family reassurance.  Dorothy doesn't "really" go away on her own to a strange land where she's in danger and has to fend for herself without parents or guardians.  There are no unreal fairylands really.  It's all a safe, internal dream.  I got to admit, I hate that ending.  Because it denies Dorothy any kind of agency in her own story at the end.  It also closes the story.  And while you might know that Baum wrote one story about Oz–did you know he wrote fourteen in all?
Fourteen books on Oz.   (Other writers would add to the series later until there were 40 books in all) You can find a list of them here.  Each of them has new adventures and world building that expands on Oz and the countries surrounding it.  Each brings more outrageous characters into the mix for our protagonists to contend with.  From what we know, Baum never intended to continue his original story into a series, but after thousands of letters from children asking him for more stories of Oz, he decided to return to the magical land with an entire series of tales.  Baum claimed that the stories were actually sent from Oz to himself to write down and share, and continued to publish them up until his death.  Baum builds on his original storylines, having cameos by many original characters, but introducing new characters along the way.  Baum wasn't just an author,  he worked as an actor, as a sales clerk, and as a fancy chicken breeder–at one point he created his own film company, producing the first versions of stories from Oz on film.  He also wrote a Broadway musical based upon his work.  Beyond Baum, there have been so many films, musicals, TV shows and other adaptations that it makes for an impressive amount to wade through.  You can find a decent list here. 
For the first Oz book, Baum worked with W. W. Denslow as his illustrator, providing the books with their iconic illustrations.  If you're out seeking a copy,  endeavor to find copies with the original illustrations included.  While it's quite possible to read the entire canon without illustrations, Denslow's work  really melds with Baum's storytelling into one glorious whole.  However, it was John R. Neill who took up the role of illustrator for the Oz series after that, becoming "the royal illustrator of Oz" according to this website.  John R. Neill even went on to pen his own Oz books after Baum's death, although they  never quite lived up to the original author's stories.
What makes Dorothy and Oz so special?  Well, for one, it is really feels like an American fairy tale.  Dorothy is a character straight out of the midwest, you know that from the moment you meet her.  Unlike some characters that can be conjured up in any time and space, Dorothy's origins will always be associated with Kansas.  While I can't completely vouch for it, I'd also bet this was how I came to know about Kansas as a state, long before we were taught all the states in school.  But so many other classic fantasy stories take place in Britain, or Europe.  Some perhaps even in the depths of Africa.  But magic existing for a little girl living on a farm in rural Kansas?  Dorothy isn't a princess, she doesn't possess magic powers, she isn't a super-warrior.  She's a farm girl.  A very down-to-earth farm girl transplanted into an anywhere but earth setting.  The dichotomy of it is part of what makes it so wonderful to read.
Baum's wry humor in the series continually saves the books from being just sweet little adventures.  His characters often make pointed observations.  A few of these even made it into the Wizard of Oz movie.  Such as the Scarecrow's reply to Dorothy when she expresses puzzlement on how he can talk without a brain.  "Some people without brains do an awful lot of talking, don't you think?"  This isn't a black and white, good versus evil story.  It doesn't pull on the creatures and tropes of older fantasy literature the way so many classic fantasy tales seem to.  Baum is a master of invention and imagination, and it shows.
If you're ever discussing banned books week, The Wonderful Wizard of Oz can certainly be counted in as book that has been banned and challenged. In 1928 it was banned from public libraries for "featuring women in strong leadership roles".  (Baum was a supporter of women's suffrage and in contact with quite a few suffragettes in his lifetime).    The Detroit Public Library banned the books in 1957 because they "have no value for the children of today".   In 1986 a group of fundamentalist families objected to the book on a school syllabus because it depicted good witches and self -reliance, rather than reliance on God.  You can read more about the subject here.
I started writing this post  almost a day ago and I keep finding fascinating tidbits of information out there.  I can't possibly even begin to touch on it in this little Flashback Post.  So instead, I'll  leave you with the above, and hope you'll discover more for yourself!  If all you've ever known about Oz was what you found in the movie, or the first book, now might be the time to take a look at what else is out there.
Are you a fan of the world of Oz?  Comments welcome!
.I believe that Dreams, day Dreams, you know, with your eyes wide open and your brain machinery whizzing and dancing about, are likely to lead to the betterment of the World. The imaginative Dreaming child will one day become the imaginative Dreaming man or woman most apt to create, to invent, and therefore to foster civilization and keep humanity young at Heart…"–L. Frank Baum
About Stephanie Whelan
I'm a children's librarian with a life-long love of all things science fiction and fantasy.
Posted on July 5, 2014, in Flashback Fridays, General Posts and tagged Authors, Books, Children's Books, Children's Literature, Children's Movies, fantasy, Fantasy Movies, literature, MG Books, Middle-Grade Fiction, Movies, Reading, reviews, series. Bookmark the permalink. 9 Comments.