Flashback Fridays: Clones on the run . . .
You're a world renowned Clone Catcher whose got his toughest case to date.  Lady Kate, a superb actress, is in danger of dying and her clone must be found in time to save her life.  But you're looking for a runaway clone who is a master of disguise . . .
Do you remember: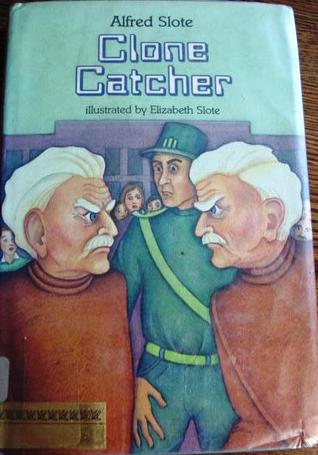 Clone Catcher by Alfred Slote, illustrated by Elizabeth Slote (Lippincott Williams and Wilkins, c1982)
Alfred Dunn is a Clone Catcher by trade; someone who tracks down runaway clones and returns them to their owners.  In this 21st century futuristic for young readers, clones have no rights–they are the property of the rich individuals who create them.  Clones are created primarily so that their owners have access to young, healthy organs when they need them.  Lady Kate is an old woman who is dying–her only chance of survival is a heart transplant from her clone.  But that clone has run away, and now Lady Kate's husband is desperate to find the clone.  But Lady Kate's clone was given more freedom than most and encouraged to develop her natural acting talent–she's a master of disguise and could be anywhere . . .and anyone.
This story is part mystery, part futuristic, and part social commentary.  It's meant for 3rd and 4th graders and its brevity is more common to 1980's science fiction than more recent books.  It's also pretty obscure.  Alfred Slote was one of the authors who first introduced me to the idea of near future science fiction, and his stories have stuck with me through adulthood.  He's also the author of My Robot Buddy, a book that is still often available on library shelves.  By comparison this title would be a challenge to find.  It's also one of his most thought provoking works for young readers.  Unlike his other books in which the characters are children, all of the main characters in this story are fully adult–which makes this rather unusual for the intended audience.  It's a fairly lightweight coverage of the concept–and taken from the early 80s, so it's not a book to expect would fit with current ideas and attitudes about cloning.
What made this so noteworthy to me, was that it got me thinking.  Our main character from the beginning of the story under goes a change of heart and perspective about clones.  His change of view will get readers thinking about the nature of clones, or the question of owning "people" of any type and whether it's an ethical situation.  It's a little too bare bones to provide a lot of complexity, but I remember enjoying it and being impressed by it.
Clones come and go as a subject matter, but the ethics involved in creating them–and the question of just who they are and whether they have rights is almost always at the heart of these stories.   While this story may be outdated and out of print, the subject has never gone away.  From Anna to the Infinite Power, to The House of the Scorpion, to Orphan Black (the adult TV drama)  clones have a way of coming back into the public mind.
This is worth a look if you can find a copy. What were your first futuristics?
Comments Welcome!
About Stephanie Whelan
I'm a children's librarian with a life-long love of all things science fiction and fantasy.
Posted on June 29, 2014, in Flashback Fridays, General Posts and tagged Authors, Books, Children's Books, Children's Literature, Clones, MG Books, Middle-Grade Fiction, Reading, reviews, Science Fiction, SF. Bookmark the permalink. 4 Comments.