A Tuesday Ten: Fantastic Fathers
So, in honor of Father's Day, I really should do a post about books featuring fathers in speculative fiction.  Challenge is,  they're nearly as rare as moms.  Parents in general are kept to the background, or killed off in the past to give our protagonists the proper backstory and motivation.  Very few fathers contribute to the plot in a meaningful way.  Here are a few fathers, grandfathers, godfathers and father figures that do!
1.
Minion by John David Anderson (Walden Pond Press, Expected Publication June 2014)
Michael Morn isn't quite a supervillain . . . but he's not on the side of angels either.  In fact Michael is fairly amoral when it comes to his regard for the world.  This companion volume to Sidekicked gives us a youth on the other side of the equation from the Supers.  Michael's adopted father has given his son the best life he can, given that he's the mad scientist type who creates a variety of amazing weapons in boxes.  This is actually a pretty touching story about a unorthodox father-son relationship and the dark purposes that manipulate it.  I'm still trying to figure out how to review this one.
2.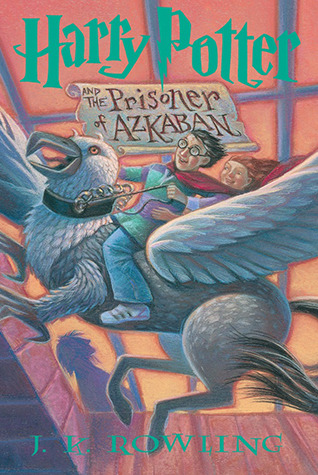 Harry Potter and the Prisoner of Azkaban by J. K. Rowling (Scholastic, c1999)
While this isn't the only book that features him, it's the one that introduces readers to him.  Yes, Harry's mom and dad were killed early on, but now we find out Harry has a godfather!  And it's a huge and powerful thing to have come into this boy's life.  This is still my favorite book in the series, in part because Sirius Black is such a hoped for boon for a lonely and struggling boy who yearns for some family.  And Sirius is not just a godfather–he's a major player in the whole game.  His actions help to set other actions into play.  He's a protagonist of the story as well as a father.
3.
The Magic Grandfather by Jay Williams (Scholastic, 1979)
Sam  finds out his weird old grandad is more than just weird–he's a magician!  And not the kind who does fake tricks, but one with real magic.  But when Sam discovers his secret and begs him to do some real magic,  the boy inadvertently messes up the spell and sends his grandfather into another dimension.  Now he's got to find out if it's really true that this magic runs in his blood as well . . . or he may never get his grandfather back home!
4.
Boys of Blur by N. D. Wilson (Random House Books for Young Readers,  April 2014)
This stunning new fantasy actually brings in two fathers  into the story.    Charlie's real dad was an abusive man whom his mom left years ago.  Charlie's step dad, and current father figure is a supportive man that Charlie loves.  Both men have their roots in the town of Taper.  When Charlie returns to Taper with his family, he'll not only find himself fighting evil  in the swamps, but dealing with the issue of fathers and sons.   It's a powerful book, and one that really captures something of the theme.
5.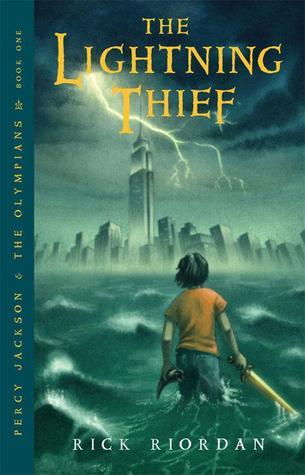 The Lightning Thief by Rick Riordan (Disney-Hyperion, c2006)
So this is probably the most common approach for a father to be part of a story, but I felt it worth including nonetheless.  A father with a great heritage passes that heritage down to his son.   From Arthur to Luke SkyWalker to Percy Jackson, this is a common trope.  The notable thing here is that the story is in part about Percy learning who his father actually is, how that impacts his own life (he's a demigod)  and being recognized and claimed by his father.  Poseidon gives Percy his weapon and helps to set him on the path that will turn him into a hero, and not just monster fodder!
6.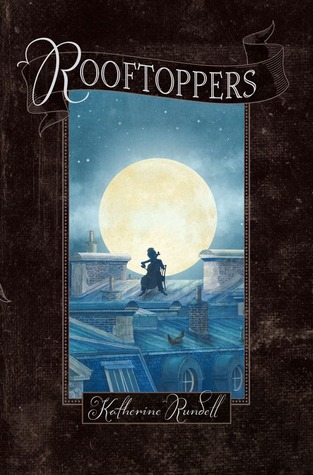 Rooftoppers by Katherine Rundell (Simon and Schuster, 2013)
This book is more tall tale than out and out fantasy, but I think it qualifies. When Sophie is found as an infant floating in a cello case after a boat sinks, she's given to the guardianship of an eccentric man named Charles.  Living with Charles who loves Sophie and does his best to raise her well, is  an unorthodox life for the girl,  and after many years the British Welfare Agency has decided it won't do at all, and plan to take Sophie away from the only parent-figure she has known.  Instead, Charles whisks her off to Paris, running away from the authorities and going in search of Sophie's mother.  While Charles is not the most effectual of father figures, he's a loving and supportive guardian who ultimately comes through for Sophie.
7.
The Luck Uglies by Paul Durham (HarperCollins, 2014)
I don't want to give too much away in this book.  But this is one of a very few father-daughter stories I came across.  Rye O'Chanter's father has a rather large role to play in this story.  He's a delightfully vivid and well written character.  I think you'll agree when you meet him!
8.
Mind-Find by Wilanne Schneider Belden (Harcourt, 1988)
One of my older books. Laurel Raimey is spending the summer with her father while her mother is on her honeymoon with her stepdad.  She's delighted with the idea until she finds that her dad hasn't really put much thought into her stay, and that he probably hadn't wanted more than an in-house maid to keep up with the laundry and cleaning.  Worse than that, Laurel has had a special gift all her life, the ability to "find" things that are lost.  It's the kind of psychic ability her father studies, and Laurel can't reveal her gift to her father, or she'll face becoming just another one of his study subjects.  But events are conspiring to bring Laurel and her father together, and when lives are on the line, Laurel will have to use her ability to save them.  The author paints a very flawed but ultimately redeemed father.  His relationship with his daughter is a constant theme through the story.
9.
Where's My Cow? by Terry Pratchett, illustrated by Melvin Grant (Doubleday, 2005)
I was thinking about how one of my favorite fathers is Commander Sam Vimes from Terry Pratchett's Discworld series.  But Sam is a character from Pratchett's adult novels.  Then, lo and behold I remembered this delightful bit of hilarity.  In the Discworld novel Thud!  One of the ongoing plot threads is how Sam reads the same book to his son every night, no matter what.  (And believe me, this is a BIG no matter what).  In the original book, it's mentioned in passing that more than once Sam has gotten bored with reading this silly book about a farmer whose cow goes missing.  He doesn't quite see the point in introducing his son to all these farm animals when , as a city-boy, he only sees them on a plate going "sizzle".  So he tries something new . . . and here's where we get the picture book.  In it Sam decides to take the story off the reals and introduce his son to the real denizens of Ankh–Morpork.  At least until his wife catches him!
10.
The Scavengers by Michael Perry (HarperCollins, Expected Publication September 2014)
Scavengers is my SF dystopia novel for the list.    Ford Falcon, a.k.a. Maggie has a troubled relationship with her father.  She has clear memories of the day her life changed forever  . . . the day her father went to hand her a red balloon and let it go flying away instead.  Like this, many other little frustrations and disappointments have kept her angry with him.  She's  had to be the one protecting the family.  She's the one to be strong  and be present when needed.  But Maggie's about discover that her father's actions are based on dangerous secrets.  Those secrets are the reason Maggie and her family went on the run in the first place.  Now, more than ever, Maggie's father needs her.  Can she forgive him for the past?
So there's my ten!  Who are your favorite fathers?
Comments welcome!
Posted on June 17, 2014, in General Posts, Lists and tagged Books, Children's Books, fantasy, Genres, Lists, MG Books, Middle-Grade Fiction, Picture Books, Psychic Powers, Reading, reviews, Science Fiction, SF. Bookmark the permalink. 5 Comments.