A Tuesday Ten: Incredible Introverts!
Unlike some of my lists, this one was fairly easy to pull together.  I suspect since many authors have some introverted traits themselves, those tend to come out in their protagonists.  Introverts are not your kick-butt, take-no-prisoners action hero/heroine.    They are not the shining leaders who command and inspire armies or live in the drama and spotlight.  They prefer quiet, solitude,  close friends and time to reflect.  Many are bookish, quiet and often the odd ones out in a group.  But some of these introverts are extraordinary, and they make remarkable protagonists that we can cheer for.
1.
Book of a Thousand Days by Shannon Hale (Bloomsbury, 2007)
Dashti is the hand maid locked in a tower with her Lady Saren for seven years when Saren refuses to marry one of her suitors.  At first things don't seem so bad, but as the situation deteriorates, it is Dashti who must find ways to help the needy Saren and herself survive.  Dashti is a quiet and thoughtful girl who observes more than she says and is not given to drama or extreme action.  Her grace and compassion allow her to see her way through her trials and find a happy ever after in this story inspired by an obscure fairytale.
2.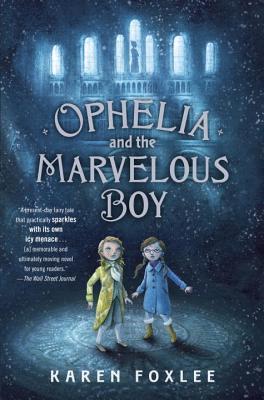 Ophelia and the Marvelous Boy by Karen Foxlee (Alfred A. Knopf, January 2014)
Younger sister Ophelia has always been the quiet one.  She likes to wander the corridors of the museum with her own thoughts.  But it is that wandering that introduces Ophelia to The Marvelous Boy and sets her on a quest.  Little Ophelia doesn't suddenly become an action adventure heroine through her struggles, but she finds her own bravery and determination and the inner core of strength (that a lot of introverts have) to help her save the day.
3.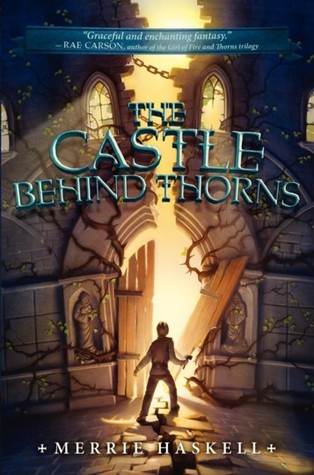 The Castle Behind Thorns by Merrie Haskell (Katherine Tegen Books, May 2014)
Sand wakes up alone inside a castle where everything is torn apart, and the outside is fenced by malevolent thorns.  Despite being alone in this place for many days, Sand seems fairly comfortable with the solitude and finding his own way.  Merrie Haskell is no stranger to introverts; The Handbook for Dragon Slayers (HaperCollins, 2013) has Princess Matilda, and undeniable introvert who prefers her books and scribing to people.  But I went with Sand on the list since he's one of the rarer male introverts in the protagonist role.
4.
A Question of Magic by E. D. Baker (Bloomsbury, 2013)
Serafina is a young village girl whose life is abruptly changed when she receives a dubious inheritance from a mysterious aunt.  The inheritance throws this quiet but clever heroine into a magical adventure–but Fina longs most to find a way out of her new situation in order to return to the young man she loves.  Sometimes questions and the answers given can have more power than swords and armies.
5.
Goblins by Philip Reeves (Scholastic, c2012)
Clever young Skarper is different from his goblin brethren.  He's taught himself to read.  He prefers quiet and time alone to the endless fighting and club bashing and arguing of his brothers.  He's constantly thinking about things rather than impulsively acting–and that's what gets him exiled from the chaotic goblin horde.  Now Skarper has found himself on a quest with a young wannabe hero and a middle-aged princess.  Reeves hysterical riff on dungeons and dragons style stories is a great deal of fun.
6.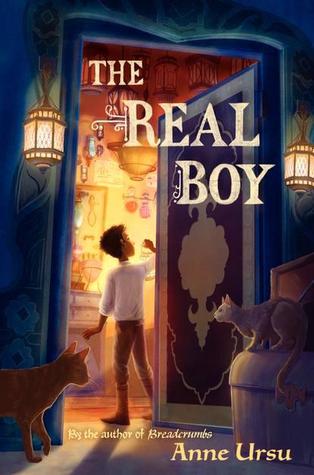 The Real Boy by Anne Ursu (Walden Pond Press, 2013)
Our protagonist in this story is a quiet boy named Oscar who is the shop-boy for the village Magician.  Oscar is a person who finds it hard to relate to others and to figure out social cues, but loves working with herbs and reading.  He has to push himself out of his shell in order to help save his island from the harm that others have wrought. Oscar finds his own strengths and ways to cope with the world around him.
7.
Dragonsong by Anne McCaffrey (Bantram Spectra, c1976)
Menolly is a quiet, artistic girl from a stoic fishing community on Pern that doesn't value her creative gift.  Rather than live her life trying to suppress her love of music, she runs away to live on her own.  While Menolly eventually makes friends and wins allies, she is very much the quieter heroine who speaks best through her music.  Menolly's adventures continue in Dragonsinger (1977) where she must navigate more social situations, deal with bullies, make new friends, and learn confidence in her own talents.
8.
Wee Free Men by Terry Pratchett (HarperCollins, c2003)
Tiffany Aching is not your usual farm girl on the Discworld.  She not only has second thoughts, but third thoughts.  She loves words and their meanings.  She's clever, but practical and sensible, rather than dramatic.  In other words she's got the makings of a good witch.  Tiffany is certainly an introvert, comfortable with being on her own and having time to reflect.  She's not one for letting someone else go about the heroing, however.  When her baby brother is kidnapped by the fairies, it's up to Tiffany and her frying pan along with some amoral little blue men to come to the rescue! This is the first book in the Tiffany Aching quartet and 30th in the Discworld series by Terry Pratchett.
9.
Howl's Moving Castle by Diana Wynn Jones (GreenWillow, c1986)
Our protagonist is young Sophie, the eldest daughter of three and therefore unlikely to ever do anything adventurous or marry a prince or anything like that.  She's perfectly content fading into the background in the hat shop owned by her stepmother . . . until the day she's cursed by a witch and turned into an old woman.  Struck by the notion that her shyness just truly has no point anymore, Sophie allows herself to be a cranky and bold old woman who does as she pleases.  While I don't believe Sophie ever leaves her introvert self behind, she does overcome the crippling shyness and self-doubt that had left her fading.
10.
The Chimes of Alyafaleyn by Grace Chetwin (Bradbury Press, 1993)
In a world where everyone is able to attract and hold at least a few of the musical, magical orb called heynim, Tamborel cannot.  This sensitive and musically gifted boy is friends with the other village outcast, a girl with tremendous power, but no idea how to use it.  Neither is accepted in town and each find company in the other's friendship.  But when Caidrun becomes fed up with all the bullying and cruelty, and runs away, Tamborel takes it upon himself to find her and help her find a way to heal.  Grace Chetwin updated this book year later. (she commented on a review of mine that word count limits had never allowed her to fully flesh out the story)  that edition can be found here.
So there are my ten, what are your favorite introverts?  Comments welcome!
About Stephanie Whelan
I'm a children's librarian with a life-long love of all things science fiction and fantasy.
Posted on June 11, 2014, in General Posts, Lists and tagged Authors, Children's Books, Children's Literature, Fantasy Movies, Lists, MG Books, Middle-Grade Fiction, Reading, Science Fiction. Bookmark the permalink. Leave a comment.